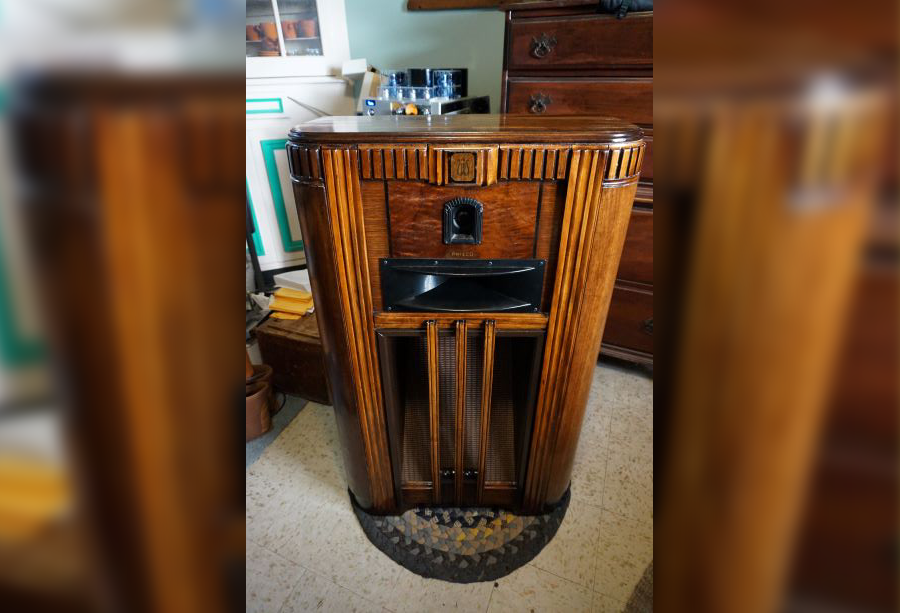 Philco Horn
---
Designer:
Bob
Project Category:
Freestyle Speakers
Project Level:
Beginner
Project Time:
20+ Hours
Project Cost:
$100 – $500
Project Description:
Repurposing a road side relic as a bi-amp speaker.
Design Goals:
Wanted to try a speaker project which included a horn compression driver.
Driver Selection:
Part#292-422; 12″ GRS woofer
Part#274-045; Titanium Tweeter
PVR Audio compression driver: Part# 2942827
Enclosure Design:
1940's Philco in real rough shape.
Enclosure Assembly:
Most of the trouble was regluing delaminated veneer. The original baffle was reused , the woofer is tilted back at @25 degrees. the bottom portion of the cabinet was bumped out about 4″ to hit @3 CF volume. Upper portion of unit houses horn, horn cross over, and a tweeter. I had a couple 10″ passive radiators that I pulled out of a Realistic T-110 (refoam project), put one on the rear panel. Might be a mistake, but it does seem to push quite a bit of air when really driving the speakers.
Crossover Design:
Horn uses PVR Audio 1DF1800H High pass crossover board.
Part#299-4030; Terminal cup w/ 2way 4,000hrz x-over used for woofer/tweeter.
Tips & Tricks:
This kind of Franken-speaker is a fun DYI project. rounded front veneer panels were only 5/8ths plywood so I build internal walls across those sections & back filled the voids with Great-Stuff foam insulation.
Conclusion:
Matches my décor. Sounds good as a 2-way & the horn can really shouts given sufficient power. Currently only bi-wiring, will try bi-amping eventually.
About the Designer:
Mad Doctors do not require a medical degree.
Project Parts List: