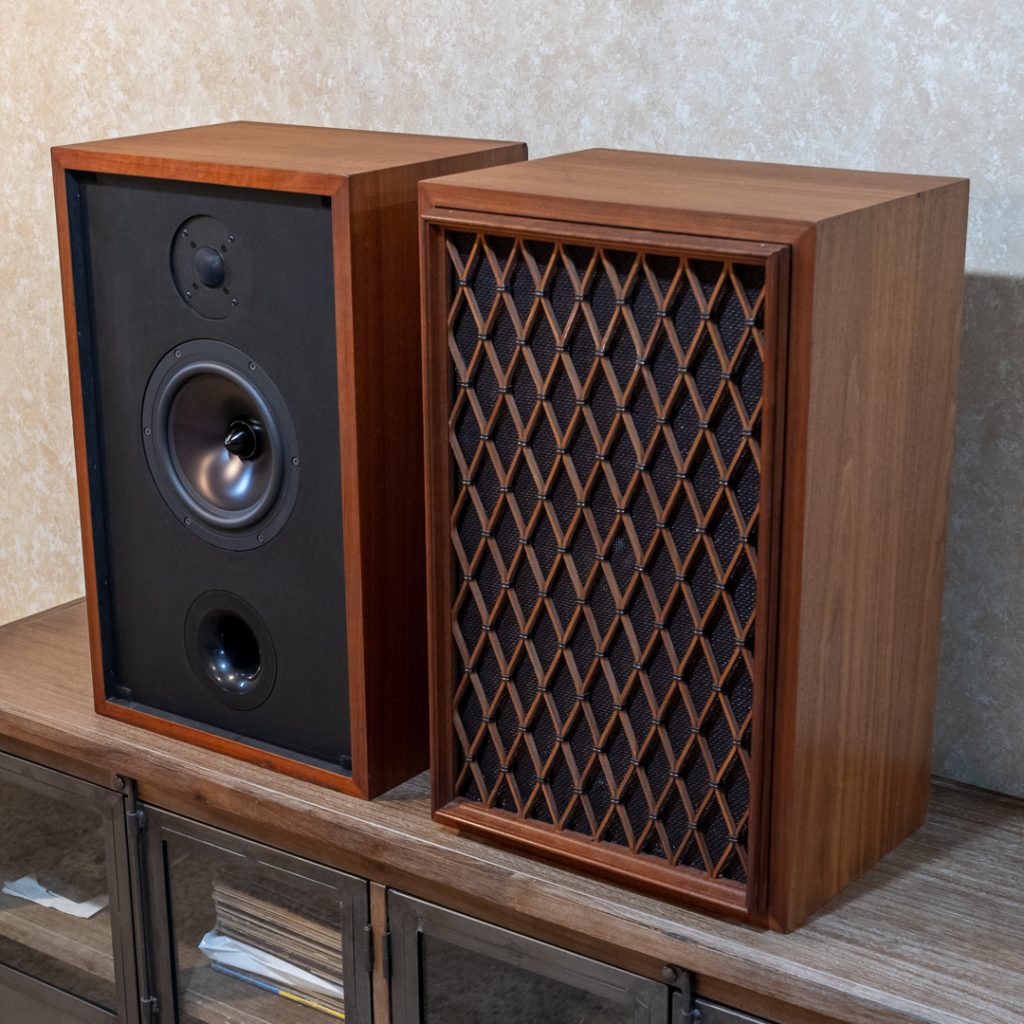 Pioneer CS-99 Remastered
---
Designer:
Matthew
Project Category:
Loudspeakers/Cabinets
Project Level:
Intermediate
Project Time:
8-20 Hours
Project Cost:
$100 – $500
Project Description:
My cousin approached me about a pair of Pioneer CS-99 speakers he acquired some time ago. They are from 1971 and have great looking cabinets except they did not have the nicest sound. I originally recommended replacing all capacitors in each crossover board. After looking at Pioneer's original driver selection and crossover topology, I decided these vintage relics would sound much better with brand-new drivers and a custom crossover. Here we go…
Design Goals:
My goal is to create a speaker that mimics the soundstage of a floor-standing speaker while keeping Pioneer's original CS-99 cabinet and grill intact. I don't want design complexities and cost of a 3-way speaker and will design a 2-way speaker to achieve full-range sound. My ultimate goal being to wow the listener. I would like these vintage cabinets to create a listening experience that's entirely not expected.
Driver Selection:
295-356
Dayton Audio RS225-8 Reference Woofer
275-141
Dayton Audio RST28F-4 Reference Tweeter
Pioneer CS-99's use a 5-way speaker design with a massive 15" woofer. I am changing this original configuration to a two-way speaker design. I chose Dayton's RS225-8 reference woofer and RST28F-4 tweeter:
Dayton's RS225-8 has good excursion capability and flat frequency response in the low-mid range. Dayton's ported volume recommendation for this driver matches Pioneer's CS-99 cabinet size.
Dayton's RST28F-4 tweeter has great reviews and I've seen designs using this tweeter that successfully cross at a low frequency (1kHz). A low crossover point will allow me to blend this tweeter's response with Dayton's RS225-8 woofer (I crossed at 1.4kHz).
Enclosure Design:
Pioneer's CS-99 is a sealed enclosure design. I am keeping the original enclosure intact and am changing it to a ported design. I am adding a new baffle to support a two-way speaker configuration. I used WinISD to calculate design parameters:
Cabinet volume: 1.5 cu. ft. (estimate after acoustic treatment)
Tuning frequency: 32hz
Port specs: 2" diameter, 4" length
Enclosure Assembly:
See pictures for baffle dimensions and cabinet modifications.
A new baffle was made with ¾" MDF. Driver holes and recesses were cut with a router and Jasper circle jig. The Jasper jig was too small for cutting the woofer's recess so a custom jig was crafted using a piece of lexan. The tweeter is recessed to the same amount as the woofer so it clears the grill. A jig saw was used to remove material from the original baffle that blocked each driver opening. The finished baffle is screwed and glued to the original baffle.
I finished and restored each cabinet by applying a light coat of golden oak wood stain. I painted each baffle with flat black paint.
I also lined the sides and back of the cabinet with 2" acoustic foam.
Crossover Design:
See pictures for a schematic of the crossover and board-layout of components.
I always like to review other's designs when starting a project. Luckily, I found a project by Nick, titled The Bee, which uses my driver selection. Thank-you for sharing your project, Nick! I like the topology of the crossover he used in his design:
Third order crossover on the tweeter for extra protection from low frequencies,
Second order crossover on the woofer and
Resister in-line with tweeter to pad its response because the tweeter is more sensitive than the woofer.
I started with this crossover design and changed components to my liking. I selected my crossover point at 1.4kHz. I noticed the RST28F-4 tweeter used in Curt Campbell's AviaTrix-RST design is crossed at 1kHz; I am taking this to mean my 1.4kHz will not be too low. I used VituixCAD to model my crossover. This is a great tool to use as it allows you to model speakers as inductive-resistive-capacitive elements. You can see a modeled frequency response of my crossover in my picture gallery.
Tips & Tricks:
For neat looking crossover boards—make 90 degree bends in your wires whenever you have to bend a wire.
Conclusion:
My design goals are met; these speakers carry the sound of larger floor standing speakers while keeping their original vintage look. Vocals sound amazing and they'll hit a bass note or two with ease.
You can see a measured in-room response plot of each speaker in my picture gallery. The plot is an in-room measurement so you are seeing room reflections imposed on each speaker's actual response. Their response looks rather good for an in-room measurement. I measured each speaker's response as a quality check to make sure they produce identical sound, and they passed.
I was also curious how Pioneer's CS-99 speaker grill affects frequency response. The blue-line shows response of one speaker with its grill removed. You can see that Pioneer's CS-99 grill alters high frequency response between 2.5kHz and 20kHz (and a visibly noticeable dip at 3.8kHz). I'm not sure if the grills make an audible difference (I can't hear much of a difference with them on or off, if any).
I compared the Pioneer/Dayton speakers to Usher 701 bookshelf speakers designed by Joseph D'Appolito. The Usher's use a similar ported design with a textile dome tweeter and 7" paper/Kevlar mid-woofer. I'm giving a slight edge to the Pioneer/Dayton. I can hear a harshness in the treble region with the Usher's that disappears when I switch to the Pioneer/Dayton speakers, especially at louder volume.
Dayton's RST28F-4 tweeter and RS225-8 woofer combination is a clear winner. I am surprised that I don't see more DIY designs using these two speakers.
About the Designer:
I have a master's degree in electrical engineering with an emphasis on control systems. I design and program automated machinery for work and pursue audio projects as a hobby.
Project Parts List: