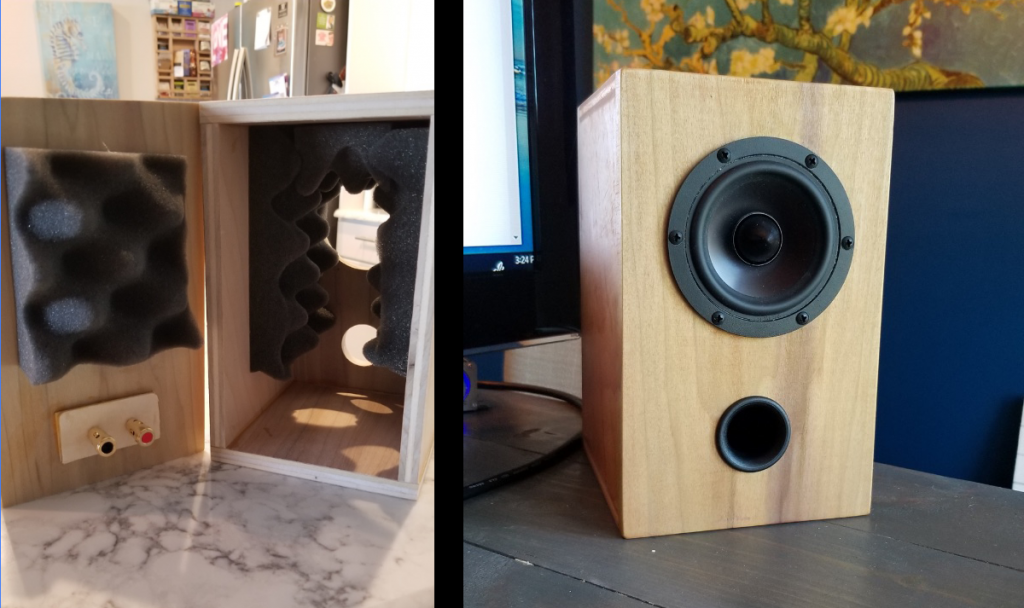 Point Source Desktop Speaker RS100-4 "Corona"
---
Designer:
RYAN CLARK
Project Category:
Bookshelf Speakers
Project Level:
Intermediate
Project Time:
1-8 Hours
Project Cost:
Under $100
Project Description:
At the point of writing this I have build 4 desktop designs with maybe my favorite driver – RS100-R. I was going to name them "Coronas" but someone beat me to the name. I built these months ago while working from home due to COVID-19 Here is a basic vented design with this wonderfully sounding little speaker.
Design Goals:
Good looking and great sounding desktop speaker.
Driver Selection:
RS100-4
Enclosure Design:
Vented front port (1″ port, 4″ long) design with 1/2″ material, birch ply perimeter and popular baffle and back .
0.11 net internal volume | Fb = 64.7Hz | modeled F3 = 58 Hz
External dimensions 5.5 x 9 x 6.5
Used some internal foam and a little poly stuffing (probably didn't need)
Enclosure Assembly:
simply glued. Sanded and light stain.
Crossover Design:
N/A
Tips & Tricks:
Get a hole saw for the driver (3″) and port (~1 3/8″, I think I used 1 1/2″ and it worked fine)
Conclusion:
I just love these little drives. These can be a great intro for anyone wanting to do their own design not having to design a crossover. For near-field monitors in similar designs, these sound great and cover the full musical range. You will be surprised in the bass they produce. Not enough to fill anything other than a small room though.
About the Designer:
I love music and building stuff. I still have my Infinity SM62 I ordered from Crutchfield around age 14. I have now build dozens of HiFi and guitar speakers and may have an addiction.
Project Parts List: