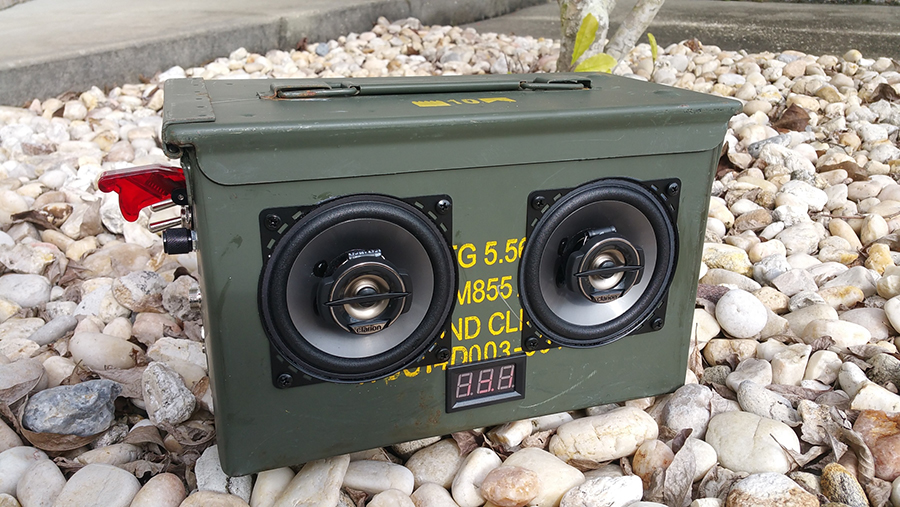 Portable Ammo Can Boombox
---
Designer:
Daniel
Project Category:
Portable Speakers
Project Level:
Intermediate
Project Time:
8-20 Hours
Project Cost:
$100 – $500
Project Description:
Hey guys, just want to show you the 50 cal ammo can boombox I built. I bought most of my parts on parts express. I couldn't find a wiring diagram online, so after a bunch of research and deciding how I want it wired, I finally reached a wiring diagram I was happy with.
This thing is REALLY loud, words cannot describe it. It has a master power switch, a secondary switch which shows voltage only so I can see charge state, uses a 12 volt SLA battery, has a seperate input to charge the battery and also a DC connector for running off wallpower. I kept the plugs different so the wrong one can't be hooked up to the battery by accident. It only accepts AUX input, no bluetooth on this build. Always something I could add in if I wanted to eventually.
Build time I would estimate about 10-12 hours, but it's been a while since I built it so I don't remember the exact time.
Video of the project can be found on my youtube page
https://www.youtube.com/watch?v=eCMNcBtBLoE
Design Goals:
Wanted a portable, long lasting, loud boombox in a rugged design
Driver Selection:
Clarion SRG1023R speakers, 4 inches
200 watts peak, 30 watts RMS 4 ohms
Enclosure Assembly:
50 cal style ammo can cut out with a dremel and various bits
Tips & Tricks:
The speaker holes were the hardest! Tore up a few good bits cause I didn't have a proper hole cutting saw for the big holes
Conclusion:
Overall this works great. It lasts a long time and wasn't too pricey. About 150-170 dollars and your time
About the Designer:
Xray tech, love working on electronic projects, good at soldering, good handyman around the house, scuba diver, cars
Project Parts List: