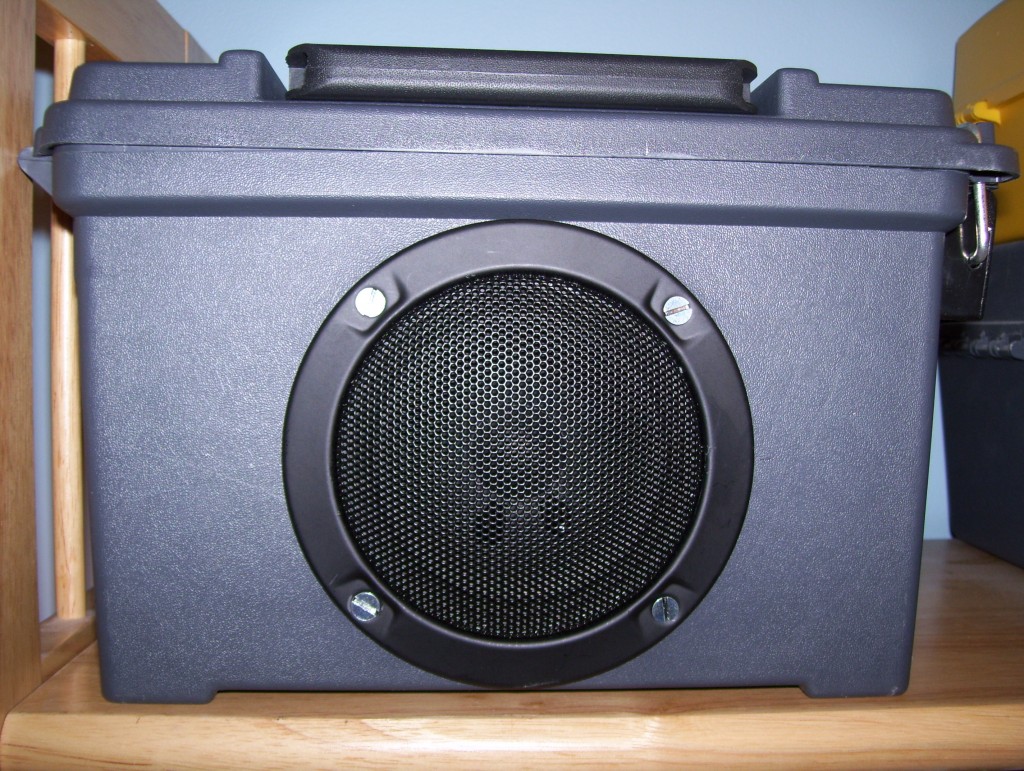 Portable Comm Speaker
---
Designer:
DonV
Project Category:
Portable Speakers
Project Level:
Beginner
Project Time:
1-8 Hours
Project Cost:
Under $100
Project Description:
Portable external speaker for communications equipment applications such as amateur radio, scanners, etc.
Design Goals:
Easy to construct with readily available parts, portability, clean and functional look, minimal tools needed to complete the project.
Significantly less costly than purchasing commercially made external speakers.
Driver Selection:
GRS 5SBM-8 5″ Sealed Back Midrange (Part # 292-432)
Enclosure Design:
small plastic ammo box readily available from Harbor Freight or a sporting goods store; i.e.: Dicks, Field and Stream, Cabelas
Enclosure Assembly:
Hole cut into ammo box to allow the speaker to be mounted.
Speaker with mounting flange incorporated as part of the speaker unit.
Installation of binding posts on opposite side of ammo box.
Conclusion:
The portable external speaker project turned out great. The speaker sounds very good with a variety of radio equipment. The handle on the ammo box makes it easy to carry. The red and black binding posts make polarity easily identifiable. The binding posts are versatile and allow for easy connection to external speaker.
About the Designer:
Amateur radio enthusiast. Works in the field of aviation electronics and enjoys creating projects as time and energy allow.
Project Parts List: