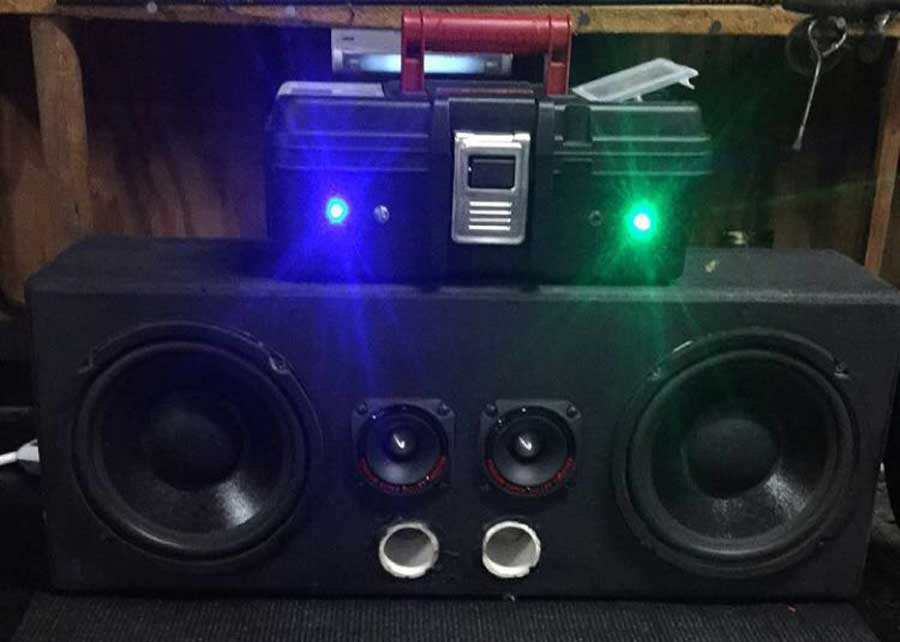 Portable Tailgate Speaker
---
Designer:
Nick
Project Category:
Portable Speakers
Project Level:
Beginner
Project Time:
1-8 Hours
Project Cost:
$100 – $500
Project Description:
I made this speaker set up originally for tailgates and outdoor events. I would hook up the speaker to my trucks audio amplifier and crank it. It did its job very well. I then decided to create a power bank to make this portable and useable anywhere an outlet is available. The enclosure of the amp and power supply was a $10 craftsman mini plastic toolbox.
Design Goals:
I wasn't concerned with having extremely detailed sound quality because it was primarily going to be used at tailgates where enough volume is what's really desired.
Driver Selection:
Two 8 inch heavy duty paper cone buyout woofers #299-2174
Two Pyle super tweeters #270-125
Enclosure Design:
Made from 3/4 inch plywood with about .6 cubic foot of internal volume.
It was originally a sealed inclosure but I decided to port it around 85hz to get a little more of the low end out of it.
Crossover Design:
When it's hooked up to my trucks amplifier I use my Kenwood headunits settings and cross the lower end off at 120hz to prevent over excursion. The Pyle tweeters came with caps already wired in. When hooked up to the portable power bank there is no crossover being used other than the pre-wired caps on the tweeters.
Tips & Tricks:
Working with the plastic toolbox made making necessary holes a breeze and look clean.
Conclusion:
Everything works the way it should and the way it was intended.
About the Designer:
I look for an excuse to make any audio project
Project Parts List: