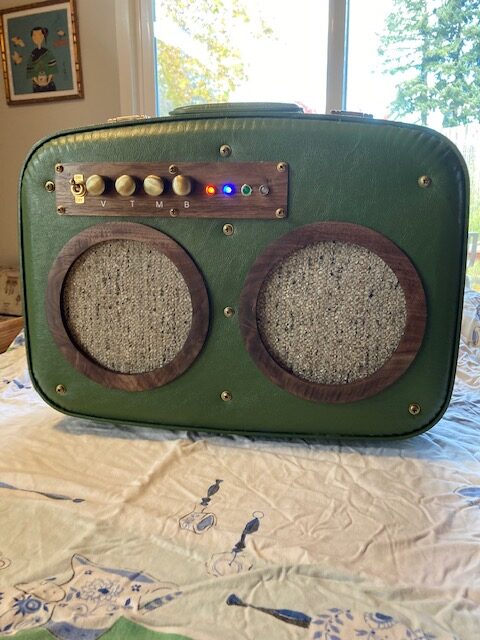 Green Midcentury Bluetooth Speaker
---
Designer:
Busman's Holiday Garage



Project Category:
Portable Speakers



Project Level:
Intermediate



Project Time:
20+ Hours



Project Cost:
$100 – $500
Project Description:
Portable Bluetooth speaker built from an early 60's suitcase. CNC'd walnut lumber control plate and speaker bezels. Era appropriate speaker grill cloth. All speakers and electronics purchased from Parts Express.


Design Goals:
To build a mid-century modern-looking portable Bluetooth speaker.
Driver Selection:
Enclosure Design:
Crossover Design:
Tips & Tricks:
 Had an internal speaker bracket CNC'd for exact hole placement.
Conclusion:
Came out good. Took way more time that I thought it would. But, looks great and sounds a bit better than I expected.

About the Designer:
 I build whatever makes me happy.

Project Parts List: