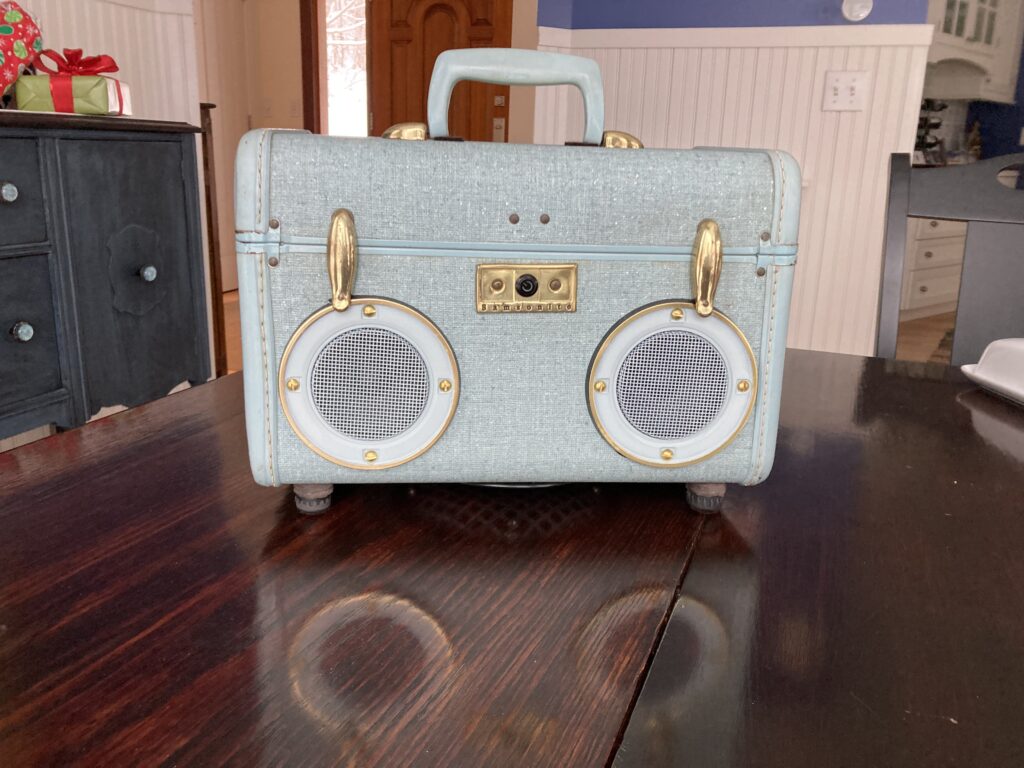 Mother's Little Helper
---
Designer:
John Roland Eberly III



Project Category:
Portable Speakers



Project Level:
Intermediate



Project Time:
8-20 Hours



Project Cost:
$100-$500
Project Description:
Portable Bluetooth vintage train case conversion incorporating finished interior and storage space


Design Goals:
Vintage aesthetic with clean sound and long battery life, more useful than just a "suitcase boombox" by including functional, decorated interior carry space
Driver Selection:
(2) 3″ fullrange Faitalpro, (1) 5-1/4″ Dayton Audio woofer
Enclosure Design:
Re-purposed Samsonite mid-century train case, 13″ x 8″ x 9″. Drivers selected using Parts Express published volume ranges.
Crossover Design:
Active using 2.1 class D amplifier.
Tips & Tricks:
One problem was that the case handle rattled and buzzed, sounding like driver distortion. Adding felt pads between the handle and case solved this.
Conclusion:
 Successful project, aesthetics and sound exceed expectations. This case delivers clean sound with not distortion at full volume.

About the Designer:
John Eberly – electrical engineer, woodworker, and jack-of-all trades. Inspired to build these cases by Dr. Records in Fairhope, AL..

Project Parts List:
| | | |
| --- | --- | --- |
| Part # | Description | Qty. |
| 294-1104 | FaitalPRO 3FE25 3″ Professional Full-Range Woofer 8 Ohm | 2 |
| 325-201 | Dayton Audio LBB-3v2 3 x 18650 Lithium Battery Charger Board/Module 12V with Charge Protection | 1 |
| 142-103 | Lishen 18650 2600mAh Li-Ion Flat Top Battery 3-Pack | 1 |
| 090-5016 | 2.1mm Metal Panel Mount DC Barrel Power Jack | 1 |
| 295-307 | Dayton Audio DC130B-4 5-1/4″ Classic Woofer Speaker | 1 |
| 269-2110 | 4″ Wire Mesh Grill with Gold Trim for Up To 3″ Speaker | 2 |