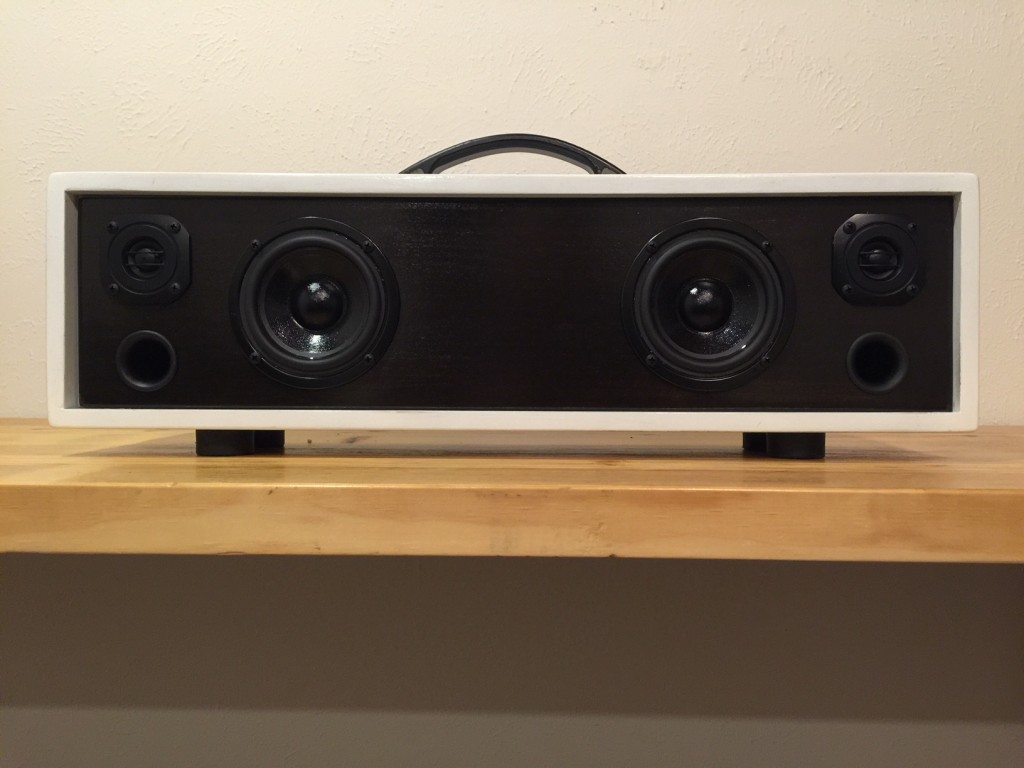 Prototype
---
Designer:
GKT Designs Co.
Project Category:
Portable Speakers
Project Level:
Beginner
Project Time:
8-20 Hours
Project Cost:
$100 – $500
Project Description:
This project is roughly 24×5.75×5.75″. 2-4″ Dayton drivers, 2-1/2″ tweeters , 2-1″ ports, crossed at 3500.
Design Goals:
Like many others I wanted to see how much I could squeeze out of the boombox shape. I wanted good looks, great sound reproduction, and the flexibility to use it for everything. Portable, TV, Alexa, home stereo… One unit.
Driver Selection:
295-424 Dayton Audio DS115-8 4″ Designer Series Woofer
Enclosure Design:
The enclosure design is simple but, I wanted to keep things refined. A lot of portable/boombox projects I see tend to cut corners when it comes to the finishing and the the back. The box is made from poplar and using simple butt joints. The PE recommended internal vol is .09. I am real close to that once you factor in the displacement from the drivers and batteries.
Enclosure Assembly:
The box is made from poplar and using simple butt joints. glue, and screws on the rear panel. I used a simple black rubble handle from PE as well as 1″ rubber feet which I feel it the right look for this one.
Crossover Design:
Nothing special here. Pre made off of Amazon… 3500 cross point.
Tips & Tricks:
Slow down. Pre assemble everything you can. Then go back and do the finishing work. I hate making dings and dents on the final finish!
Conclusion:
This one turned out nice. I did have room for all my electronics for once! I now have my template to base all future builds off of.
About the Designer:
Lighting contractor by day. Maker of cool things via nights and weekends. Dallas, TX.
Project Parts List: