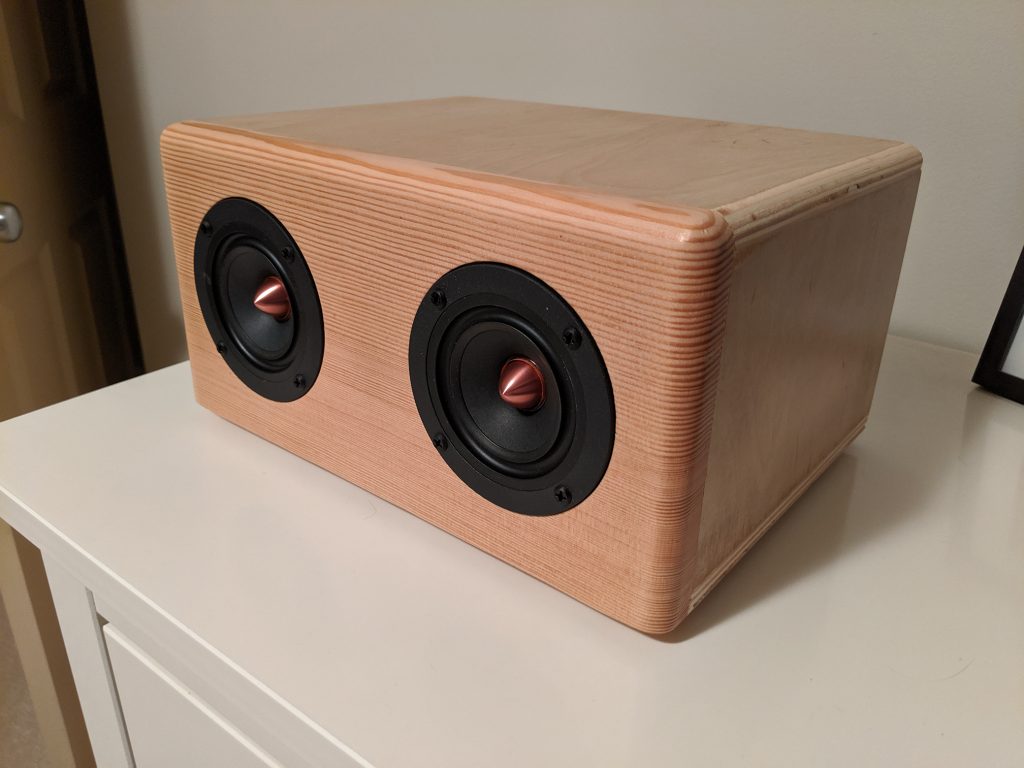 PS95 Bluetooth
---
Designer:
Mark
Project Category:
Freestyle Speakers
Project Level:
Beginner
Project Time:
1-8 Hours
Project Cost:
Under $100
Project Description:
My first concerted start to finish woodworking project. Wanted something small and classy for one of our bedrooms. Had the PS95s in their boxes ready for a project. The rest is history.
Design Goals:
A small sealed enclosure suitable for the PS95s.
Driver Selection:
Dayton Audio PS95-8 (295-349)
Enclosure Design:
I had a set width and height in mind, and tweaked the depth of the box to match the ideal sealed volume specs for the drivers. I used a roundover on the top and side edges, and left the bottom and back square (a direct inspiration from the Cordelia build posted here, so thanks!).
Enclosure Assembly:
The enclosure is 1/2″ birch plywood, with a 1/2″ Douglas Fir baffle. Drivers are recessed about 1/4″. The rear is 1/2″ MDF for now – I plan to update the box with internal amplification later, but for now it's being powered by a small external bluetooth amplifier. I used a small amount of PolyFill just to make sure the wiring didn't rattle in the box. I finished the enclosure with some small rubber feet and speaker terminals on the rear (not shown), and a quick coat of satin varathane.
Crossover Design:
N/A. Running these drivers full-range as intended.
Tips & Tricks:
As my first woodworking project, I learned quite a lot in the process. The router circle jig made recessing the drivers pretty easy once I had the radius and depth right (practice on MDF first). I'd probably not use the roundover style on plywood again, as it exposed the ply more roughly than I'd wanted. I'll go back and re-sand and seal the enclosure, as I'd like it all to be a bit smoother.
Conclusion:
Very impressed by the sound from these small drivers. I find the bass starts dropping off around 110Hz (more or less on par with the reported specs for a sealed box, possibly a bit lower due to the light stuffing used?). Sound quality in the acoustic instrument and vocal range is fantastic to my amateur ears in this small-room, moderate-volume application. I can see why people like these drivers so much.
About the Designer:
Longtime speaker junkie, first-time woodworker. Hopefully the first of many projects.
Project Parts List: