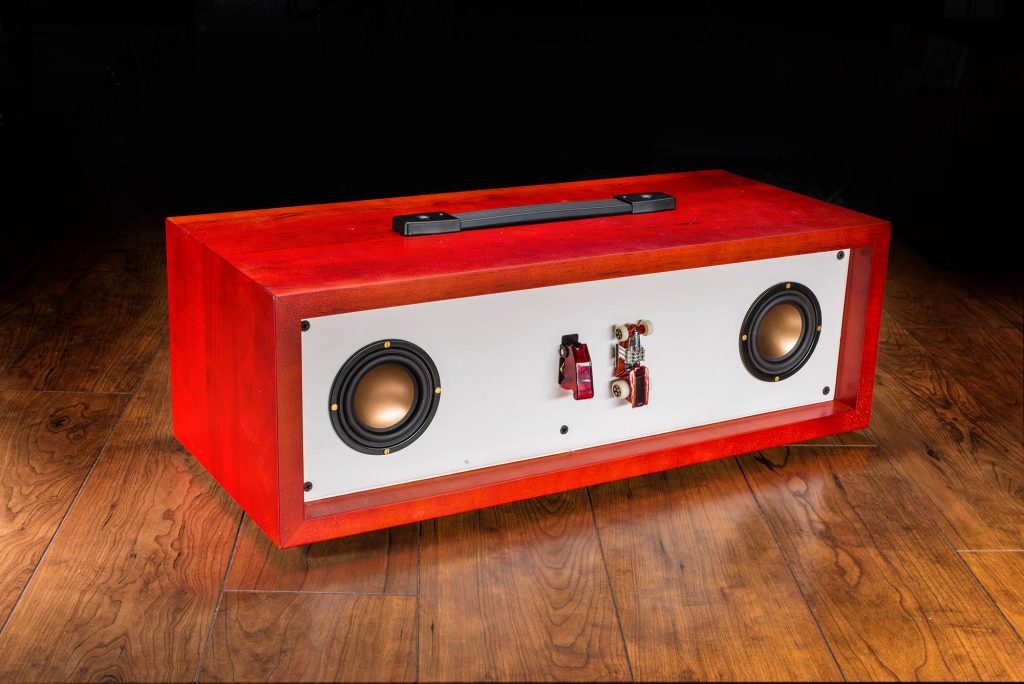 Red Stereo Build
---
Designer:
Kenny
Project Category:
Freestyle Speakers
Project Level:
Intermediate
Project Time:
8-20 Hours
Project Cost:
Under $100
Project Description:
Stereo build from ground up.
Design Goals:
Christmas present I built for my 10 year old nephew. Wanted to give him the stereo I would have loved at that age.
Driver Selection:
HiVi B3N 3″ Aluminum Driver Round Frame
Part # 297-428
Enclosure Design:
Home built from Maple.
Enclosure Assembly:
I'm quite proud of the finish on this. First I brushed a layer of yellow watercolour paint on it, then I put a clear coat on the bare maple, then sprayed it with an aerosol "candy red" I found at a hardware store. This way I could see the wood grain through the paint, but still gave it the flashy look every kid wants. I was hoping to achieve a bit more orange, but the red went over really well too.
Conclusion:
There was lots of little things I tried, including hiding the LEDs on the rear side of the front face by very nearly drilling through the face from the rear, then just getting a glow from the LEDs. This worked fairly well. A few things I'd have done different would have been a lighter enclosure, and maybe gone a bit bigger and done vented enclosures as well. Overall I was very pleased and so was my nephew!
About the Designer:
Home builder, just for fun.
Project Parts List: