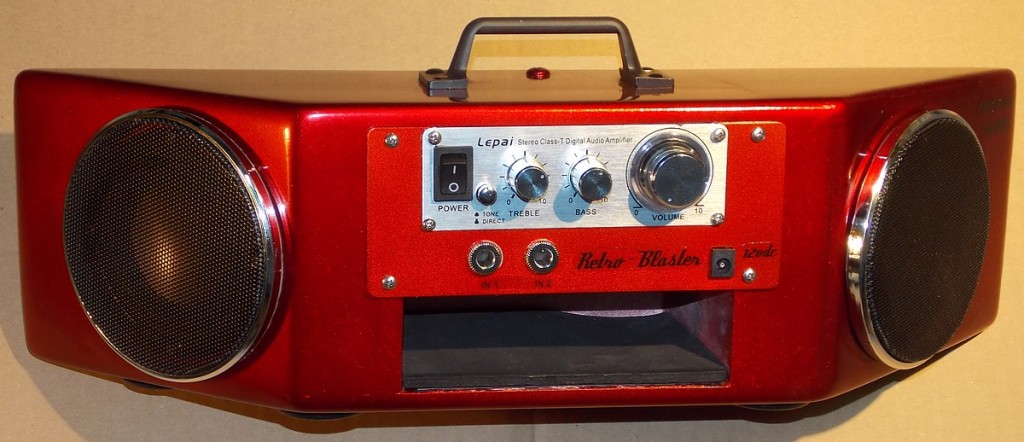 Retro-Blaster
---
Designer:
Electrowiz
Project Category:
Portable Speakers
Project Level:
Intermediate
Project Time:
20+ Hours
Project Cost:
$100 – $500
Project Description:
A combined two input stereo amplifier with tone controls and stereo speakers in a custom enclosure. Used as a synthesizer practice amp and for general music enjoyment.
Design Goals:
Three key design goals: 1) Stereo amp with good room filling volume, and tone control. 2) Portable size, easy to sit on table, shelf, or floor. 3) A custom design style retro candy apple red with a feel of the hot rods/Fenders guitars from the 60's.
Driver Selection:
Part # 297-428 – HiVi B3N 3″ Aluminum Driver Round Frame
Enclosure Design:
Custom design, sealed enclosure, stereo. 1.5 Cu/Ft per speaker.
Enclosure Assembly:
Used PVC sheets, from hardware store. Bonded with two part epoxy. Inside lined with rubberized coating. Speaker boxes filled with poly-fiber.
Crossover Design:
Direct, no cross-over.
Products Used:
Spkr Part # 297-428 – HiVi B3N 3″ Aluminum Driver Round Frame
Amp Part # 310-300 – Lepai Tripath-LP2020A+ mini audio amp
Modified per website:http://techtalk.parts-express.com/forum/tech-talk-forum/45432-modding-the-lepai-t2020a
Silver flake spray, Candy apple red transparent spray. Final acrylic clear coat.
Tips & Tricks:
The PVC sheets are nice in that they are easy to machine, inexpensive and don't have grain to worry about and tend not to have un-wanted resonances like wood. Need to be prepped well for painting.
Conclusion:
The amp sounds great, used in large lab with a two synthesizer input, plenty of volume Bass, Midrange, and high end solid.
Sounds bigger than it looks
About the Designer:
Worked in Aerospace, and Bio-med electronics design work. Hobbies are electronic music synthesizer building and music composing and recording.