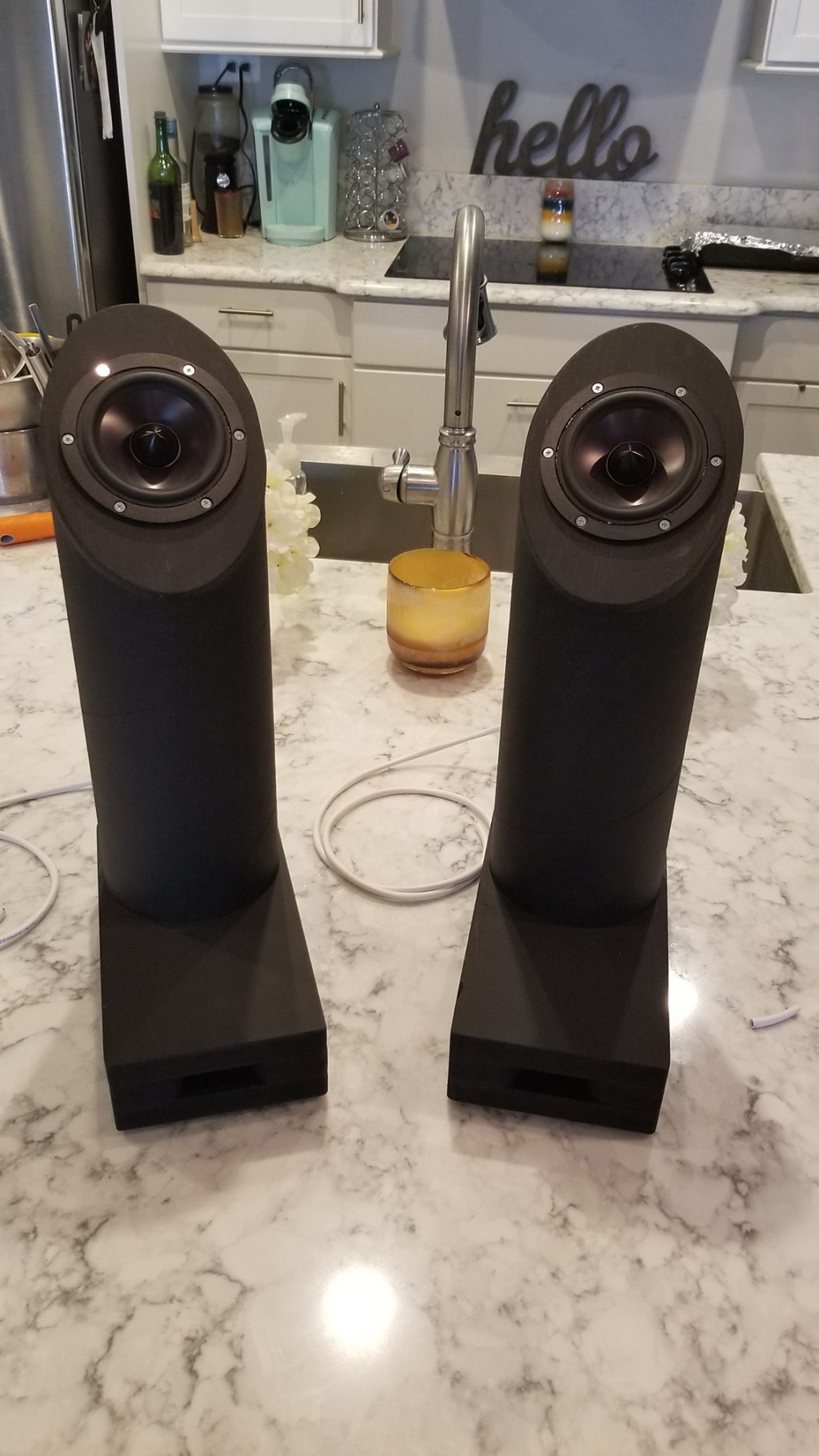 "Robot Boots" – Office Speakers for Stand up Desktop
---
Designer:
Ryan Michael Clark
Project Category:
Bookshelf Speakers
Project Level:
Beginner
Project Time:
1-8 Hours
Project Cost:
Under $100
Project Description:
"Robot Boots" – Office Speakers for Stand up Desktop
Design Goals:
Utilize 4" industrial paper cores for a cylindrical design
Design for optimal stereo placement at stand-up desk
No or minimal enclosure cost
Driver Selection:
295-378
Enclosure Design:
Cylindrical enclosure using 4" industrial paper cores with 45-degree angled for on-axis positioning at standup desk
0.08 ft3 internal volume modelled F3 of 65 Hz
Base made of 3 layers of .75" MDF with a center flared vent 1.5" x .75" 7.75" (Fb 65 Hz)
Enclosure Assembly:
components:
Baffle made of 0.5" plywood, glued and nailed to core
enclosure is 3/8″ wall 4″ diameter industrial paper core glued to base
Base is constructed of 5 pieces of 0.75″ MSD which houses a 1.5 x .75 vent
Crossover Design:
Nope 🙂
Tips & Tricks:
Sanded MSF surface on base and bottom of cylinder to ensure a good bond.
Conclusion:
Sound is clear, accurate and non-fatiguing. I am very pleased with these in a near field set up. A perfect match with a Tang Band W5 subwoofer and Dayton DTA-2.1BT, although I would be please with them in this set-up without a sub.
About the Designer:
I have always been an aspiring audiophile, although I don't consider myself one. I am just a guy that loves music (listening to and making it), movies and building things out of wood. I still have my Infinity SM-62's I bought out of a Crutchfield catalog in the early 90's (~14 years old).
Project Parts List: