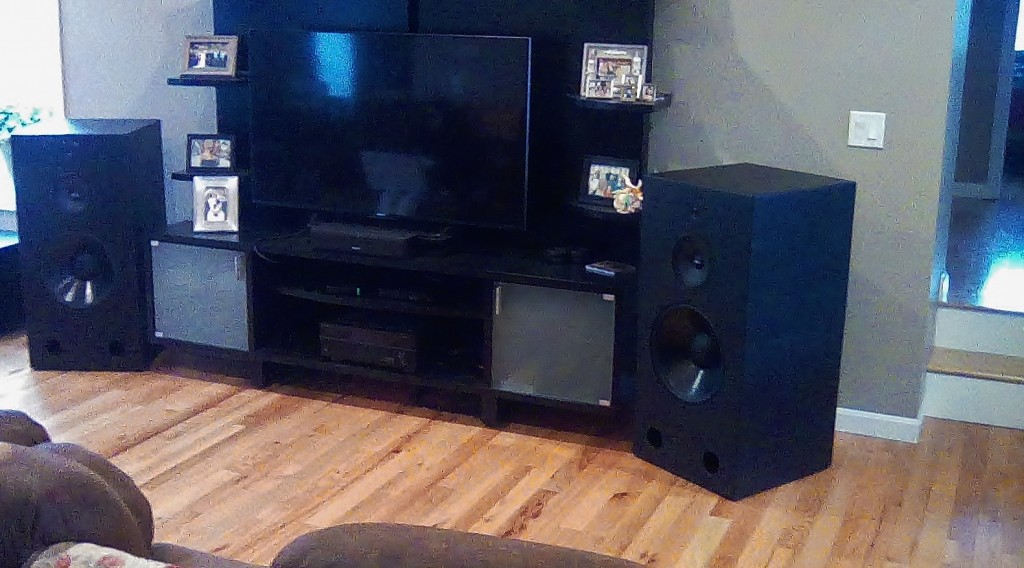 Rockin' It Old School Alternate
---
Designer:
Matt Phillips / RB
Project Category:
Tower Speakers
Project Level:
Beginner
Project Time:
20+ Hours
Project Cost:
$500 – $1,000
Project Description:
I wanted to build Matt Phillips Rockin' It Old School speakers, but the woofers he used are discontinued.
Design Goals:
Front speakers for my living room that would have deep bass extension to eliminate my cheap subwoofer. And like the original speakers I wanted speakers capable of being driven with a home av receiver.
Driver Selection:
The same tweeter and mid as the originals but replaced the woofer with the Dayton Audio DC380-8 15″.
Enclosure Design:
Some would consider these gaudy, I ended up with a box 40″ H x 20″ W x 20.25″ D I wanted an F3 at no higher than 30 hz since I am not going to be using a subwoofer. The recommended vented volume for the DC380 woofer is a massive 5.27 cu. ft., and I enlarged it to 6.5 cu. ft. to get the f3 I wanted.
Enclosure Assembly:
Everything is similar to the originals but I doubled up the baffle for 1-1/2″.
Crossover Design:
I used X over pro and used the same crossover points with 2nd order filters.
This was my first speaker build and admittedly I don't know very much about designing crossover networks. I also don't have a mic or software for measuring frequency response so there were no in box measurements.
Conclusion:
After listening to these speakers several times I have discovered my ears are sensitive to very low frequency bass, so I have actually had to set the bass management to 40 hz in my receiver to avoid hurting my ears. :/
About the Designer:
Someone with too much time and money on their hands to buy a nice pair of speakers from the store
Project Parts List: