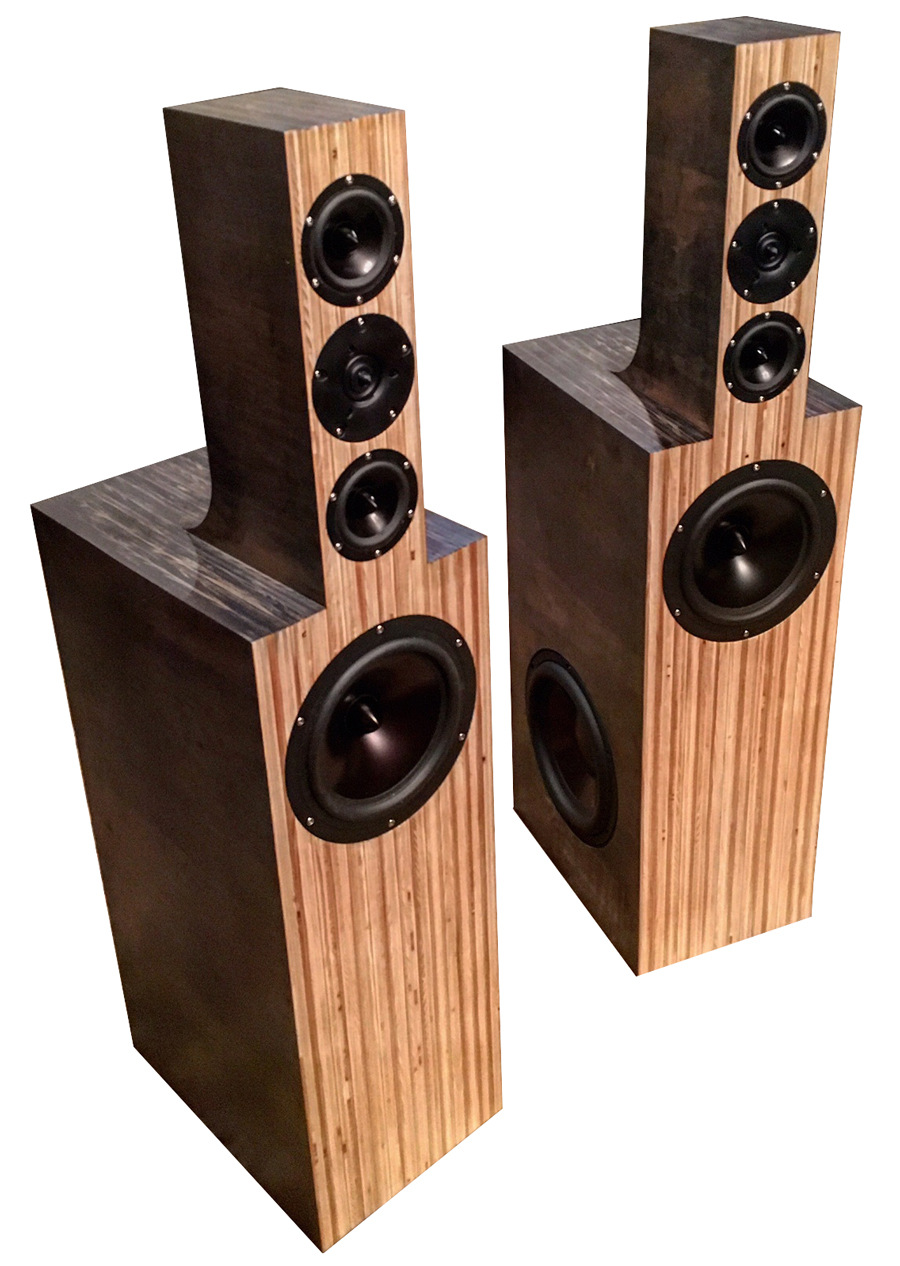 RS4 – 4-way Trans Lam Tower Speaker
---
Designer:
Javad Shadzi
Project Category:
Tower Speakers
Project Level:
Intermediate
Project Time:
20+ Hours
Project Cost:
Over $1,000
Project Description:
The RS4 Speakers
I dubbed these speakers the RS4s, apparently Infinity has a discontinued speaker called the RS-4, oh well I've got a good lawyer, gonna roll the dice
RS4 hearkens to two things, the first is that I'll be using mostly Dayton Reference Series drivers and it's a 4-way system, the second is that I am an Audi tuner by trade and the Audi RS line of vehicles represent dynamically precisely what I'd like to achieve with these speakers acoustically.
The components I've chosen were based on many reviews and research I did, as well as considering this is my first set of speakers in 15 years, you gotta start somewhere right?
I don't know what these are technically classified as, but they are basically an MTM with an added mid-bass 8″ and a 10″ subwoofer. Since I talked the wife into giving me the Dining Room I realized the potential to make something bigger and not limited size wise, so at that point I stopped planning a separate subwoofer and decided to integrate the sub-bass into the towers.
Design Goals:
The goals of this speaker build were several:
1 – A set of full range towers that could get very loud with low distortion.
2 – Utilize the latest technology in electronics including DSP cross over and room measured equalization.
3 – Something that looked sexy as heck and would be a real conversation starter.
4 – Not a bookshelf speaker but as compact as possible while delivering much larger performance.
Driver Selection:
Tweeter
XT25TG30-04 – I am a die hard Vifa fan from way back, obviously they've gone through some changes but I at least really wanted to try the newer tweeters they came out with. I chose these for a few reasons:
– Visually they match the rest of the RS drivers with their phase plug (I know…)
– They are 4ohms and have very high power handling, I want these to get loud and am really hoping these tweeters keep up. I was seriously considering two 8ohm tweeters in parallel but after researching the lobing issues, decided against it.
– Very well rated and used in some very high end commercial speakers
Crossover will start in the 3500kHz range
Midrange
RS100-8 – Since I was committed to the RS line so it was a matter of picking one of the options, I wanted to spread the audio load over multiple drivers whenever possible and the midrange posed the best opportunity. Was interested in the RS52 and will try them for a future project. The RS100 were very well rated, had the right power handling, impedance, etc. I was also intrigued with playing these drivers high frequency capabilities given the digital setup I'd have, will be fun to experiment bringing these in with the tweeter as well as seeing how they sound w/o it.
These will have about .08 ft3 of space, I'm considering crossing them over in the 600-3500 range.
Mid-Bass
RS225-4 – Something I really appreciate in a speaker is punchy mid-bass in that 100-300Hz range, I toyed with the idea of doing multiple 6.5″ options per cabinet (was very intrigued with the Tang Bang 6.5″ W6 at one point) but ultimately decided one 8″ per cabinet would do nicely. This is obviously a very well rated woofer and I'm looking forward to using it.
This will live in about .45 ft3, sealed, cross over in the 150-600 range.
Subwoofer
RSS265HF-4 – This driver was the most excruciating to make a decision on. The ride you go on when choosing a subwoofer driver isn't one you are in control of, you are simply along for the ride as your brain is tortured with a decision that really cannot ever be made, the decision simply wears you down until your spirit is broken.
The RSS265HF ultimately met all the criteria including DNA, price and rating. I went back and forth a lot on enclosure style and ultimately decided that for simplicity and space sake, I'd stick to a sealed enclosure. Also with the very powerful DSP and amplification I had available, I figured I could make up for any loss of low end easily. Also this isn't an HT setup so really I'm looking for fast, precise and powerful bass, not looking to simulate death star explosions, more the resonant impact of Sting's bass string.
This driver will get about .8 ft3 and play between about 25-150Hz
Enclosure Design:
At my company 034Motorsport we use 3D printing technology and that got me thinking, it would be neat to do something a little different and not need to use a table saw. Using the "trans lam" technique I designed a set of enclosures that were made from 14 layers of .75″ maple plywood each. Each layer's shape determined the overall shape of each enclosure as they were layered together.
Enclosure Assembly:
What I ended up with was 14 layers in each enclosure:
– 4 inner panels that created the very center of the enclosure as well as the volume for the mid/tweeter section. ID of this enclosure is .75x 4 or 3″
– 2 outer/inner panels that created the sides of the mid/tweeter section as well as additional inner layers for the lower part of the enclosure.
– 4 inner/lower panels that added more space for the lower part of the woofer/sub enclosure.
– 4 outer/lower panels that capped the woofer/sub enclosure and created a 1.5″ wall thickness for the outside.
All enclosures have 1.5″ wall thickness except for the mid/tweeter section which has 1.5″ wall top, back and bottom, but .75 on the sides.
Of the two different inner and outer panels, the first one of each that I created acted as the pattern for additional units and layers. That way every layer was the same and I didn't have to worry about not having a table saw to make accurate cuts with. My plan was to create the first inner piece, then glue additional oversized panes to that and flush router each additional layer that is added and work from the inside out. And it worked!
All in all I needed almost 5 full sheets of plywood, I chose Maple as it was the only option at Home Depot that was actually .75″ thick, and I need all the thickness I can get for this!
Crossover Design:
After adding up the cost of doing a passive network for these, I quickly realized I could put a significant piece of cash towards a fully digital system with an amplifier section for each driver.
I ended up with a miniDSP 4×10 which allows for 2 inputs and 8 analog outputs, one pair for each subwoofer, woofer, midrange and tweeter.
Each driver operates in the following range:
– Subwoofer, 20-150hz
– Midbass – 150-600hz
– Midrange – 600-3500hz
– Tweeter – 3500-20,000+hz
The following Adcom components are being used with the miniDSP:
– GFA-545II – 150w x 2 in 4ohms – Mid-bass Section
– GFA-555 – 325w x 2 in 4ohms – Subwoofer Section
– GFA-2535 – 90w x 4 in 4ohms – Midrange and Tweeter Section
– GFP-565 – Preamp
Tips & Tricks:
If you're interested in buliding these or something similar, post in my thread in Parts Express' Tech Talk Forum, just search "Javad RS4" or look me up as user JavadS.
Conclusion:
I couldn't be happier with the results! The Dayton drivers lived up to everything everyone said about them, very clean and low distortion drivers. I have been told that these would hold their own with any commercially built speaker in the $3-5000 range.
The imaging of these speakers is what really blows me away, closing my eyes during Dark Side of the Moon or a live recorded Jazz piece allows me to virtually see and touch each instrument.
I never knew it rained in the last half of Imogen Heap's Hide and Seek, I had to pause the music as I thought it had started to rain outside. This astounded me as I'd heard this song hundreds of times before.
There are few things as satisfying as imagining a set of speakers, building them, getting lost in an album, even being brought to tears by the impact and realism of the music!
About the Designer:
Javad Shadzi is President of 034Motorsport, a company that engineers and manufactures high performance automotive products in Fremont, CA. Javad loves to cook and spend time with his beautiful wife and 3 kids (4th on the way!).
Though it's been 15 years since he built a speaker, now that he's built these he's not sure he can stop anytime soon!
Project Parts List
| | | |
| --- | --- | --- |
| Part # | Description | Qty |
| 264-1016 | | 2 |
| 295-352 | | 2 |
| 295-376 | | 2 |
| 295-460 | | 2 |
| 091-1247 | | 2 |