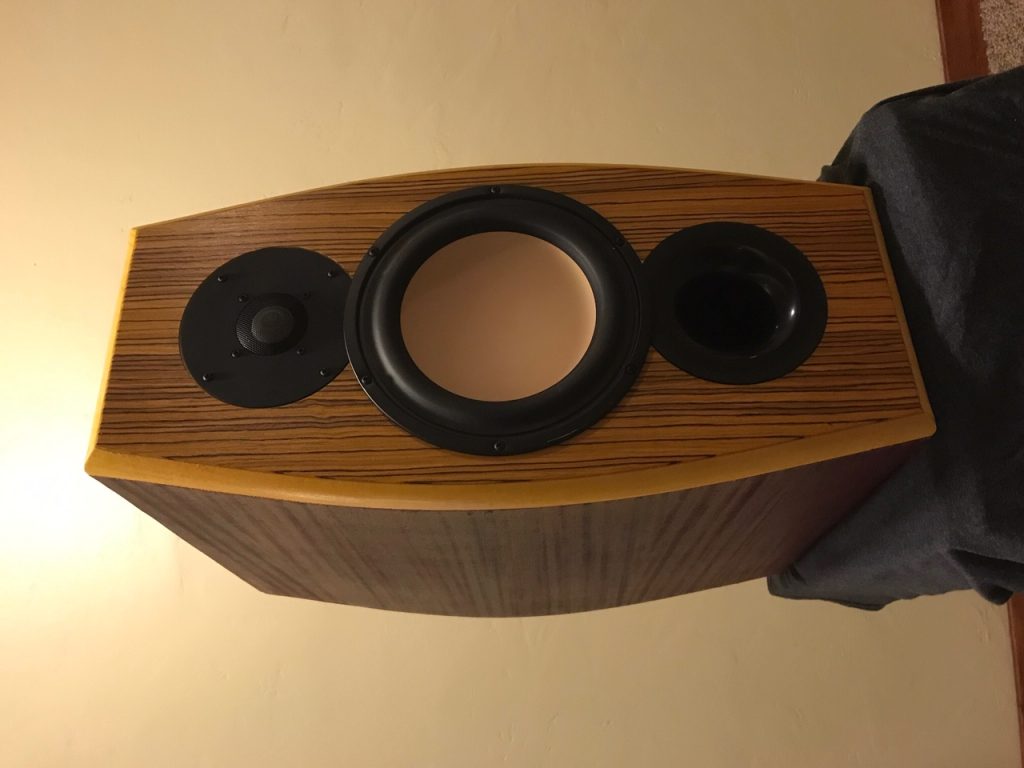 Safaris
---
Designer:
Chris B
Project Category:
Bookshelf Speakers
Project Level:
Intermediate
Project Time:
1-8 Hours
Project Cost:
$100 – $500
Project Description:
The Safaris are an 8″ two-way large stand-mount speaker. It features a vented enclosure with an F3 of approximately 31hz. The speaker features the HiVi M8N woofer and large Peerless DA32TX corundum tweeter. These drivers come in at just under $200/pr. These speakers made their debut at the 2019 Parts Express Midwest Audio Fest.
Design Goals:
I wanted a reference quality 8″ two-way that did not break the bank. I wanted a low F3 and a tweeter that was suitable for a low crossover point without needing assistance from a waveguide.
Driver Selection:
I chose the M8N woofer (297-446) for its strong low frequency output and sound quality. People seem to speak highly of the HiVi metal cone drivers and there have been several good designs with various drivers from this lineup.
The large Peerless corundum tweeter (264-1678) was a no brainer. It can cross very low and do so effortlessly, with no signs of strain. On top of that it sounds fantastic!
Enclosure Design:
I chose the curved enclosure for form and function. I wanted something besides a rectangular box and also liked that the curve narrowed the baffle some near the tweeter. The curve also helps prevent as many parallel surfaces inside the enclosure. I chose to finish these in ribbon striped mahogany (with red mahogany transtint dye) and zebrawood, finished in sprayed amber shellac. The net volume is 1.5 ft3.
Enclosure Assembly:
I used a combination of materials for the enclosure. The front baffle is 3/4″ aspen, the top and bottom are 3/4″ particle board, and the rear is 3/4″ MDF. The sides are three layers of HDF (Masonite) glued together with a generous amount of wood glue covering the entire surface. Internal bracing is isolated from directly coupling to the walls with a rubberized sealing product similar to Dynamat.
Crossover Design:
The woofer section is fourth order electrical using two "tank" notch filters to tame the significant cone resonance of the metal cone.
The tweeter uses a simple damped third order electrical filter. The tweeter resistor is adjustable from 7 to 10 ohms to adjust tweeter level. When I debuted theses I was using a 7 ohm resistor but they were a touch hot in the treble. 8-9 ohms is about right.
Crossover frequency ends up being right around 1100Hz.
Tips & Tricks:
Dial the tweeter resistor to your taste.
A flared port (both ends) no smaller than 2″ id is strongly recommended.
Use some eggcrate foam or similar material on the walls behind and adjacent to the woofer, being careful to keep it away from the crossover.
Peel and stick veneer (3M PSA) is so easy even I could do it!
Conclusion:
I am very happy with the outcome of these. I really enjoy listening to them. I feel personally that they are a great comparison and alternative to more expensive hifi monitors. Both of the drivers are very detailed.
About the Designer:
Been dabbling in speaker design for a lot of years now, and still learn something new with every build!
Project Parts List: