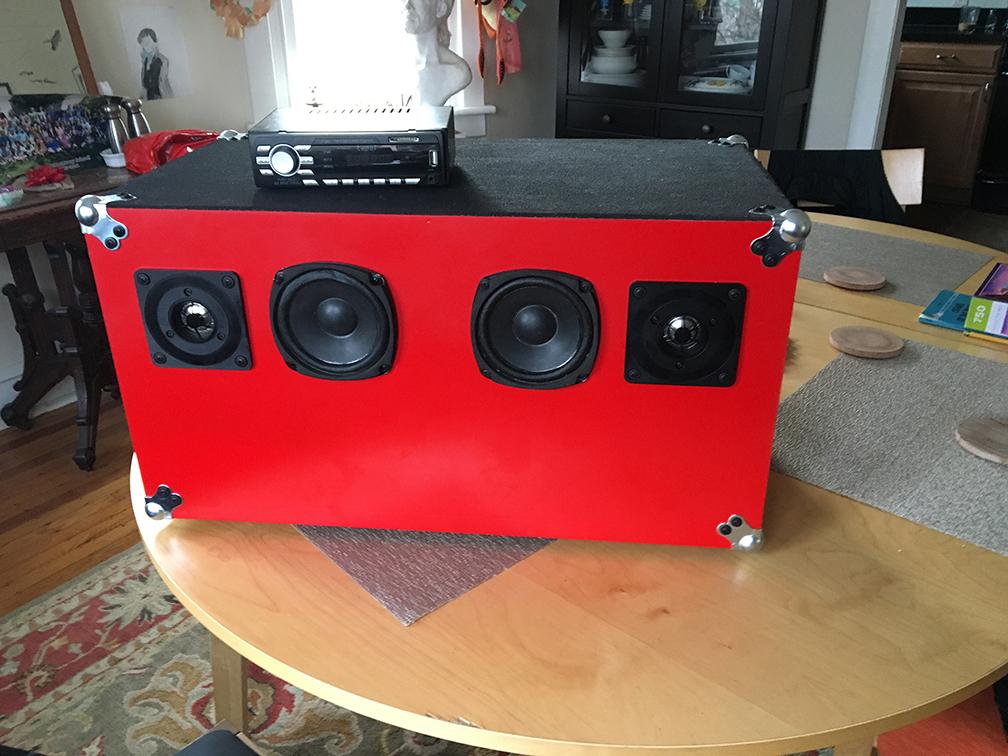 shop boombox
---
Designer:
James
Project Category:
Portable Speakers
Project Level:
Beginner
Project Time:
20+ Hours
Project Cost:
$100 – $500
Project Description:
Overblown boom box for use in an auto repair shop. Features all bargain stuff from PE: Goldwood 10″ 4 Ohm woofers, 4.5″ mid-ranges, and 2 tweeters. Powered by one of those Lepai car-radio-style receivers.
Design Goals:
Make something my brother could listen to in his auto repair shop that sounds better than a crummy boombox and looks kind of like a Snap-On product
Driver Selection:
GRS 4FR-8 Full-Range 4-1/2″ Speaker Pioneer Type
Part # 292-434
Goldwood GT-322 1″ Titanium Dome Tweeter 3-3/4″ Square
Part # 270-15
Goldwood GW-210/4 10″ OEM Woofer 4 Ohm
Part # 290-320
Enclosure Design:
Bottom is 1.25″ MDF, other sides are .5″ MDF. Top has a sheet of truck-bed lining rubber glued to to it so tools and things can be put on in without scratching it or vibrating off.
Enclosure Assembly:
Wood glue and screws. Sealed seams with silicone caulking and scrap wood bolsters. Corner braces from PE as well. Woofers are underneath (fire downward) and mounted flush. Didn't bother flush mounting the mids and tweets on the front.
Crossover Design:
Used the super cheap Panasonic buyout terminal cups. 2 for the midrange and tweeters, 2 low-passers for the woofers.
Tips & Tricks:
Don't be afraid to just do stuff and rework it later. This box went through 2 or 3 iterations before I liked it. I'm not totally happy with it, but it's pretty great as is.
Conclusion:
First real project I've attempted. It sounds pretty great, although the crossovers are probably not right and blah blah blah. LOTS of fun to build and I can't wait to drop it off this weekend.
About the Designer:
I have no idea what I'm doing.
Parts Used:
Everything but the MDF and red paint is from PE.
Lepai LP-S60 4x25W Desktop Mini Amplifier with Remote USB MP3 Media Card FM
Part # 310-306