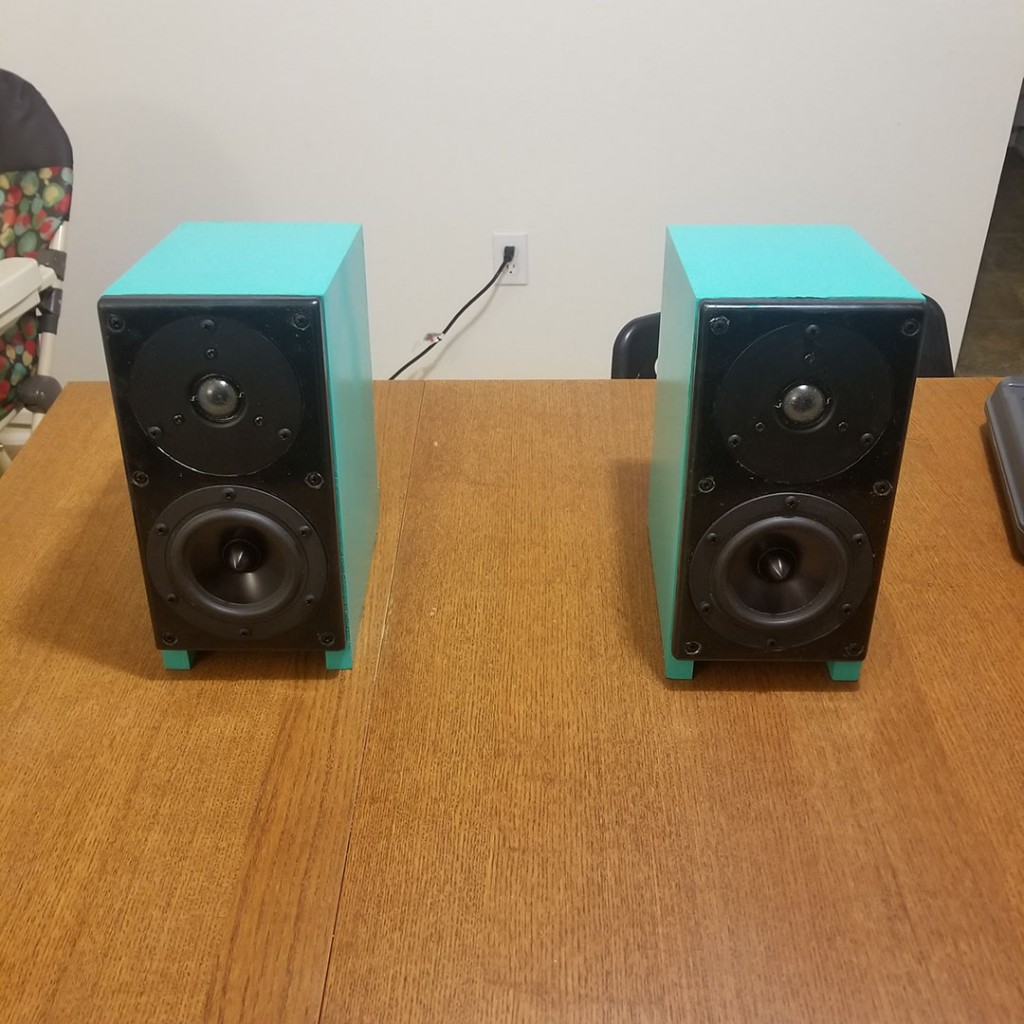 Silkie Ref desk bookshelf
---
Designer:
JSTAN
Project Category:
Bookshelf Speakers
Project Level:
Beginner
Project Time:
8-20 Hours
Project Cost:
$100 – $500
Project Description:
build the best bookshelf speakers for under 200 dollers. one of my little ones poked a hole in my bowers and wilkins CM9 tweeter. i wanted to see what i could build for the price of replacment.
Design Goals:
wanted to fit the crossover tweeter and port into a .1 square ft ported box as suggested for the driver i picked out
Driver Selection:
Part # 275-070
Part # 295-353
Enclosure Design:
made with 3/4″ MDF. internal dementions 4x6x9 inches. i decided to port on the bottom so i raised the front 1 higher than the reer making them point 8° up. the 3/4 inch port comes up between the mid/bass and the reer mounted crossover
Enclosure Assembly:
purchased 2 2×2 3/4 inch panels of mdf. drew out the planned cuts with a little extra room to account for the blade. i cut a 1/4 inch trench with my router for all my pieces to fit together. for the side panels i cut the trwnch and then cut the angle for the front. i counter sunk the front baffle and screwed them in sealing with 1/8 inch foam rather than glewing together so i could make adjustments. i used some old packing foam i had at work and cut a sham cloth and wraped it around the port for extra sound dampening. i painted them teal because i found it in the oops paint at home depot and could not pass up the deal
Crossover Design:
using x-sim and the data from PE i created a 2nd order crossover at around 1900 Hz. the woofer seemed to have a higher response so i added a 4.5 ohm resister to create a flat response. i later clipped the resister after testing because i could only hear the tweeter. i will probuble add a small resister to bring down the tweeter a bit more.
Tips & Tricks:
i cut the circles by attaching a scrap piece of wood to the bottom of the router and measured the radious of the circles required.
Conclusion:
a great project i learned a lot allong the way and found i was able to fix mistakes quickly.
About the Designer:
i work as a calibration repair technician with 10 years expierence. i currently own a pair of bowers and wilkins CM9 towers and wanted to get as close if not better than the sound of them.
Project Parts List: