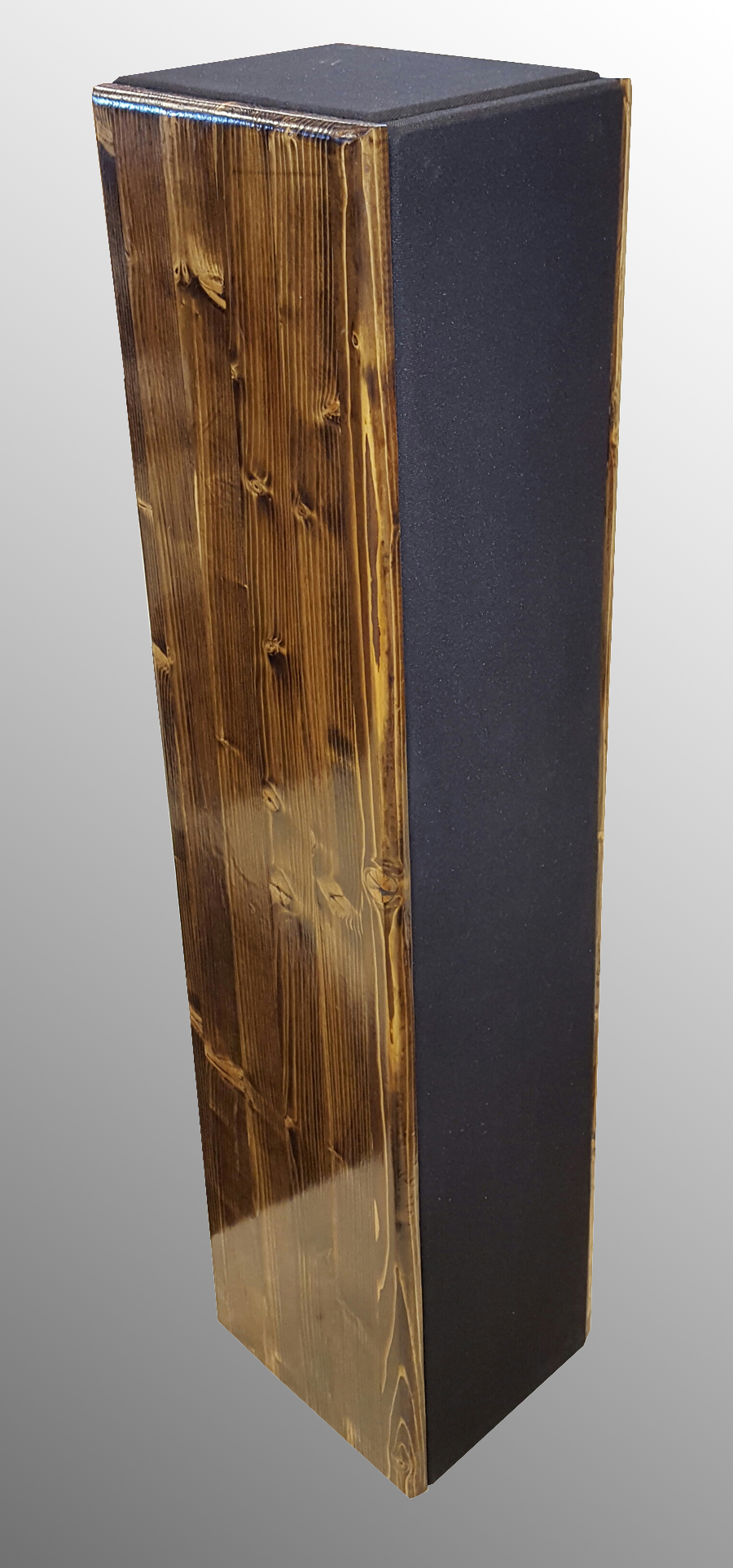 Simple Tower
---
Designer: TNAudio
Project Category
Tower Speakers
Project Level
Beginner
Project Time
8-20 Hours
Project Cost
$100 – $500
Project Description
Smaller footprint MTM tower with very simple crossover
Design Goals
I wanted to build a tower speaker that was not huge. My wife loves handmade woodwork so she requested a stained wood finish. To keep the cost down I needed to find drivers that behaved well with little to no crossover.
Driver Selection
Tang Band W5-704D woofer was chosen for its wide frequency range that makes blending with tweeter very easy.
Morel MDT 12 tweeter was chosen because I have used in other projects and love the sound of Morel tweeters.
Enclosure Design
The Tang Band plays very high in range for its size but on the bottom it rolls off early around 150hz. I went with a T-line to reinforce the midbass and bass region. In a previous project I had great luck make smaller drivers with similar frequency response sound much more full in the low midrange/midbass frequencies with a T-line. The only drawback I had was I could hear the sound coming from to separate points with the woofer up top and the T-line exiting from the bottom. So I wanted to try making the T-line come out near the drivers.
Enclosure Assembly
The enclosure is made from 3/4″ MDF. The sides I made stained pine skins to give the homemade look my wife loves.
Crossover Design
The mids roll off smoothly on their own and I didnt see a need in adding anything to them. The tweeter has a 2.7uF cap in line only.
The mids are wired in series.
Conclusion
The speakers sound great and my wife loves the look compared to our old black bookshelves on speaker stands.
About the Designer
I work in a car audio retail store. I have over 15 years experience designing and building sound systems in car. Since we purchased our home 2 years ago I have made a hobby of building furniture pieces for the house.
Project Parts List