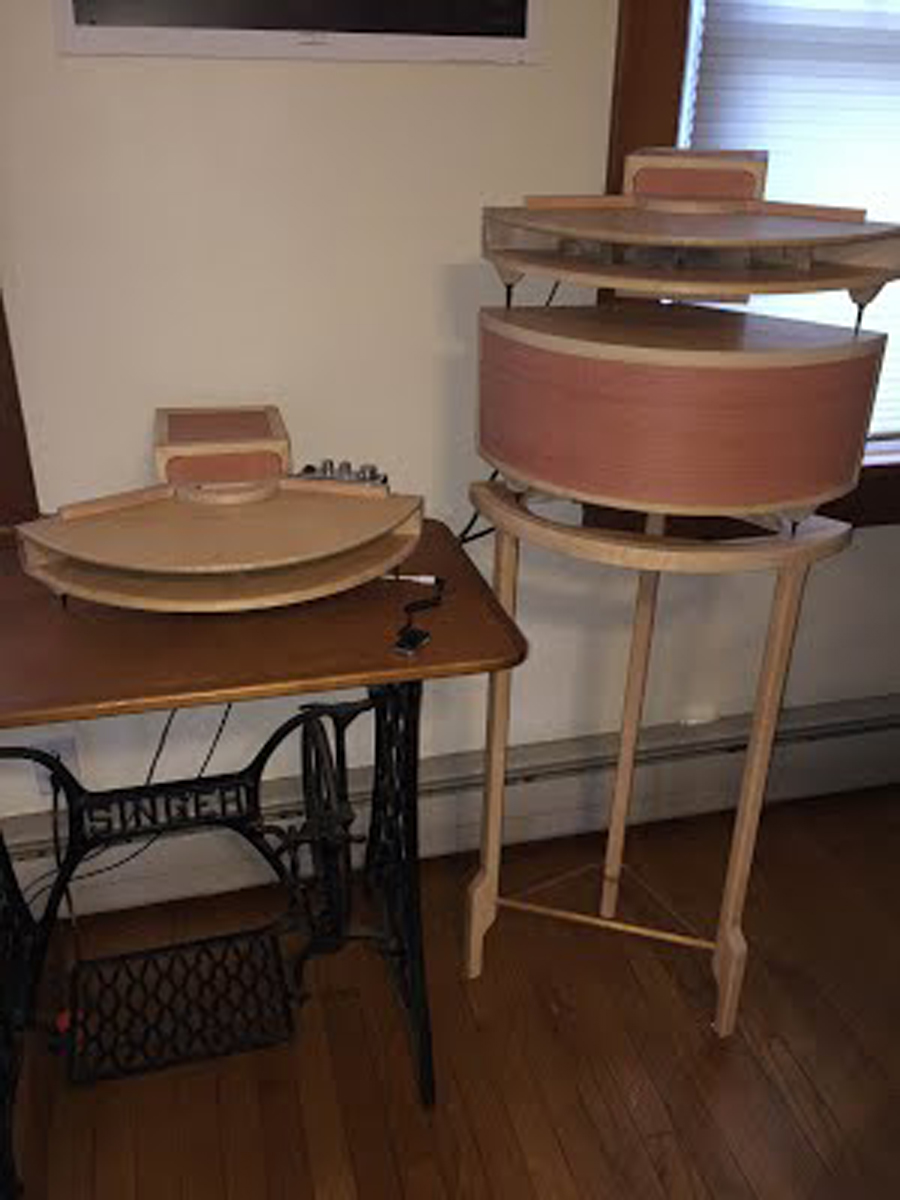 Small 2.1 system with Smith-horns
---
Designer:
Mike MacIsaac
Project Category:
Freestyle Speakers
Project Level:
Beginner
Project Time:
8-20 Hours
Project Cost:
$100 – $500
Project Description:
This is a unique "2.1" system inspired by the classic JBL 2397 "Smith Horn". It cost less than $200, perhaps $125 in parts and maybe $75 for the wood.
Design Goals:
A small inexpensive 2.1 system, with a unique look. The shape of the Smith horns was copied for the subwoofer enclosure.
Driver Selection:
Two inexpensive full-range drivers. The Fountek FE87 was a good fit. One inexpensive subwoofer and amp. The HP-5210 5-1/4″ woofer and Dayton Audio SA25 25W seemed to also be a good fit.
Enclosure Design:
This was my first build, so I'm new at this. I tried to work the numbers and came up with 242 cu-in for the drivers and 345 cu-in for the subwoofer. I went with a cube for the drivers that ended up just under 7″, and the subwoofer also ended about 7″ tall.
Enclosure Assembly:
The driver cubes are 3/4″ x 3/4″ maple with 1/5″ plywood. The Smith horns are 1/2″ maple plywood with two 1/8″ bent maple strips glued to the front. The subwoofer is 3 pieces of 1/5″ plywood laminated together (many slots cut in the back of each to get the flexibility to bend). To try something different, I finished it with shellac. Not sure I'll do that again, rather, go back to natural stain and 3 coats of polyurethane.
Crossover Design:
The only crossover is the low-pass built into the subwoofer amplifier.
Tips & Tricks:
Bending and gluing the plywood for the subwoofer enclosure was tricky. In the end having many cuts, maybe 3/8″ apart more than half way through the plywood allowed it to be bent with ease.
Conclusion:
For all the woodwork necessary, maybe I should have paid more for higher quality parts. But the sound is really nice, and that's what counts.
About the Designer:
Newby speaker designer/builder, intermediate woodworker. Bringing the two together has been rewarding
Project Parts List
You will also need some inexpensive spiked feet…