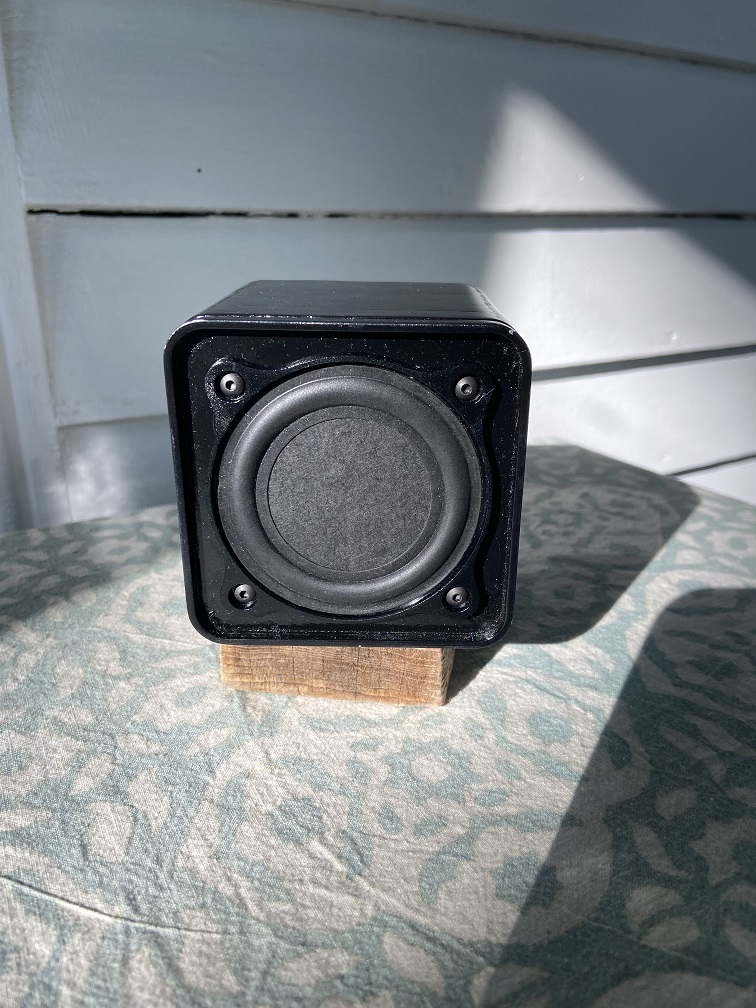 Small 3d printed desktop speakers
---
Designer:
jonathan
Project Category:
Bookshelf Speakers
Project Level:
Beginner
Project Time:
20+ Hours
Project Cost:
Under $100
Project Description:
Small 3d printed desktop speakers inspired by the Cambridge Audio Minx Min 12.
Design Goals:
I really like the size and look of Cambridge Audio's Minx Min 12 speakers. They have a small form factor and high SAF (spouse approval factor). But at $75 per speaker I thought I could make something like that myself for a lot less. Recently had purchased a 3d printer to help make face-shields and wanted to see if I could learn WinISD and Fusion 360 well enough to make something from scratch.
Driver Selection:
C.A. uses BMR's in their speaker so that is what I wanted to try. Had general idea of the size and frequency response I wanted. Headed over to Parts Express and settled on the Tectonic BMR 3″ Full-Range speaker for about ~$20 each.
Enclosure Design:
Added Tectonic driver to WinISD and got acceptable enclosure and port dimensions. Then modeled the enclosure in Fusion360 using WinISD results and nominal dimensions from driver data sheet. Ended up with an approx 3" 3d printed cube with integrated port and holes for binding posts and mounting hardware. Driver is mounted to a removable front face. Printed on Creality Ender 3 using PLA.
Enclosure Assembly:
Print front and base. Test fit driver, front face, binding posts and mounting bolt. You could stop at this point if you like the 3d printed look, or disassemble and finish as desired. I used spray primer/filler, lots of sanding and black spray paint. I also designed and printed some table-top speaker stands that still need to be cleaned up.
Crossover Design:
#N/A
Tips & Tricks:
20+ hours if you are doing everything from scratch and don't know how to use Fusion 360 or some other CAD/CAM software. That said, if I could do this anyone can. Enclosures took about 4 hrs each to print, but you don't have to be there the whole time. Assembly is simple. Finishing can take as short or long as you want. Sanding PLA is not the quickest or funnest thing but persistence and a number of different grits helps.
Conclusion:
No audiophile here, but they sound pretty good to me for such a small speaker. Have not measured these, but guessing they cut out around 120Hz or so based on YouTube speaker frequency "tests". Being so small you really can't expect a lot of bass. Enclosure does vibrate a bit, especially as I turn up the volume, unsure how that impacts sound. All in all, I think this was a success. Learned a lot about Fusion 360, how to create my own files for 3d printing and a decent pair of speakers to boot (for about ¼ the cost of buying a pair).
About the Designer:
I spend most of my time driving spreadsheets and SQL as an analyst. Needed to get away from the desk and use a different part of my brain; joined a makerspace about year ago. First project was bookshelf speakers, quickly followed by a sub.
Project Parts List: