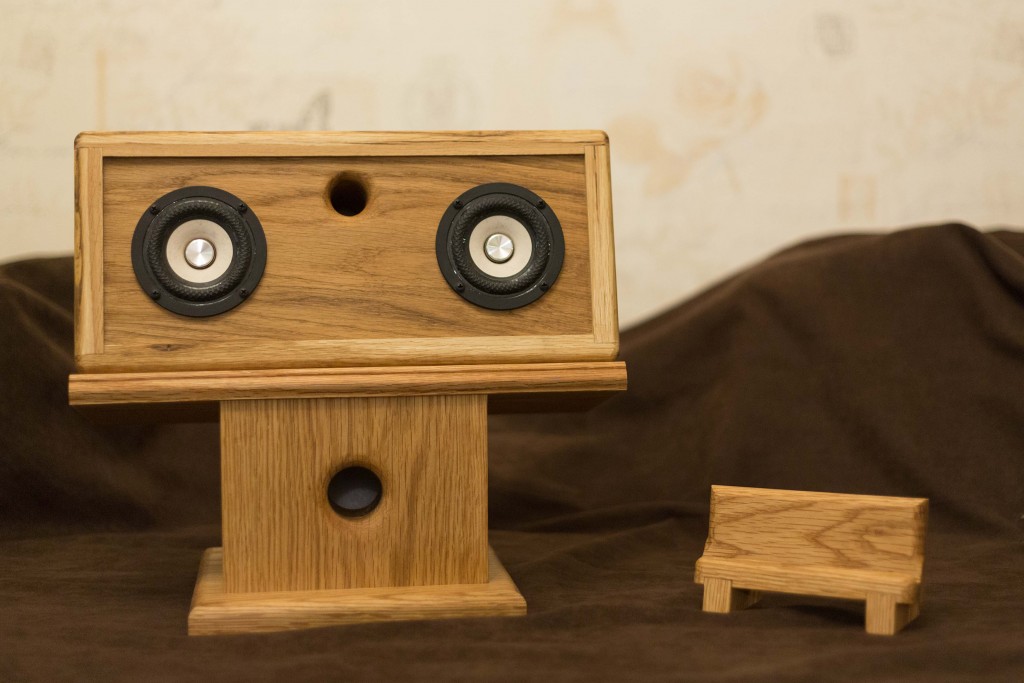 Solid American White
---
Designer:
Jamie Walder
Project Category:
Portable Speakers
Project Level:
Intermediate
Project Time:
1-8 Hours
Project Cost:
$100 – $500
Project Description:
portable/stationary Stereo bluetooth speaker
Design Goals:
The Goal of my design was to create a speaker that is portable yet can be docked on a stand when home.
Driver Selection:
I selected the Tang Band W3-214 for the main forward facing speakers in this design for there full range crisp sound and the look they have against american white oak. i also incorporated 2 Tang Band W2-1625SA to hit the lower end that the full range drivers couldnt quite hit
Enclosure Design:
The design is a simple, modern clean design based mainly on aesthetics. all the drivers are isolated with the recommended capacity as quoted on their parts express info pages. the woofers however have a little less room but when docked on the solid oak functional stand, the lower woofer is free to resonate in the stand giving a much fuller sound
Enclosure Assembly:
the enclosure is assembled using rabbet joints all round and finished with a roundover on every edge. the internal compartments are made in ply and butt jointed with glue only.
Crossover Design:
Crossovers used are only on the woofers and are simply a 1mh inductor in series with a 20uf cap in parallel after the inductor but before the woofer. this cuts the highs but still keeps the lows and some mids up to about 500mhz-1khz. the full range drivers need no crossover.
Tips & Tricks:
Work hard and always test on scrap if you are in doubt as to whether or not your cut or drill hole is going to work out.
Conclusion:
The over all design and appearance i think is great. the Amp board it perfect for the application. the drivers sound better then expected thanks to the addition of the woofers. a little less portable then i would have liked as is very heavy.
About the Designer:
Maintenance man from south england, Wood working is a hobby and i hope to one day earn from my hard work.
Project Parts List: