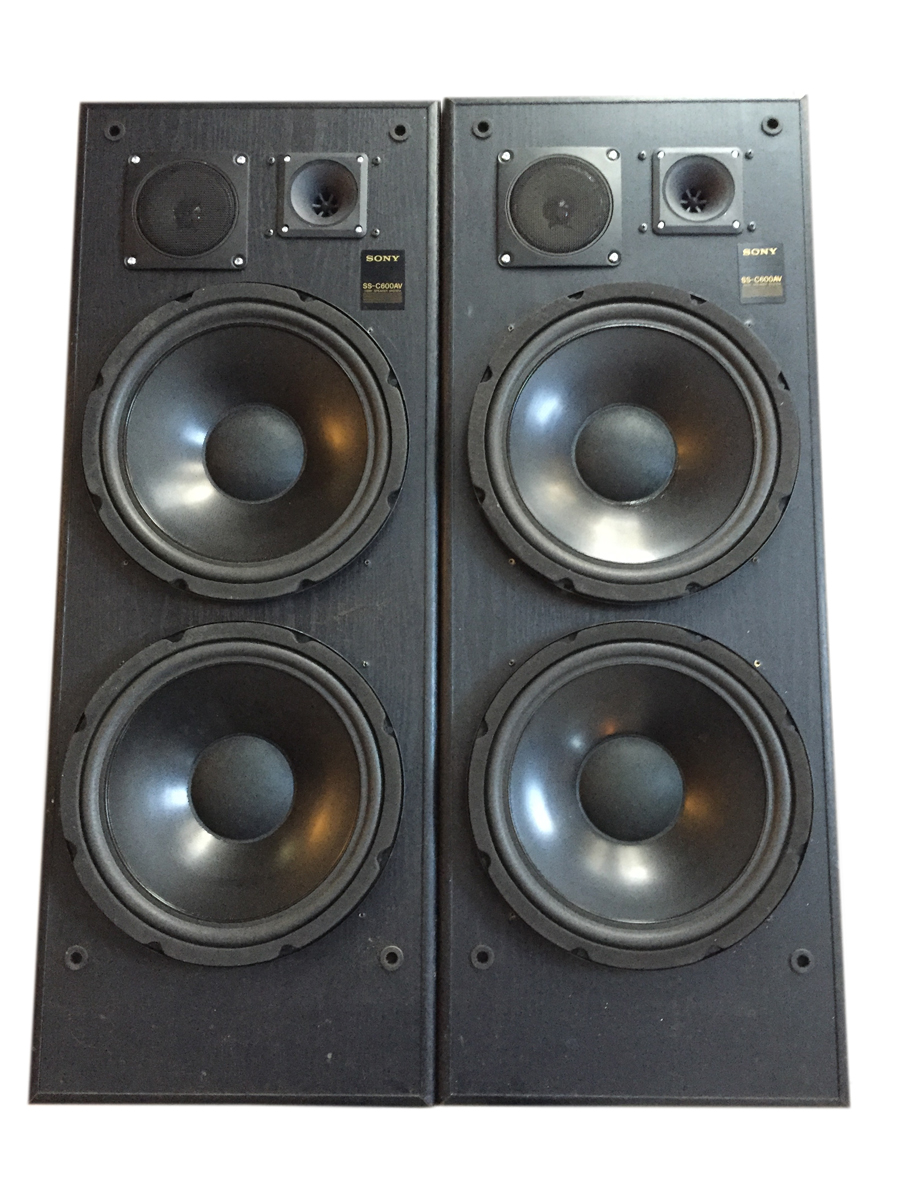 Sony SS-C600AV Classics
---
Designer: Seth24
Project Category
Tower Speakers
Project Level
Beginner
Project Time
1-8 Hours
Project Cost
Under $100
Project Description
These are the prime of classic 90s style tower speakers featuring what used to be a simple 3-way speaker system with a 3″ tweeter, 4″ mid and a 12″ woofer with a 12″ passive radiator. I bought these Sony SS-C600AV towers with rotted foam surrounds for a new overhaul.
Will add more photos.
Design Goals
My design goals are to restore that 90s style and large big and bold sound using brand new hardware, I went ahead and selected the new woofers as these enclosures will now house twin active 12″ woofers but needed to make sure the correct volume of the enclosure would match the woofer's recommended volume.
Driver Selection
The drivers I have selected are the Buyout WP-1240 12″ poly cone and foam surround woofers, with having a recommended sealed volume of 1.13 cubic feet, my Sony enclosures I calculated 2.26 cubic feet perfect for twin sealed 12s tuned for 60 Hz.
Enclosure Design
Back in the 90s, Sony's line of tower speakers like the lesser common SS-C600AV is a stereo system perfect for that untimate house party, they are massive, very bold and aggressive looking with excellent sound quality to back it up.
Crossover Design
The crossover will be a simple 10 micro farad capacitor tied for the midrange and a 30 ohm resistor for the horn to ensure amplifier stability and avoid burnout, I won't be using any low pass filters on the woofers as by themselves deliver that low end and midbass to my liking.
Tips & Tricks
When using piezo tweeters, be advised they often require power resistors, always ask the tech department about piezo tweeters.
Conclusion
These revived and better versions of the SS-C600AV speakers is a prime candidate coupled with these 12″ woofers, can't find any other woofer at this price range to be anymore perfect. All Factory Buyout drivers from woofers, mids and tweeters can bring back your classic speakers or create new ones.
About the Designer
I have been passionate about theory of audio reproduction and building my own speaker systems, amplifiers, power distribution and all other audio related activities
Project Parts List
| | | |
| --- | --- | --- |
| Part # | Description | Qty |
| 299-2124 | | 2 |