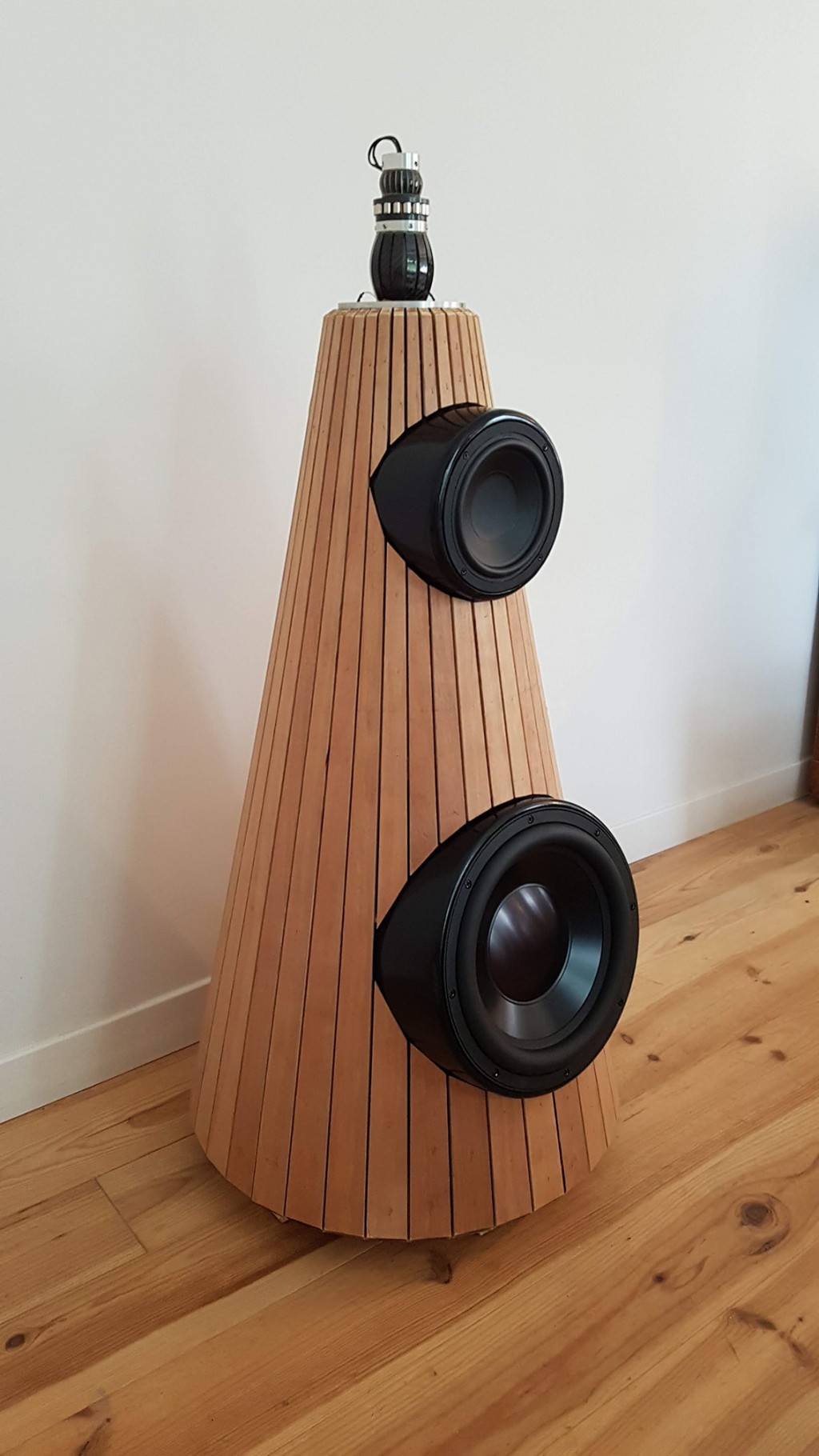 Sparrowlegs 2018 Big Speaker Build
---
Designer:
Sparrowlegs Speaker Design
Project Category:
Tower Speakers
Project Level:
Intermediate
Project Time:
20+ Hours
Project Cost:
Over $1,000
Project Description:
Sparrow Legs Speaker Design is my personal project, making the best Hi-Fi home audio speakers on a budget. Well, the budget was blown, it took 4 years to learn about audio acoustics, many many experiments and the result is 4-way active speakers which includes an omni-tweeter and high mid.
Though a box would have been an easier choice from a fabrication point of view, my goal was to reduce all standing waves from the back of the RSS315HF Sub, hence a cone shape enclosure with a bit of magic inside which enables a sealed enclosure with an F3 @ 27hz.
Design Goals:
How far can a true DIYer go?
Driver Selection:
Tweeter and high mid, built from scratch.
Low Mid/woofer – NOS Adrian Audio Extrimis 6.8
Sub – Model: RSS315HF-4|Part # 295-464
And the important part the XO –
Model: DSP-408|Part # 230-500
Enclosure Design:
Sealed rear wave absorber.
Enclosure Assembly:
25mm ply with an added 15mm ply baffle defuser.
Crossover Design:
Active 4 way. Currently crossing over at 200hz, 800hz and 4khz
Tips & Tricks:
No tips, you just have to get on with it
Conclusion:
Sound wise, as the builder, I'm always going to say I'm happy. Seriously though, I'm really impressed with the subs, there is more potential than meets the eye and amazed how high up the frequency range they can go…
I'm still testing and tinkering with the DSP, but without EQing, I'm flat +/-2db from 30hz upwards… though I'll admit, though there is no colouration from the enclosure itself, having an Omni make it interesting within the room.
About the Designer:
Over 4 years ago I knew nothing about audio, my best audio equipment was the best deal at richer sounds. I have a family, crap job which I average around 55hour per week and am still trying to finish the renovation to our home. But if you want something, you can get it if they keep chipping away. An hour here, an hour there, read, listen and never be scared to ask and eventually, stuff happens. Honestly, I have big dreams, will they come true, you never know until you try… I have nothing to lose, even when the wife is pissed at you, persistence will always prevail. If you find pleasure in this game, everything will fall into place. 👍
Project Parts List: