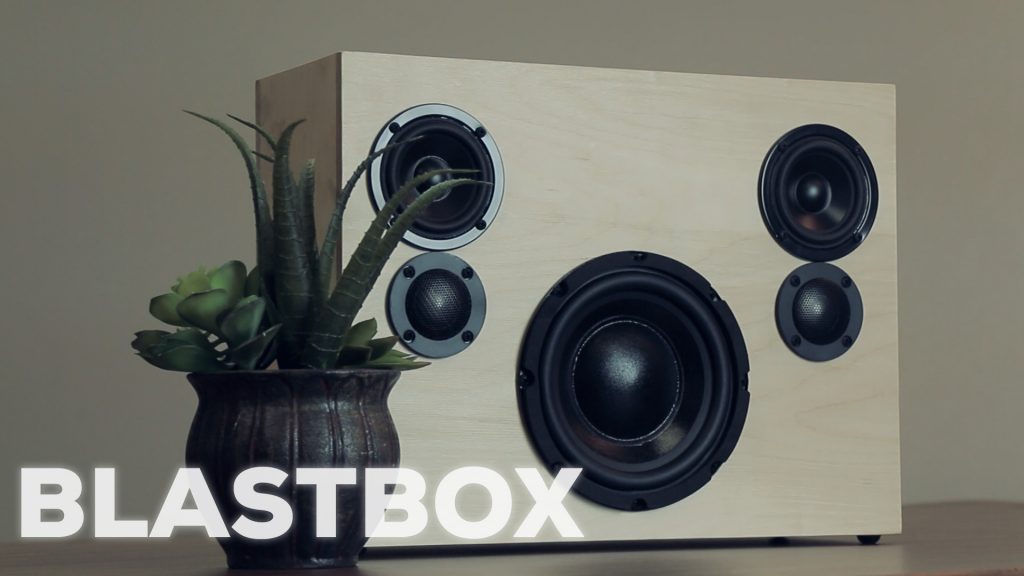 [Sponsored] BlastBox Build and Soundtest
---
Designer:
Parts Express
Project Category:
Portable Speakers
Project Level:
Beginner
Project Time:
2-4 Hours
Project Cost:
$249
Videos:
Project Description:
Portable, powerful, and fun… The easy to assemble Blast Box portable Bluetooth wireless speaker kit allows you to take high output, Hi-Fi sound with you wherever you go. The 2.1 channel design, capable of 200 watt RMS, uses a pair of 3″ aluminum cone woofers and 1″ titanium tweeters with a single 6-1/2″ high excursion subwoofer. This compact package produces crystal clear midrange and highs with incredibly powerful bass response.
Highlights
High power 5 driver system delivers amazing depth, clarity, detail, and output
Perfect for picnics, parks, tailgating, yard work or anywhere you want great sound
Onboard controls allow you to easily customize the sound for any environment
Designed for excellent off-axis performance, ideal for large open areas
High quality Baltic birch plywood enclosure is rugged and easy to assemble
Includes everything needed to build the kit and set-by-step manual makes assembly easy
Blast Box 200 Watt Portable Bluetooth Speaker Kit
Courtside, poolside, in the yard, at the beach, on a picnic, etc.…the Blast Box portable Bluetooth speaker has the power to cut through most background noise and gives you the music you crave wherever you want it.
The Blast Box speaker kit is a battery powered portable Bluetooth speaker that gives you the freedom to bring home stereo quality sound with you wherever you go. The powerful 2.1 design delivers high output with excellent off axis response to effectively fill large spaces with amazing sound. The simple on-board controls allow you to tune the sound to fit the environment and even control your media player directly from the Blast Box speaker. A 3″ aluminum cone woofer and 1″ titanium dome tweeter on each of the stereo channels provide accurate response with incredible detail. For the low end, a 6-1/2″ high excursion subwoofer is matched with an 8″ passive radiator to deliver natural deep bass response with power and authority.
Outfitted with all Dayton Audio drivers, you can be sure that the Blast Box Speaker is capable of outstanding performance for an unbeatable value. Dayton Audio's ND25TA-4 1″ titanium dome tweeter handles the high frequencies. This compact tweeter includes a copper cap and Ferrofluid cooling to ensure low distortion output with high power handling. The DSA90-8 3″ Designer Series aluminum cone full-range driver takes care of the midrange and mid-bass response. The powerful low distortion motor and aluminum cone ensure incredible detail and accuracy, making it a great match for the tweeter. For the lowest frequencies, the Blast Box uses a Dayton Audio DCS165-4 6-1/2″ Subwoofer matched with a DS215-PR 8″ Passive Radiator. With an incredibly powerful motor and high excursion capability this subwoofer has the capability to match the SPL levels of the mid and high frequency drivers all the way down into the lowest frequencies. The passive radiator design allows the enclosure to be incredibly small with extremely low tuning, which keeps excursion under control and allows powerful output to less than 40 Hz. All of this is powered by the TPS3116D2 Class D 2.1 Bluetooth 4.0 Amplifier Board, which is capable of 200 watts RMS of output. Thanks to the available power and excellent set of features, this amplifier makes the Blast Box a potent and flexible portable system.
The enclosure for the Blast Box is designed to be easy to assemble and extremely rugged. Made from 1/2″ thick high quality Baltic birch plywood, this box can take a beating and is much more moisture resistant MDF. The panels have all been precision cut with dadoes and rabbets for every piece making assembly a snap. The clean lines and classic look makes finishing simple and leaves plenty of room for customizing allowing you to give the Blast Box whatever look you want.
This kit includes nearly everything you need to build a high end portable Bluetooth speaker in no time flat, including: a knock-down enclosure, drivers, crossover components, amplifier, batteries, wire, hardware, and connectors.
This kit includes parts to build a single speaker system
Specifications:
• Power: 2 x 50 watts RMS + 1 x 100 watts RMS
• Tweeter: 2 x ND25TA-4 1″ titanium dome tweeter
• Midrange: 2 x DSA90-8 3″ aluminum cone full-range
• Subwoofer: 1 x DCS165-4 6-1/2″ high excursion subwoofer
• Frequency response: 35 – 20,000 Hz
• Battery time: 8 – 10 hours at moderate volume
• Bluetooth version: 4.0
• Dimensions: 12″ H x 16″ W x 6″ D
Project Parts List: