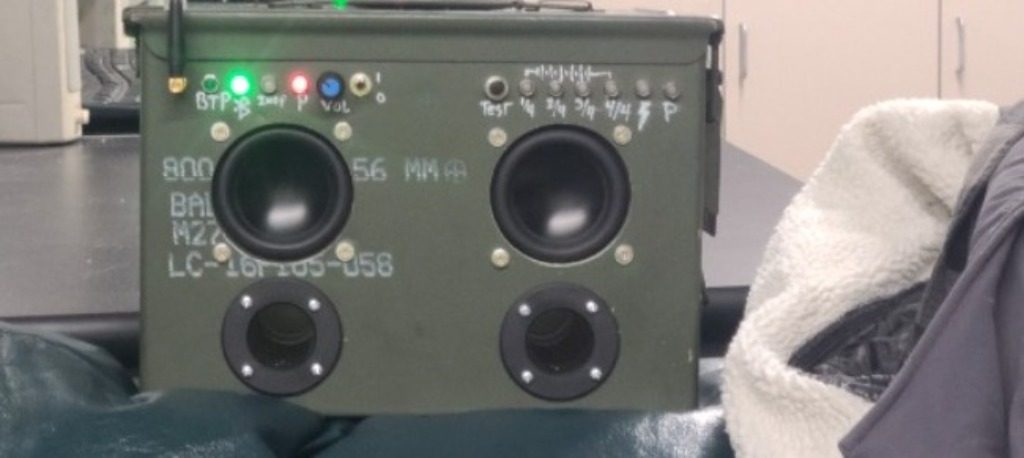 SPRITE IN A CAN
---
Designer:
Steven Adler
Project Category:
Portable Speakers
Project Level:
Beginner
Project Time:
20+ Hours
Project Cost:
$100 – $500
Project Description:
Sprite in a Can. Inspired by Paul Carmody Sprite Boom Box. Found that I was able to get 4 liters per side in a Fat 50 Ammo Can. Just barely enough room to duplicate the Sprite speaker box.. Just installed the Sprite build in it with a few more whistles and bells.
Design Goals:
Battery powered Sprit in a can. Bluetooth capable.
Driver Selection:
Dayton Audio ND90-4 3-1/2″ Aluminum Cone Full-Range Neo Driver 4 Ohm
Part # 290-208
Enclosure Design:
Fat Fifty Ammo Can will fit a Sprite!
Enclosure Assembly:
Lined with 1/4″ MDF Divided down the middle for two enclosures a shade over 4 liters. Sealed on top and closed off with another sheet of MDF Two enclosures in one.
Crossover Design:
Paul Carmody's filter designed for the 4ohm Sprite Driver:
Dayton Audio 0.40mH 18 AWG Perfect Layer Inductor Crossover Coil
Part # 257-814
Dayton Audio DNR-6.0 6 Ohm 10W Precision Audio Grade Resistor
Part # 00 Dayton Audio DMPC-8.2 8.2uF 250V Polypropylene Capacitor
Part # 027-4264-6
Tips & Tricks:
You can use a 1.25″ PVC 90 deg. elbow to get the port length right. The LED holders, switches, and inputs are not intended to pass through .25″ MDF. If I didn't have some esoteric tool for working sheet metal on big jets I would have had to tear the lining back out as I had already Gorilla Glued it to the inside of the can before I got the accessories for the project. Don't use printed panel MDF cause glue doesn't stick to it well. It was the only stuff I could find that day I was looking for it. Had to scuff sand everything that was glued to it.
Take picture while Building!
Conclusion:
This thing sounds great! I cobbled together an ammo can boom box without Bluetooth and while it played only through an Aux In Jack I was looking for something just a bit more portable and of course something with a shall we say design. After Searching Boom Boxes I stumbled upon the Sprite Stuffed it in to a can!
About the Designer:
I fix Jets and Tinker a lot!
Project Parts List:
| | | |
| --- | --- | --- |
| Part # | Description | Qty |
| 290-208 | Dayton Audio ND90-4 3-1/2″ Aluminum Cone Full-Range Neo Driver 4 Ohm | 1 |
| 257-814 | Dayton Audio 0.40mH 18 AWG Perfect Layer Inductor Crossover Coil | 1 |
| 004-6 | Dayton Audio DNR-6.0 6 Ohm 10W Precision Audio Grade Resistor | 1 |
| 260-388 | Parts Express Speaker Cabinet Port Tube 1-3/8″ ID Adjustable | 1 |
| 027-426 | Dayton Audio DMPC-8.2 8.2uF 250V Polypropylene Capacitor | 1 |
| 325-103 | Dayton Audio KAB-230v3 2x30W Class D Audio Amplifier Board with Bluetooth 4.0 | 1 |
| 320-625 | External Bluetooth Antenna Kit | 1 |
| 325-110 | Dayton Audio KAB-FC Function Cables Package for Bluetooth Amplifier Boards | 1 |
| 325-111 | Dayton Audio KAB-LED Red/Green/Blue LED Package for Bluetooth Amplifier Boards | 1 |
| 325-114 | Dayton Audio KAB-AB L-type Aluminum Bracket for Bluetooth Amplifier Boards | 1 |
| 325-136 | Dayton Audio LBB-5S 18650 5-24V Input 21V Lithium Battery Board with Balance/Charge Protection | 1 |