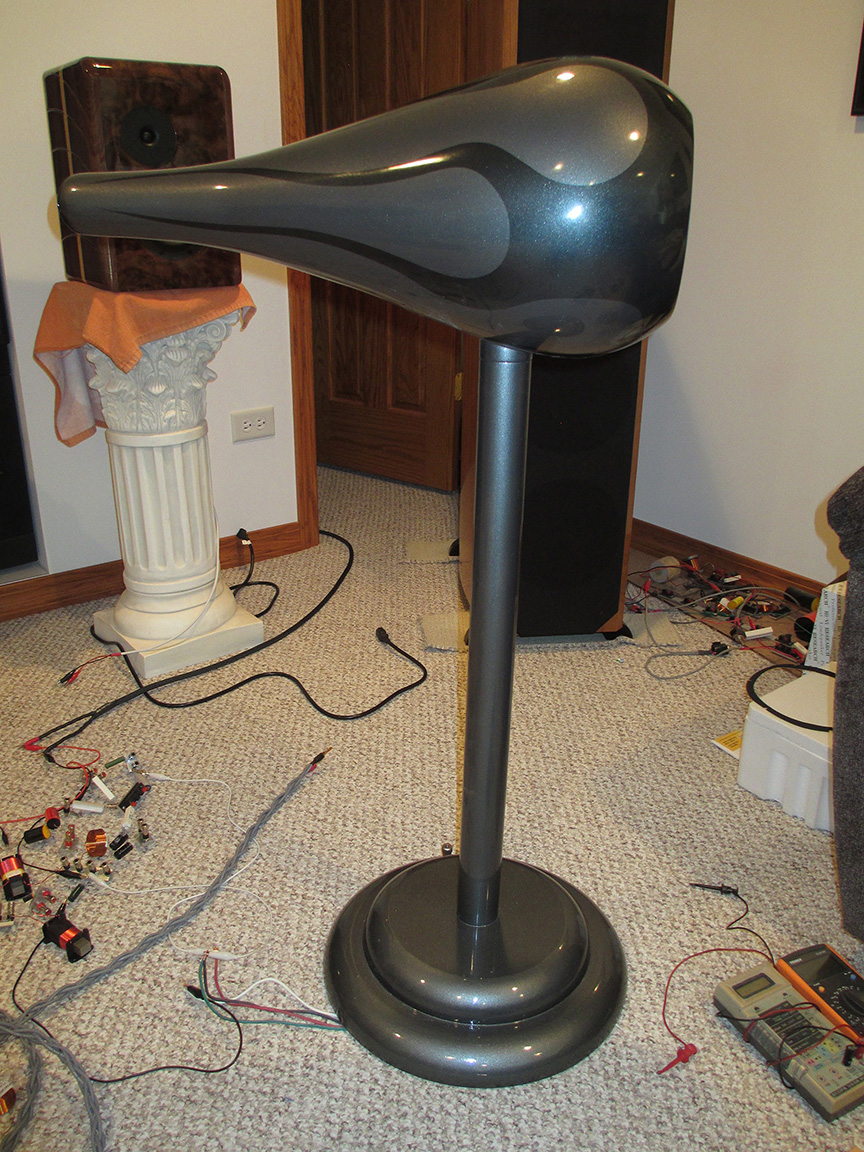 Stink Eyes
---
Designer:
Nick Santorineos
Project Category:
Loudspeakers/Cabinets
Project Level:
Advanced
Project Time:
20+ Hours
Project Cost:
$500 – $1,000
Project Description:
This is a three piece sat sub combo, with an active sub and passive satellites.
Design Goals:
These were designed to compete in 2016 MWAF. I wanted something unique, and the idea originated after returning home from the 2015 tent sale with a Hivi F10 and someone in my house commenting that the F10 looked like a yellow eyeball (sorry Hivi). Things just snowballed from there.
Driver Selection:
The F10 was always going to be the subwoofer section, but originally I had planned to use a F5 to compliment the F10 visually, but that changed when I found that milling down the phase plug and mounting the tweeter forward of the cone I couldn't get an acceptable response. I began looking for drivers with a large enough phase plug that when removed would allow a tweeter to be mounted flush with its cone, hence the Dayton RS180p. The vifa ox20 just came together better with the rs180 than the xt19 after trying both.
Enclosure Design:
My idea for the satellite enclosure was to just run with the whole eyeball shape albeit more cartoonish than anatomically correct, whereas I originally planned the sub to be a barrel shape laying on its side, my wife thought that the teardrop upended would be much better, and that is what was ultimately chosen. The F10's enclosure has it in an extended bass shelf alignment only operating in the shelf's range.
Enclosure Assembly:
The enclosures are mostly fiberglass with plywood faces on the sub and steel satellite poles with mdf bases. They are just layers of fiberglass over homemade forms, and in the case of the sub a paper lantern for the round center section.
Crossover Design:
The crossover between the RS180p and the OX20 are LR4 @ about 2100 hz acoustically with the tweeter having impedance compensation and some frequency shaping, while the F10 uses the built in crossover of a Bash 300.
Tips & Tricks:
No tricks just a stupid amount of time involved in building these- way into the hundreds of hours. If you would like to see more of these I believe there is a thread in tech talk.
Conclusion:
I would have to say that these turned out pretty well as they ended up getting 1st place, so the work paid off.
About the Designer:
Nothing too interesting just a guy who likes building stuff.
Project Parts List: