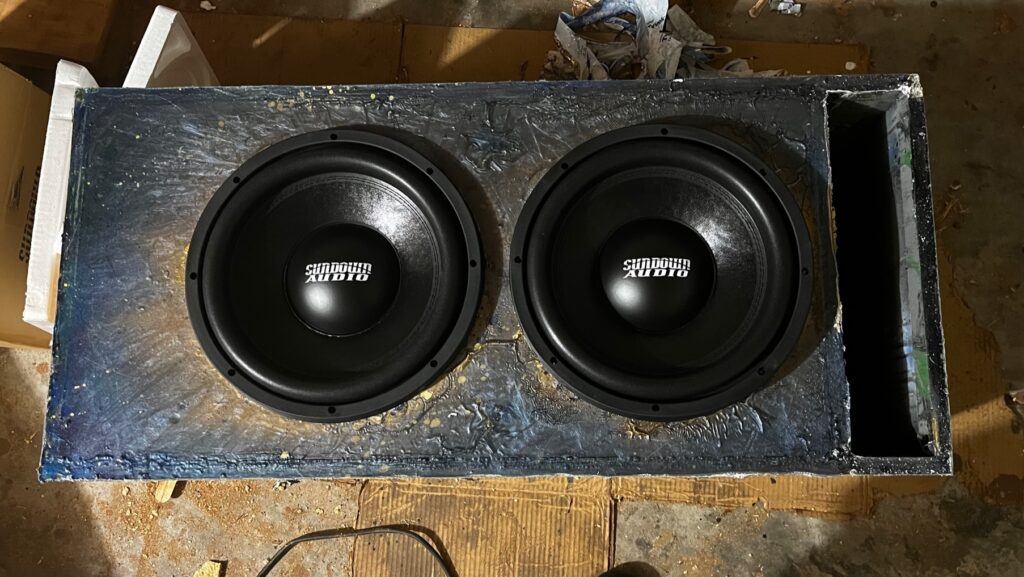 Dual Sundown Subwoofer
---
Designer:
Carson Drake



Project Category:
Subwoofers



Project Level:
Beginner



Project Time:
8-20 Hours



Project Cost:
 $100-$500
Project Description:
Dual Sundown subwoofers built for use in my car.


Design Goals:
I wanted to build a good sounding subwoofer using sundown yard sale parts, with good response into the upper 20 Hz range.
Driver Selection:
 Two sundown E series 12 inch subwoofers
Enclosure Design:
Tuned to 32 Hz with an epoxy front face. Will be used in my car and cannot see the back or sides of the box so only finished the front side.
Crossover Design:
N/A
Tips & Tricks:
There's no such thing as too much glue
Conclusion:
Turned out great, these hit very low with good quality sound. Each woofer is getting 750w RMS.

About the Designer:
Currently a college student that enjoys building speakers and subwoofers when I can.

Project Parts List:
| | | |
| --- | --- | --- |
| Part # | Description | Qty. |
| N/A | Sundown E series 12 inch subwoofers | 2 |