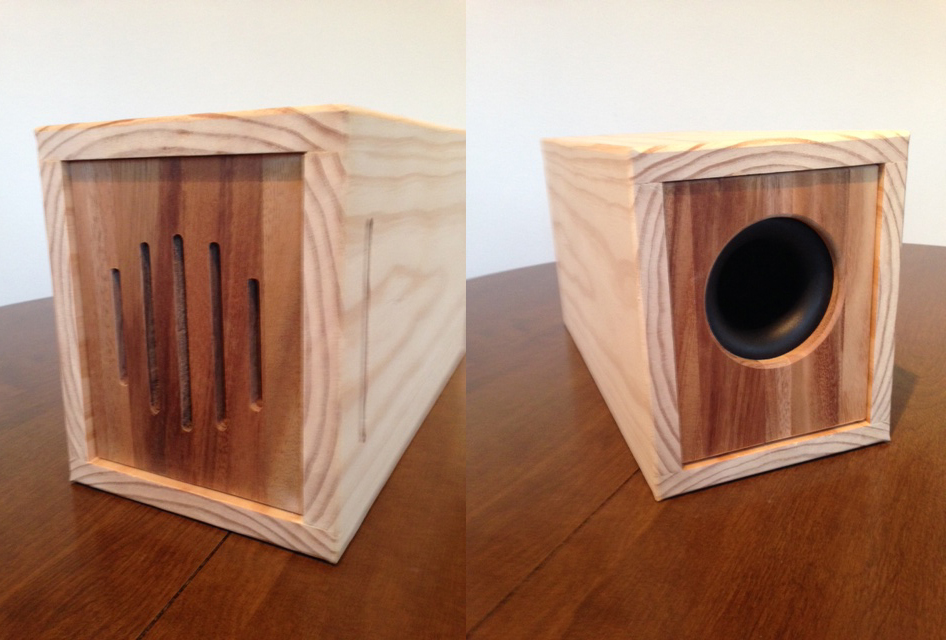 lil sub
---
Designer: jared
Project Category:
Subwoofers
Project Level:
Beginner
Project Time:
1-8 Hours
Project Cost:
Under $100
Project Description:
Small two-tone subwoofer for 2.1 system with tube amp. Hoping to post pictures of speakers soon if PE allows.
Design Goals:
1. I designed this subwoofer to match a set of speakers I built using acacia fronts and pine boxes. I built those speakers with no visible screws or hardware of any kind except recessed banana plugs for the speaker wire connections. I will post pictures of those later if I am able. I wanted the subwoofer to also have no visible screws or hardware.
2. For this sub, I wanted more than a regular build and couldn't decide on a particular design to go with, so the goal morphed into incorporating two designs – basically a reversible subwoofer. At first I planned a down-firing sub with a front/rear facing port that would allow the driver to face forward and the port downward when rotated 90 degrees. Limitations on cost and wood led to this design. I'm pretty happy with it. I still need to sand it, make the speaker connections, and enjoy. I did test the sub's sound before making cosmetic commitments and it sounds great.
P.S. I used only powered hand tools – no table saw, miter saw, drill press, router table, etc., as I currently don't have access to those things.
Driver Selection:
Tang Band W5-1138SM 5-1/4″ Neodymium Subwoofer
Part # 264-831
Enclosure Design:
Ported, appx .3 cu. ft. with 9″ long x 2-1/2″ port with flare (also available from PE though I did borrow mine from the PE/Dayton 8″ powered sub that I parted out. Passive and no x-over as I will be using a small SMSL amp fed by a 12-db active x-over at 90HZ.
Enclosure Assembly:
Simple pine box using "select" grade pine from local big box home store. Recessed front and rear baffles with enough backspacing to allow acacia front and rear panels for decoration. Dimensions are approximately 7x9x16″ w/h/d.
Crossover Design:
Active external crossover.
Tips & Tricks:
Patience… Acacia panels were cut ever so slightly big so that they are held in place simply by pressure. They do not rattle. Everything on the speaker and subwoofer builds was kept as simple and as cheap as possible.
Conclusion:
Sub sounds great for it's size. Very happy with the outcome. Sub is also under a bench which holds my speakers and tube amp for the time being. Project cost less than $100 including the subwoofer but not counting wood glue, silicone, wood putty, etc. that I already had from other projects.
About the Designer:
I like taking on a project a couple of times a year – indoor shutters, guitar amp, office desk, bedroom bench, etc. I have built a few speakers before but they never turned out this nice. I was too cheap and too hasty in my youth. I like the design elements that emerge due to apparent limitations and trying to keep the design as simple as possible.
Project Parts List