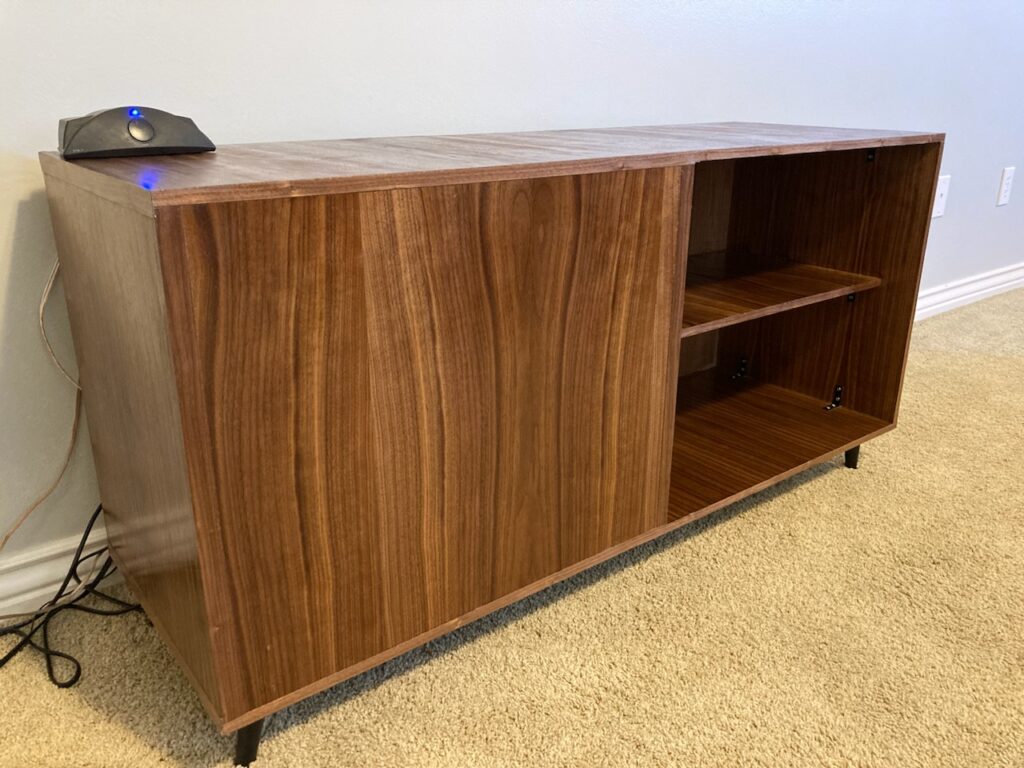 Walnut Subwoofer Cabinet
---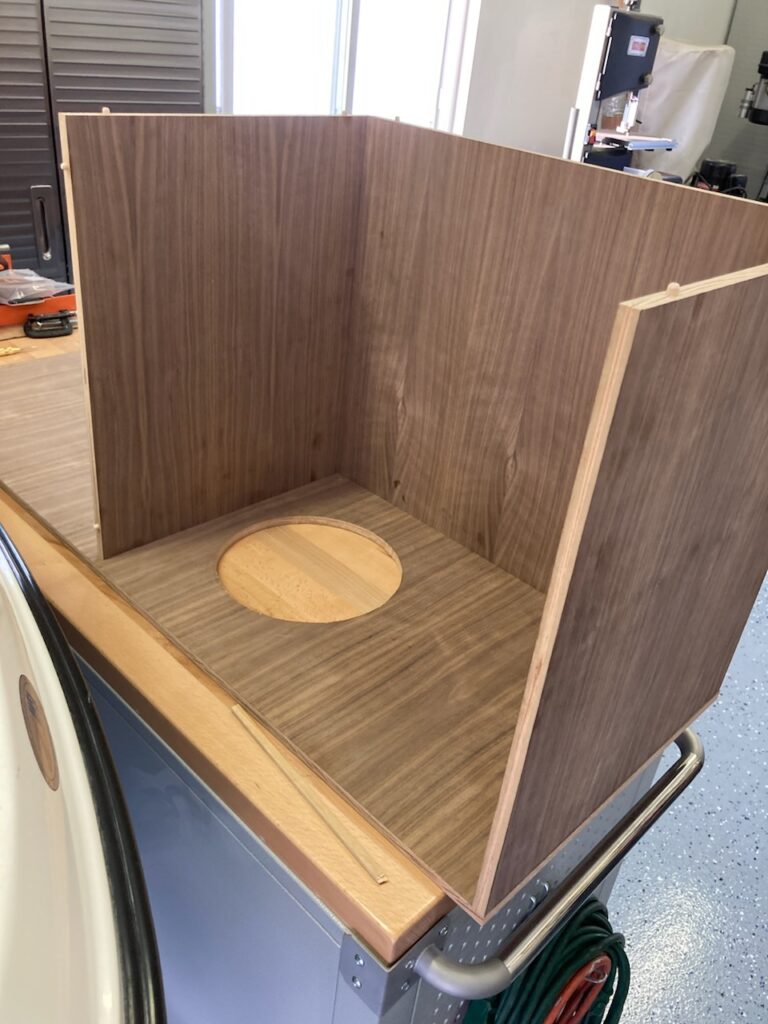 Designer:
Matt
Project Category:
Subwoofers
Project Level:
Intermediate
Project Time:
8-20 Hours
Project Cost:
$100 – $500
Project Description:
A long time ago I built some bookshelf speakers as part of a college class. They've been really great, but they're small and I wanted some more bass response. My wife said if it matched the rest of the furniture that I could build one.
We have a lot of mid century modern style furniture so I was trying to go for that style here. it is made out of walnut plywood, and finished with danish oil. I went for a bass reflex design using a 10" woofer and a 3" vent. There is a 100 watt subwoofer amp on the back of the cabinet.
Design Goals:
Build a cabinet that looks like something you could buy in a furniture store.
Good response down to about 25-28hz.
Mid century modern style.
Budget concious, needs to be under $500 total.
Driver Selection:
Peerless 10" Woofer 264-1110
3" x 4.5" long port tube 260-404
Enclosure Design:
This is my own design, I looked up a few examples of mid century cabinets and went with that. Originally I was going to add a door onto the other side, and I may still do that, but sourcing walnut boards at a reasonable price is difficult for me.
The subwoofer enclosure is about 2.7 cubic feet. I kept the port tube at its full 4.5" length which gives a tuning frequency of about 30hz.
Crossover Design:
No crossover beyond the one built in to the amplifier.
Tips & Tricks:
Use a saw cut guide (long enough to cut a full 4×8 plywood sheet). If you're like me you don't have a full workshop, but a $30 saw guide can really help you to get straight square cuts.
When you glue use more clamps than you think you need!
Conclusion:
I have never built a subwoofer before, just smaller speakers, but I am pleased with how this looks and sounds. My wife and I spent a while listening to our favorite songs with the entire set up and she gives it her seal of approval!
About the Designer:
I started building speakers after taking a beginner loudspeaker design class in college. Since then I've various portable speakers, a surround sound setup (without a sub) and this subwoofer. Every time I start a new project I try to make sure I do a better job than my last project. I work as a programmer, but I am starting to accumulate a lot of woodworking tools now.
Project Parts List:
Part #
Description
Qty
264-1110

300-802

260-404
Peerless by Tymphany 830668 10″ Paper Cone SLS Subwoofer

Dayton Audio SA100 100W Subwoofer Plate Amplifier

Speaker Cabinet Port Tube 3″ ID x 4-1/2″ L
1

1

1