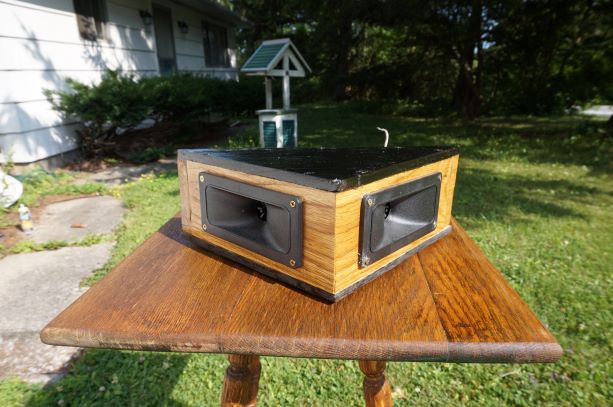 super CHEAP tweeters
---
Designer:
Bob
Project Category:
Freestyle Speakers
Project Level:
Beginner
Project Time:
1-8 Hours
Project Cost:
Under $100
Project Description:
super CHEAP tweeters
Design Goals:
Had a High School area "party" speaker that has kicked around for (gulp) since the mid 1970″s. Pulled it off a self in the garage were it has sat since I bought my house. I needed a speaker for Beta testing a new amp & thought I should see if still was serviceable. It was – but no real upper frequency.
Driver Selection:
2 – 2′ X 5″ Piezo Horn Tweeters
Part#292-440
Enclosure Design:
design follows function.
Enclosure Assembly:
Scrape plywood & rough sawn red oak packing lumber used.
Crossover Design:
high pass resistor (as suggested in a customer product review).
Tips & Tricks:
Nothing tricky at all, I have no skill as a cabinet maker. I did lay out the lumber to match the grain on the front "nose" of the enclosure, happy with that detail.
Conclusion:
Works as anticipated, improved the overall sound – appropriate for this application. I think the binder posts & brass screws were the most expensive component.
About the Designer:
Enthusiastic hobbyist. Nice too see an idea go from a sketch on the back of an envelope into useful function.
Project Parts List: