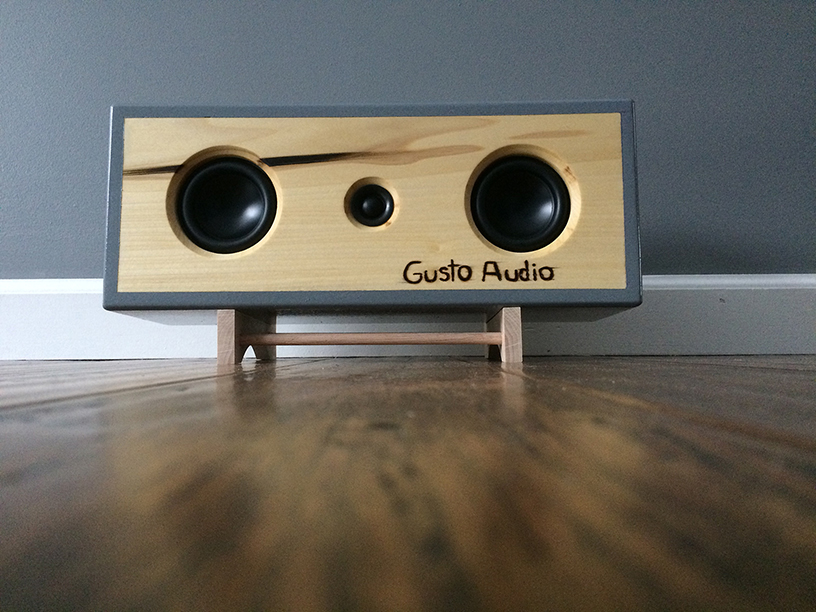 Table Top MCM
---
Designer:
Kev
Project Category:
Freestyle Speakers
Project Level:
Beginner
Project Time:
1-8 Hours
Project Cost:
$100 – $500
Project Description:
The Table Top MCM is a Mid Century Modern designed Bluetooth stereo speaker.
Design Goals:
The goal was to design a table top speaker that sparked conversation, looked as good as it sounds and was easy to use. Audio sources can be connected via the 3.5mm headphone jack or flip the toggle switch to turn on the internal Bluetooth module.
Driver Selection:
(2) Dayton Audio ND90-8 3-1/2″ Drivers and (1) Dayton Audio ND16FA-6 5/8″ Soft Dome Neodymium Tweeter.
Enclosure Design:
The box is .215 Ft3 and has (1) 1.5" diameter, 4" long Port.
Enclosure Assembly:
Nothing fancy with the box. All pieces were glued and brad nailed. The speaker cutouts have a 1 ¼" chamfer and the back is removal to swap parts out as needed. The stand is made of maple and oak dowels.
Crossover Design:
Went with a preassembled 2-Way 8 Ohm 5,000 Hz crossover. Part# 260-198
Conclusion:
Very pleased with the overall look and sound from this table top unit. It scores high on the "wife approval factor". Anyone who has used the ND-90's knows you can get some decent bass out of this speaker. Don't let the price of the tweeter fool you. It is equally impressive.
About the Designer:
I have enjoyed wood working since I was a kid. Time to take it to the next level by integrating speakers and electronics.
Parts Used:
1. Dayton Audio KAB-230 2x30W Class D Audio Amplifier Board with Bluetooth 4.0
2. Dayton Audio ND90-8 3-1/2″ Aluminum Cone Full-Range Driver 8 Ohm
3. Dayton Audio ND16FA-6 5/8″ Soft Dome Neodymium Tweeter
4. Speaker Cabinet Port Tube 1-1/2″ ID x 4″ L Flared