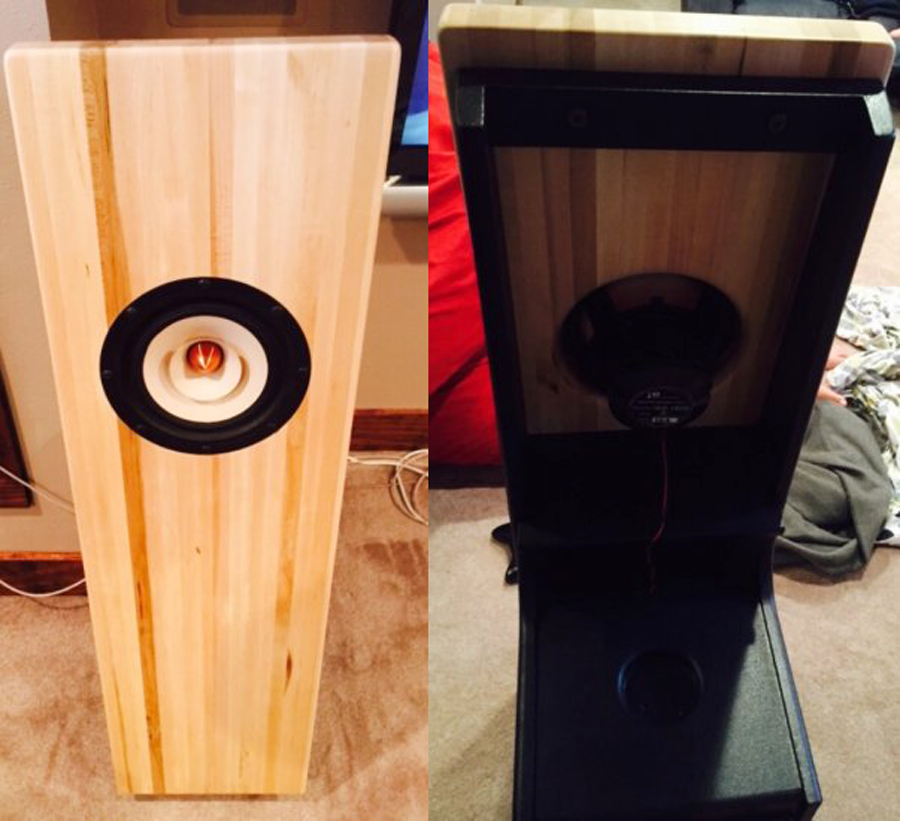 Tang Band 1808 Open Baffle
---
Designer:
Park
Project Category:
Tower Speakers
Project Level:
Beginner
Project Time:
8-20 Hours
Project Cost:
$100 – $500
Project Description:
This is a highly modified discarded Zen OB cabinet with a modified side fire 12 inch sub.
Design Goals:
I always liked the TB 1808 and love open baffle sound. To fill the low end, I knew I would need to add a sub of some sorts. You could include any of the easily accessible 12's.
Driver Selection:
Tang Band 1808
GR Research 12, with PEQ 370 amplifier
Enclosure Design:
OB upper, with a sealed lower 1.75 cubic foot cabinet.
Enclosure Assembly:
Front baffle is 6/4s maple boards laminated together and screwed to the back box. The side fire is in a 3/4 mdf box with a 1.5 inch side baffle. The amp is cut in to the back of the lower chamber.
Crossover Design:
None, but I built modified amp/rca high pass filers specific to my amplifiers ohm rating.
Tips & Tricks:
Take your time.
Products Used:
Tang Band 1808 Part # 264-894
and 12 inch with plate amp
Conclusion:
Great combination of drivers with the ability through the plate amp to bring the lower woofer up to meet the ob full range driver.
About the Designer:
I get bored, love to build, then sell, then build something else..