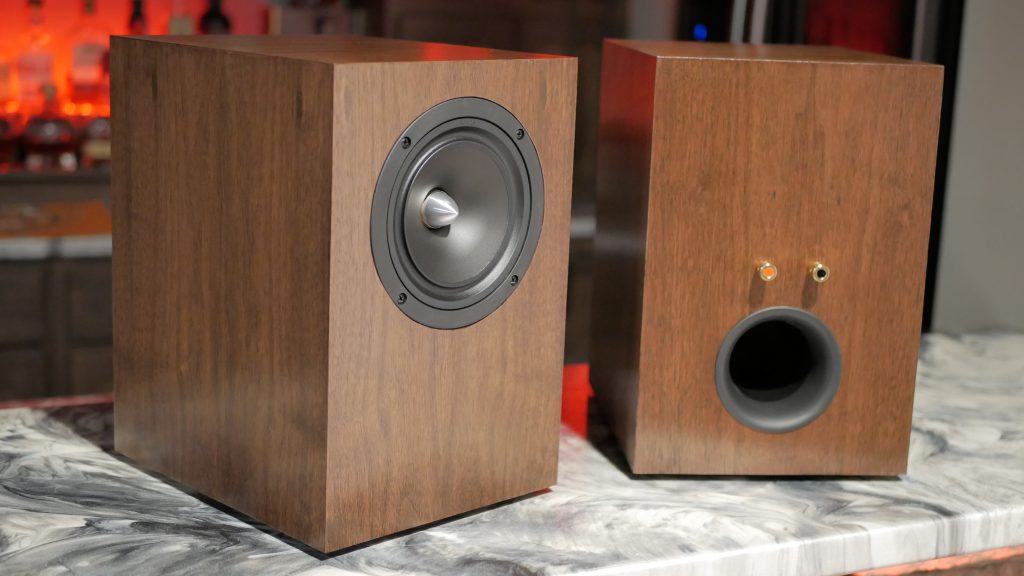 Tang Band 5″ Full Range Bookshelf
---
Designer:
Kyle
Project Category:
Bookshelf Speakers
Project Level:
Beginner
Project Time:
8-20 Hours
Project Cost:
$100 – $500
Project Description:
This is an MDF based 0.4 cu ft box with walnut veneer. The box is ported and tuned to roughly 58 Hz. Full range Tang Band drivers were used to simplify the design.
Design Goals:
This was a build I wanted to do with some high quality full range drivers that would give a great sound without going into crossover design. I wanted to make an enclosure small enough to go most places in an office, tv room, or elsewhere in the home without being too obtrusive while still giving a great listening experience.
Driver Selection:
Tang Band W5-1611SAF 5″ Full Range driver
Enclosure Design:
0.4 Cu Ft ported box with a tune of 58 Hz
Conclusion:
I feel the final product looks and sounds great!
About the Designer:
I have a smaller YouTube channel focusing on home theater and DIY projects. The full build can be seen on my channel "Life of Bliss". I have been building various car and home audio enclosures for over 12 years.
Project Parts List: