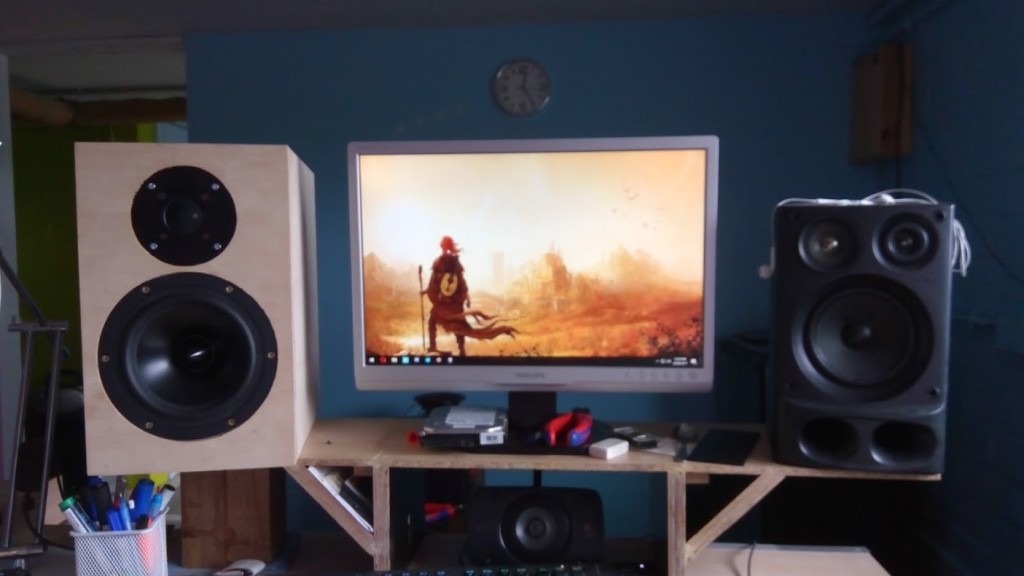 Tango MT – Slot ported!
---
Designer:
AlexianaBritmonkey
Project Category:
Bookshelf Speakers
Project Level:
Intermediate
Project Time:
20+ Hours
Project Cost:
$500 – $1,000
Project Description:
This is a project based on Jeff Bagby's Tango MT's.
The difference between his design and my design is that my
plans are in metric, and use a slot port. This makes it easy for European people to build these speakers as buying a port pipe from overseas proves to be expensive!
Design Goals:
Make the Tango MT look as faithful to Jeff's design.
Make it Metric.
Make it slot ported. 🙂
Driver Selection:
The drivers used are the same as Jeff Bagby's designs.
This includes these speakers:
Dayton Audio RS-180 (8 Ohm)
Dayton Audio RS28A (4 ohm)
Enclosure Design:
The enclosure design is just slightly different from the original by Jeff Bagby, but close attention was paid to ensure the inside usable airspace is identical to that of Jeff's design. This meant that I had to calculate the port, the decrease in port length because of its slot port properties in drag, and all the used up space. I then had to convert the airspace required to a cube-ish design, and extrude it to the required shape using Metric measurements. The enclosure was made out of Baltic Birch Multiplex of a very high grade (hence the big price tag), meaning that I didn't need any mid-box bracing except from a crossbeam.
Big thanks to the DIY-Audio community for the help and support!
Enclosure Assembly:
Enclosure assembly was fairly simple thanks to the rabbet-design.
The enclosure was made out of Baltic Birch Multiplex of a very high grade. The rabbets were routed at school and the faceplate was routed by hand. We didn't have access to a CNC router for this.
Crossover Design:
The crossover design is identical to Jeff's design. Photos of the product down below.
The crossover was built and mounted on scrap pieces of MDF, with the parts being through-hole. I like this clean look even if it's inside the speaker.
Big thanks to the DIY-Audio community for the help and support!
Tips & Tricks:
Glue tip: let the glue dry partially do you can easily scrape it off.
Tip: the last picture shows the new vs the current speakers.
I'm yet to use the speakers on my desk due to the sheer size. :p
Conclusion:
The speakers sound really neutral and clean. I'm yet to notice any port chuffing or port defects (calculation errors, eg. I don't expect there to be any). These speakers were built by me, for me, for my home studio as monitors. They work really well as monitors knowing that the RS-180 and RS28-A were practically made to be brother-sister. You can't go wrong with this for either a home studio or nice Home Theater setup.
About the Designer:
The original design for this bookshelf speaker was by Jeff Bagby.
I edited the plans to be metric-friendly and use a slot port.
I, myself, am Anna. I'm a 15 year old electronics enthusiast and audiophile girl from Flanders (Basically all of northern Belgium!)