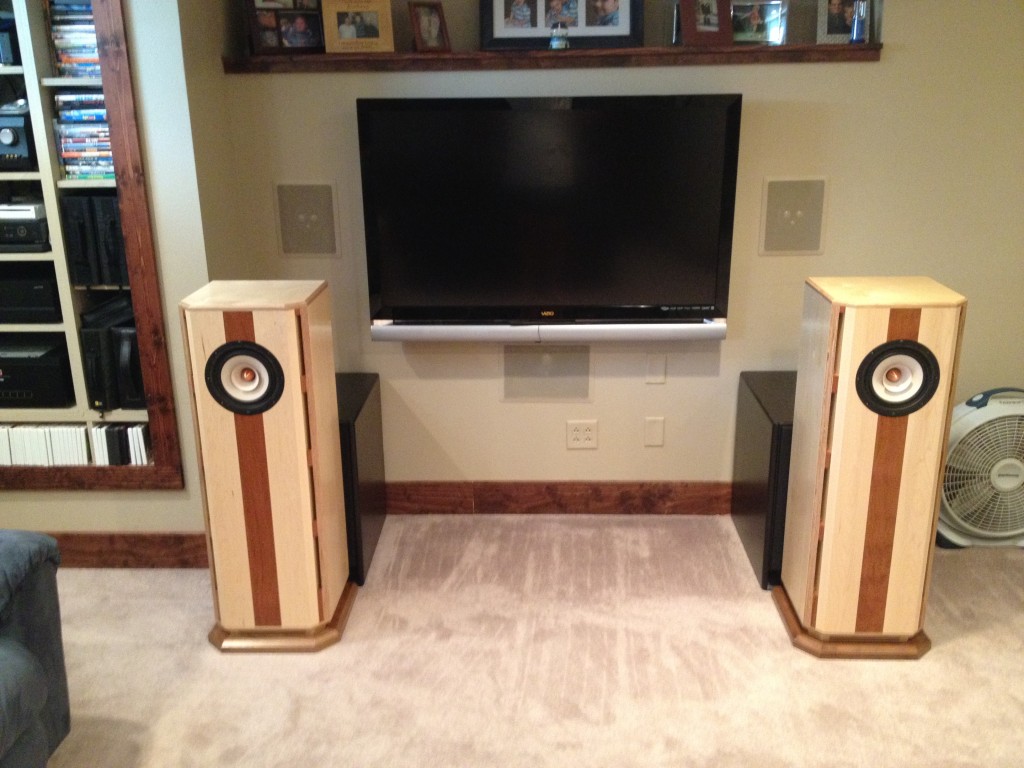 Tanken 1808
---
Designer:
Park
Project Category:
Tower Speakers
Project Level:
Intermediate
Project Time:
20+ Hours
Project Cost:
$100 – $500
Project Description:
This is a project propagate with the help of Dave over at Planet 10 Audio ( Canada ) I had been making some of his smaller single driver speakers and wanted to use the Tang Band 1808 driver in one. He put together the following for me.
Design Goals:
Single driver, Tang Band 1808 with a tower speaker feel and great looks
Driver Selection:
Tang Ban 1808
You are unable to change drivers to another 8 inch unless the specs are the same do to the porting on the sides
Enclosure Design:
Full tower with side ports/vents to help out the bottom end.
Enclosure Assembly:
Left over wood from the shop, walnut, baltic birch, maple, and cherry. I was not worried about the different boards pulling apart because he will be in a AC/Heated room with low humidity.
Crossover Design:
None, no bsc, nothing.
Conclusion:
Great looking speaker and I have always loved the driver. Spectacular top end and midrange, but can get away from you with too much power. I think I would like to add the three 8 inch subs to this to really make it a full range speaker.
About the Designer:
Build, build some more, have fun….
Parts Used:
Tang Ban 1808
You are unable to change drivers to another 8 inch unless the specs are the same do to the porting on the sides