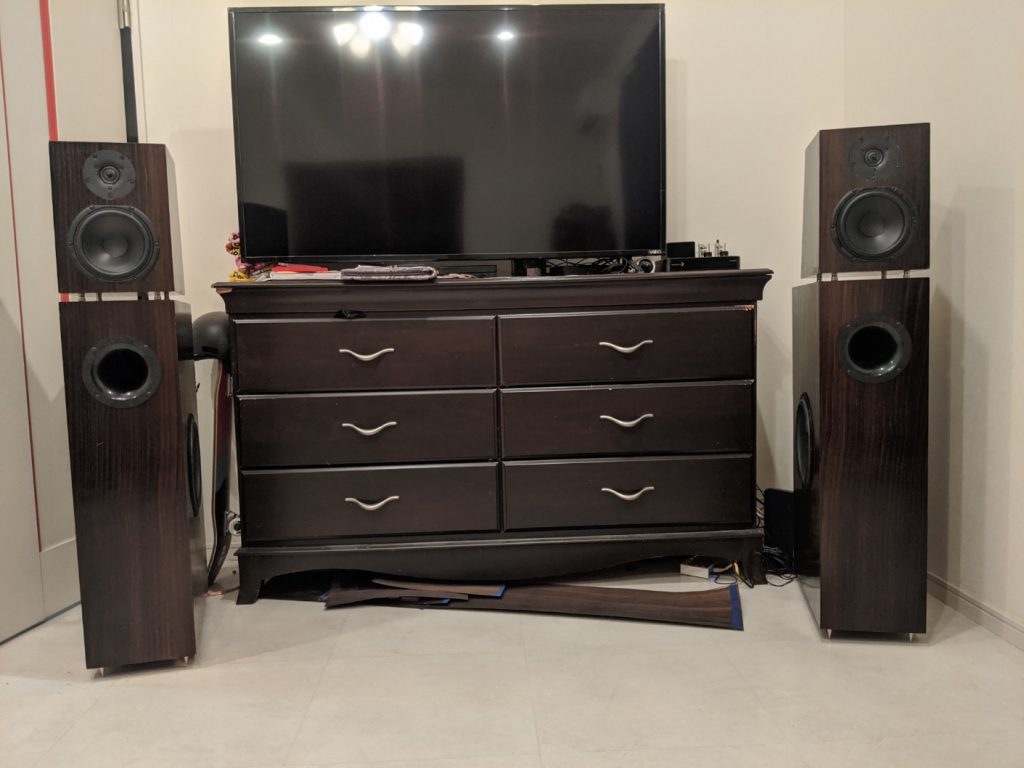 Tarkus bastardized
---
Designer:
AJ
Project Category:
Tower Speakers
Project Level:
Beginner
Project Time:
8-20 Hours
Project Cost:
$100 – $500
Project Description:
Paul Carmody, Tarkus inspired, but highly adulterd! A Passive 3 way tower with a side firing woofer.
Design Goals:
After building a set of Paul Carmody Tarkus towers, all be it with a very low WAF. I set out for the same listening experience with an improved WAF. I settled on a side firing woofer to narrow the front panel. This increased my WAF significantly. I kept the separated upper and lower cabinets as a nod to the Tarkus. Sanatized it with no visible external connections to the upper cabinet to help my WAF. The discerning eye can spot my connections.
Driver Selection:
Staying true to the Tarkus the woofer and mid-range are the same. Woofer is the Tymphany 830668 10″ Paper Cone SLS Subwoofer. Mid-range is Tymphany 830657 6-1/2″ Paper Cone SDS Woofer. The tweeter is different due to availability, Tymphany XT25TG30-04 1″ Dual Ring Radiator Tweeter.
Enclosure Design:
The upper enclosure was slightly enlarged to .52 cu ft. The lower cabinet remains true to Tarkus volume, but wildly different dimension and alignment.
Enclosure Assembly:
The enclosures were built from 3/4″ birch ply. Veneered with fumed oak. Finish is a hand rubbed varnish.
Crossover Design:
I am bouncing back and forth between a true to form Tarkus crossover and my bastardized version that accounts for the side firing woofer. In my version the tweeter high pass remains unchanged. Band pass was altered to a low pass second order. This allows the upper cabinet to roll off naturally. The woofer has a second order low pass @ 250hz.
I am undecided on which sounds better. The Tarkus crossover sounds surprisingly good with the altered speaker alignment. Slightly brighter that in the Tarkus towers I have. My adjusted crossover seems to match the brightness with more mid range. I can't decide if it goes to far and becomes muddy. I will need to talk wife in to swapping the crossovers around without my knowledge to see what I like.
Tips & Tricks:
Don't be afraid to try and fail. I have built tried and true designs as well as some home brew stuff. Chopped some of the home brew stuff up. I learned no matter what. Have fun and build more!
Conclusion:
I think I achieved what I was after with either crossover in use. Thank you Paul Carmody for the inspiration!
About the Designer:
Just a guy building stuff I don't need.
Project Parts List: