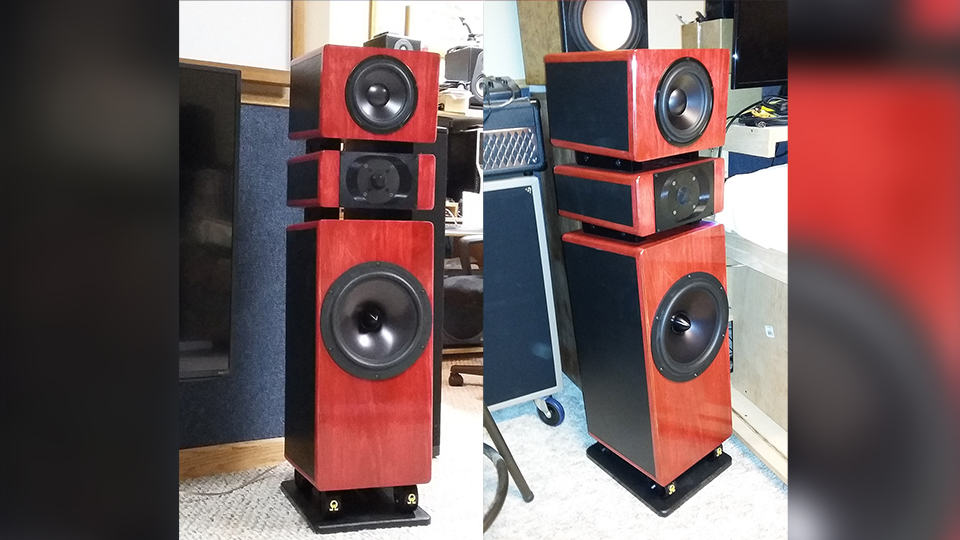 Tercet Towers
---
Designer:
Jim O
Project Category:
Tower Speakers
Project Level:
Intermediate
Project Time:
20+ Hours
Project Cost:
$500 – $1,000
Project Description:
Audiophile floor towers.
Design Goals:
To design and build a 3 way tower system using a 1st order crossover design with high power capabilities. To be driven with a stereo pre-amp and a 125 watt per channel amp. No EQ running totally flat.
Driver Selection:
(2)ea.
275-131 Dayton Audio RST28A-4 1-1/8″ Reference Series Aluminum Dome Tweeter 4 Ohm
295-528 Dayton Audio DSA175-8 6-1/2″ Designer Series Aluminum Cone Woofer
295-357 Dayton Audio RS270-8 10″ Reference Woofer
Enclosure Design:
3 separate cabinets stacked to make a tower using bass reflex designs that are angled to help improve time alignment and audio focus.
Enclosure Assembly:
Poplar fronts, tops and bottoms. MDF sides and backs, webs and gussets. I made 3D models for several of the parts and a friend printed them for me on his 3D printer.
Crossover Design:
1st order crossover with zobel network on the mid bass. As well as a frequency overlap between the bass and mid bass drivers. This was done using XSIM.
Tips & Tricks:
The fronts, tops and bottoms are stained with Barn Red polyurethane stain with a polyurethane clear coat. The sides and back have flat black exterior latex using a roller to apply.
Conclusion:
This requires 3D printed parts to complete as shown. I have the STL files I created for printing the plastic parts, but they exceed the 1.5 meg file limit here.
About the Designer:
I am a retired aircraft composite tool builder and now an amateur speaker designer/builder for my home stereos. I'm still learning (hopefully).
Project Parts List: