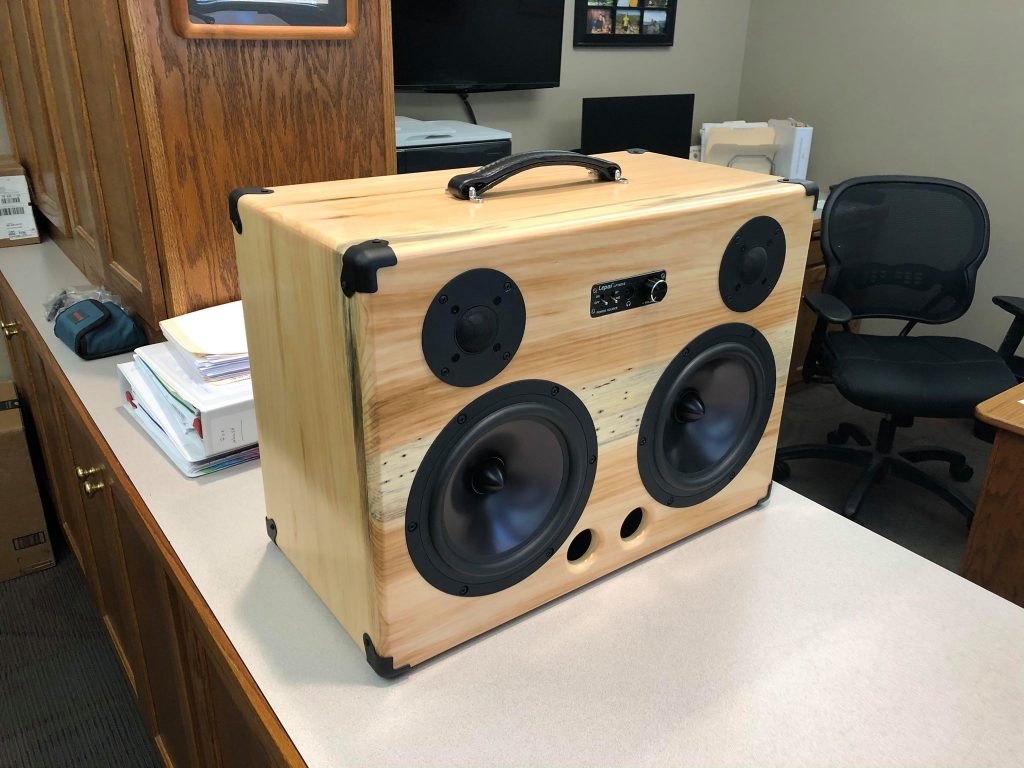 The Bee
---
Designer:
Nick D
Project Category:
Portable Speakers
Project Level:
Intermediate
Project Time:
8-20 Hours
Project Cost:
$500 – $1,000
Project Description:
This is a 200 watt, semi-portable boombox designed to have a great sound and reach high volumes.
Design Goals:
All-in-one system that can be moved around if needed, not battery powered. Must have +/- 3db and get very loud. Tuned to below 50 hz. Size and weight were not huge concerns. Must be made with a natural pine.
Driver Selection:
(2) Dayton Audio RS225-8 8″ Reference Woofer (295-356)
(2) Dayton Audio RST28F-4 1-1/8″ Reference Series Fabric Dome Tweeter 4 Ohm (275-141)
Enclosure Design:
(i will attach a photo of the plans i made in AutoCAD) I used a program called WinISD to design the enclosure. I split the box into 2 equal enclosures for the 8″ drivers, each enclosure is 0.83 cubic feet with a 1.5″ diameter, 5.5″ long port tube, this should theoretically let each driver reach 45hz (at -3db), although i do not have a calibrated microphone to check
Enclosure Assembly:
The person this was for asked that i make it with a pine from a local sawmill. Since pine is so light, i was worried about the box resonating. So the walls of the box are 1/2″ pine and 1/4″ MDF glued together, the front baffle is 1/2″ Pine and 1/2″ MDF glued. The rear baffle is simply a piece of painted 1/2″ MDF screwed on so i can access the inside in the future if needed. For the best look i personally selected each pine board with a lot of character in the grain. The 2 enclosures are separated by a 1/2″ MDF partition, and i had to make an enclosure within the enclosure to seal off the amp (the plans dont show this). All seams are sealed up with silicone. I added a brace above each of the 8″ drivers and one centered in the back to screw the back panel to. Once the box is together i had it clear coated by a friend to protect it, bring out the grain, and give it a nice gloss finish
Crossover Design:
I used a free program called VituixCAD to design the crossover network, rather then explain the entire thing i will simply attach an image of the crossover diagram.
Tips & Tricks:
On the back panel i used that black metal panel to attach the power to and RCA, these are great because they give a professional look and are easy to attach electronics to, but you need to seal this thing up from the inside or it will let air escape and resonate like crazy, i used a pvc pipe cut in half (so like a half circle)
Conclusion:
The speaker came out great, it has a great sound, a great low end, and can get extremely loud. It technically is portable with the carry handle and all but it is very large and also weighs like 50-60 lbs so thats why i say "semi" portable. i originally planned to make a cloth grille for the front that was removable to protect the speakers if needed but i never got it done.
About the Designer:
Im more of a woodworker then anything else and I have made a few speakers in the past but this one was my first major speaker project where i designed the entire enclosure and crossover network.
Project Parts List: