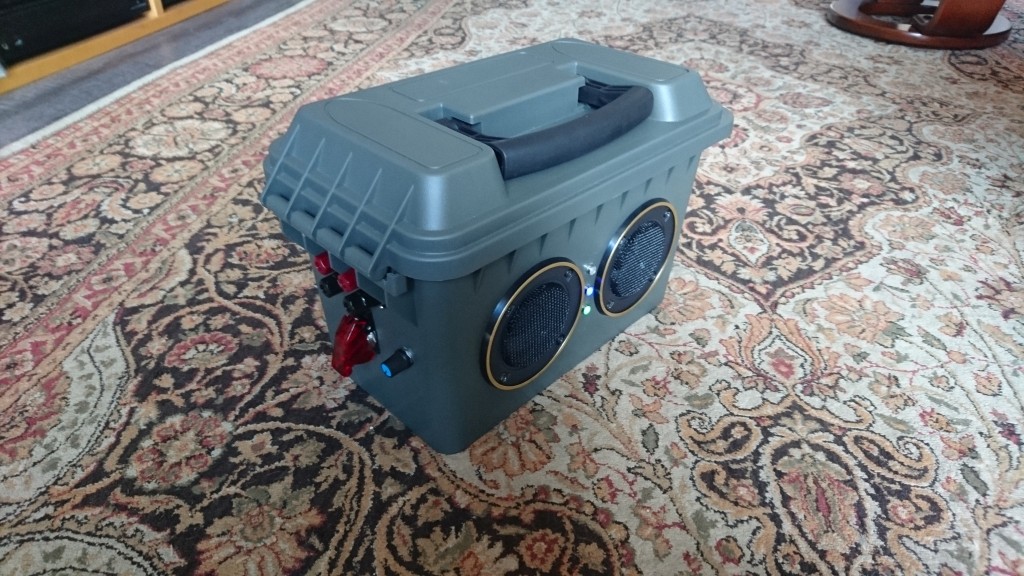 The Boom Box
---
Designer:
Chrome
Project Category:
Portable Speakers
Project Level:
Beginner
Project Time:
1-8 Hours
Project Cost:
$100 – $500
Project Description:
This is a 2x50W portable speaker with outputs for alternative external speakers. It includes a rechargeable battery pack, bluetooth connectivity and enough "umph" to adequately drive large speakers cabinets. The total parts list is roughly $150 plus approximately 5-6 hours of labor.
Design Goals:
I wanted to build a portable speaker system that was reasonably small, durable, and put out good/clean sound. I was hoping for a "military" style appearance with the option to flip a switch, routing the amplifier output to larger external speakers. I'll be using this to bench-test various speaker cabinets.
Driver Selection:
I used 2 x Dayton Audio PC83-4 3″ Full-Range Poly Cone Driver – 295-154. The airspace needed for these matched nicely with enclosure I had purchased.
Enclosure Design:
I originally wanted to use an old 50cal ammo can I had in the garage. Unfortunately, the metal housing with drastically reduce the bluetooth range so I opted for a plastic version. I was able to maintain the "military" style and good bluetooth range. The plastic ammo can was $10 or so, at a local outdoor store.
Enclosure Assembly:
This is a store bought container, no assembly necessary.
Crossover Design:
No crossover needed, these are full ranger drivers.
Tips & Tricks:
Measure twice and cut once.
Take your time and enjoy the building process.
Bench test your equipment before assembly.
Conclusion:
I was very happy with the sound from these drivers. I was shocked at how clean they sound and the box provides a reasonable amount of bass. I was initially concerned that the "external" speaker output would be lacking or have some crosstalk but quickly discovered I had nothing to worry about. I connected an old pair of AR-11's to this little amp to test the external speaker function and it worked great. While running on battery power, this box was able to drive my my AR's with no problem at all.
About the Designer:
I have been working with electronics and RF systems for quite a few years. Although I've done a few speaker repairs, this is my first attempt at building a speaker/amp and hope to do many more in the future.
Project Parts List: