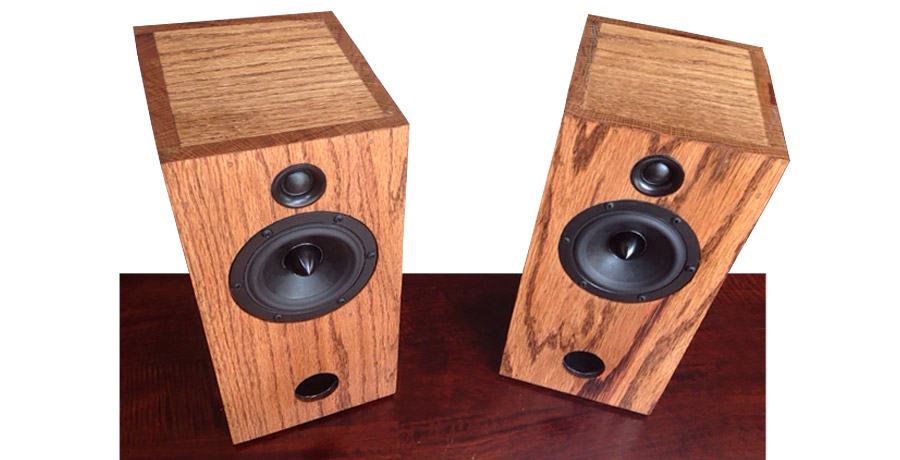 The Canzonettas
---
Designer: Ty Kingsmore

Project Time: 1-8 hours
Project Complexity: Beginner
Project Cost: Under $100
Project Description
These are a very quick and easy bookshelf style speaker that is meant to be put together with readily available wood from a home improvement store. Very little cutting is required for this project. Mozart used the term canzonetta to differentiate between the more serious arias and the shorter solo work in his operas. Since these speakers were designed to go together very quick and easily, I figured this was an appropriate name.
Design Goals
There were a few main goals of this design:
1. Must be accomplished with a very minimal tool set. For me, I used a router (with Jasper jig) and a chop saw. Yep. That's it. (Assembly could be accomplished in numerous ways, but I chose finish nails with an air-nailer. Dovetail, tongue-and-groove, standard nail, biscuit, and face-gluing could also be used)
2. Cabinets must be accomplished with off-the-shelf wood and parts from a big-box store. No table-saws, circular saws, rips, or major alterations of the wood. Just simple cuts!
3. Capable of building a pair in less than a day (not including finishing).
Driver Selection
The drivers I chose were the new RS100P-8 (295-359) and the ND16FA (275-025). I had acquired the RS100's when they were the DOTD and the ND16FA's I had laying around from other projects.
Enclosure Design
I created a ported cabinet using three pieces 1/2″ by 5.5″ by 4′ wood available from the big blue store. Since these cabinets are relatively small, the 1/2″ wood allowed me to make the cabinets even smaller and more manageable. My big blue store had 4 choices available in this wood size – Oak, Aspen, Poplar, and Pine. Any of these would have been acceptable, but I chose oak. The three pieces of 1/2 x 6 x 4 cost me $11/each, so it was $33 for enough to finish 2 speakers. Note that the "by 6″ size of wood is actually 5.5″ wide. While you're at the store, pick up a short piece of 1.25″ schedule 40 PVC to use as the port.
The cabinet size is 5.5″ by 6.5″ by 11". Using this size, you can see how easy it is to get the cabinets formed from the existing wood. One 4′ length is used to create the baffles and sides of each speaker. Simply cut 4 pieces that are 11″ long. There's a small bit of leftover wood that gets tossed.
With the third piece of wood, cut out 6 pieces of wood that are 4.5″ long. This will create the top, bottom, and internal support for the cabinets.
Enclosure Assembly
The woofer, tweeter, and port are all centered on the baffle (2.75″ from the edges). The tweeter is centered 1.25″ from the top, the woofer is centered 4″ from the top, and the port is centered 1.75″ from the bottom. The internal support is mounted between 6″ and 6.5″ down from the top. There's a picture of that later. The resulting cabinet is about 3.85 liters and the speakers can reach down to the 60's!!! Pretty dog-gone impressive for a little 3″ speaker.
Crossover Design
The crossover design is a very simple 2nd-order electrical for both the woofer and the tweeter. They cross at about 2700Hz and have quite a deep reverse null when out of phase.
Conclusion
I'm completely taken aback by just how low these things dig. It's not earth-shattering bass, but for a 3″ little guy – it's darned impressive. The phasing of the crossover is quite smooth, and the speakers sum up quite nicely and in a very short distance. These would make a great desktop or computer build, or a small bedroom TV setup.
The off-axis measurements reveal just how good these things really are as you pan left to right. They really don't show much change at all until you get past about 45 degrees off axis.
Tips & Tricks
Follow the canzonetta thread on the PETT forum page here:
http://techtalk.parts-express.com/showthread.php?242546-The-Canzonettas-Quick-and-Easy-2-way-RS100P-8-and-ND16FA
About the Designer
Currently doing marketing for an audio silicon company – been involved in audio for cars, home, and electronic devices for more than 20 years.