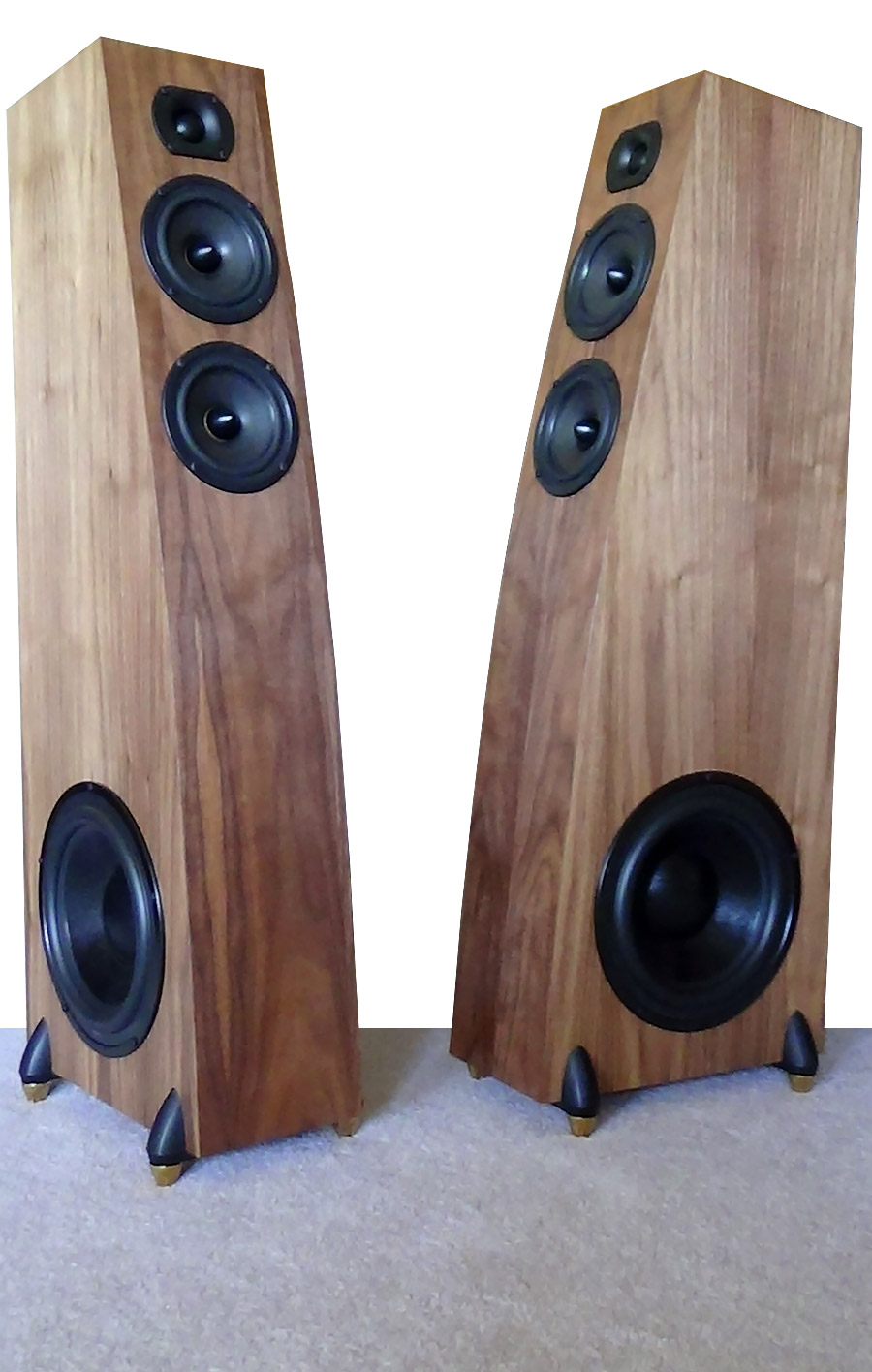 The Curves
---
Designer: Thomas Zarbo Jr.
Project Time: 20+ hours
Project Complexity: Hobbyist
Project Cost: $100-$500
Design Goals
Several years ago, I purchased a small shelf-type stereo system for my wife. It was a decent little unit but the tiny speakers were definitely the weak link. I decided to build a set of speakers that would be rather small, look nice, and sound good everywhere in the living room where this stereo would be used.
I decided to do a curved baffle to angle the drivers up and provide a more dispersed sound-field around the room as these would be for background music. These are not sit-and-listen speakers– I assumed they would be running while standing and moving about. Also, they were designed to be used with a small subwoofer as their bass output needs a little help in the lowest octaves.
Driver Selection
Having used the Tang Band W4-654S woofers in another project, I felt comfortable using them for here as well. They have good clear full-range capabilities and decent output for their size. I used another Tang Band driver, the 25-302SH for the tweeter — a solid performer, especially for the price.
Several years later, I ended up adding a Dayton Audio SD215-PR passive radiator in an attempt to enhance the bass output a bit. I could have ported these easily out of the bottom of the cabinet since they are on spikes, but I liked the look of the passive radiators on the side, and besides, they are very inexpensive and will not transmit any port noise.
Crossover
I designed a simple first-order crossover for these originally, but recently redesigned it to a second order electrical LR crossed at 3,200 Hz for the woofers, and 4,000 Hz for the tweeter, which is run with reverse polarity. Fiddling with L-pads for the tweeter and an additional coil to further attenuate mid frequencies from the bottom woofer did not seem necessary to me for this design given its intended use. The crossover ended up being only 4 parts total: 2 caps and 2 coils.
Enclosure
The box is 33″ tall on the spikes and 11.5″ deep at the base. The cabinet is 5.5″ wide not including the spikes and the top is 7″ deep. Box volume is around .54 cubic feet when factoring in bracing and it is constructed entirely of 3/4″ MDF.
When looking for a curve profile to use for the front, I experimented until I found a curve that could be done with a solid piece of 3/4″ MDF and also had a minimum amount of bend where the drivers would go. It took some muscle and clamps to get the baffle to conform to the curve, but once the glue dried, the cabinet — which included a few small braces — was very 'dead' when rapped with a knuckle. I glued some felt to the inside of the cabinet to cut down on the echo effect from the hard wood surfaces. I also added about a basketball-sized ball of fluffed poly-fill to the inside of each cabinet as well.
Veneer/Finish
These were originally covered with Parts Express' cherry vinyl laminate, which looked very nice, but I wanted to spruce them up a bit for this rebuild. I love the look of Walnut veneer, and have used it on several projects lately, so I decided to use Walnut on these as well. I use the iron-on method to apply the veneer — it's really the only time I ever touch an iron. My clothes may be wrinkled, but the veneer on my speakers is smooth! Several coats of rub-on polyurethane and these were done. I applied three coats and they still look almost like raw-wood, which is a look I like a lot. More coats yield a shinier finish, but I sometimes prefer to see the wood grain with very little sheen on it. It reminds me of those beautiful "Genuine Oiled Walnut Veneer" cabinets that Radio Shack used to sell back in the day.
To finish off the look of these cabinets, I used a set of buyout speaker spikes that lift the cabinet off the floor about an inch or so. I'm not too much for a lot of accessories on a speaker, but I think these work well in this design — and the brass spikes add a touch of class.
Conclusion
Overall, I like the sound of these small speakers. My wife loves their small footprint as well as their style. Due to their upward slanted drivers, they manage to do a good job filling the room with nice sound with minimal 'dead' spots in the coverage as you walk around. They're pretty much all done at around 50 Hz. or so, but when paired with a small subwoofer, they end up sounding like much bigger speakers than they are. Alternatively, I've also tried running them from a Lepai 2020A+ amp with the bass boosted a bit, and that seems to fill in the bottom end nicely as well.
About The Designer
I've been interested in audio and speakers since I was a kid and my father took the drivers out of an old console stereo and placed them in some old wood boxes. Since then, I've been designing and building subwoofers and speakers as a hobby, and it brings me a lot of enjoyment. I like to push myself and come up with a more innovative and harder to create design than the one before. I have learned a lot from the generous folks here at "Tech Talk", and their contributions have really helped me improve my design/crossover, and woodworking skills.