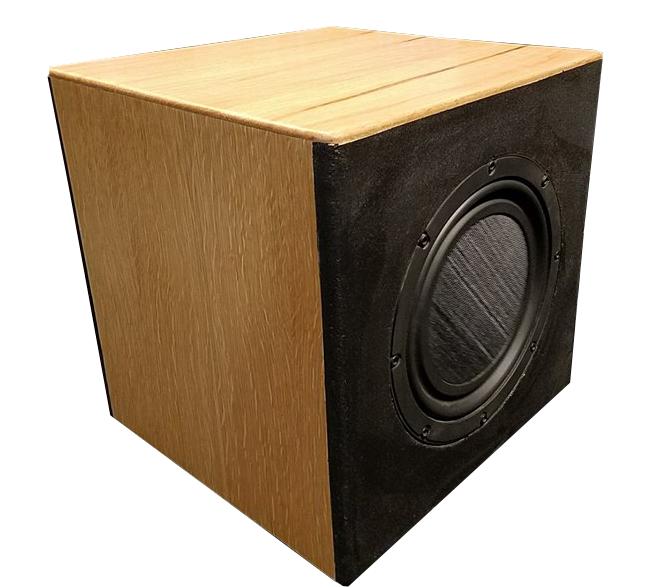 The Hammer
---
Designer:
Chuck Morris
Project Category:
Subwoofers
Project Level:
Intermediate
Project Time:
8-20 Hours
Project Cost:
$100 – $500
Project Description:
Dual opposed 10″ subwoofer with outboard DSP/amplifer
Design Goals:
Smallish form factor, dual opposed, force canceling, visual match to my MidNite Magic project
Driver Selection:
Dayton Audio LS10-44 DVC subwoofers P#295-251
Enclosure Design:
Sealed 15″ cube, dual opposed driver layout
Enclosure Assembly:
3/4″ material throughout, 1/2″ BB ply added at driver baffles, 1-1/2″ brace connects top, bottom, front, and back walls. 1lb of loose polyfill, walls lined with 3/4″ 3layer Sonic Barrier. Jacks located on bottom.
Crossover Design:
Active via DSP in amp
Tips & Tricks:
The cabinet needs to be well sealed. Add additional sealant at all joints if necessary. I had to upgrade the Nuetrik connector as the plastic version failed under heavy volume.
Conclusion:
The sub performs better than I had hoped. Clean, deep, and virtually resonant free. It does a great job of filling in the last couple of octaves in my rooms.
What makes the system work is the DSP in the inuke amp. I used the PEQ to add boost that lowered the f3 to 25Hz. The subs handle everything the amp is able to provide and with more than enough output for most.
About the Designer:
I am member of the Speaker Builder Design Team
Project Parts List: