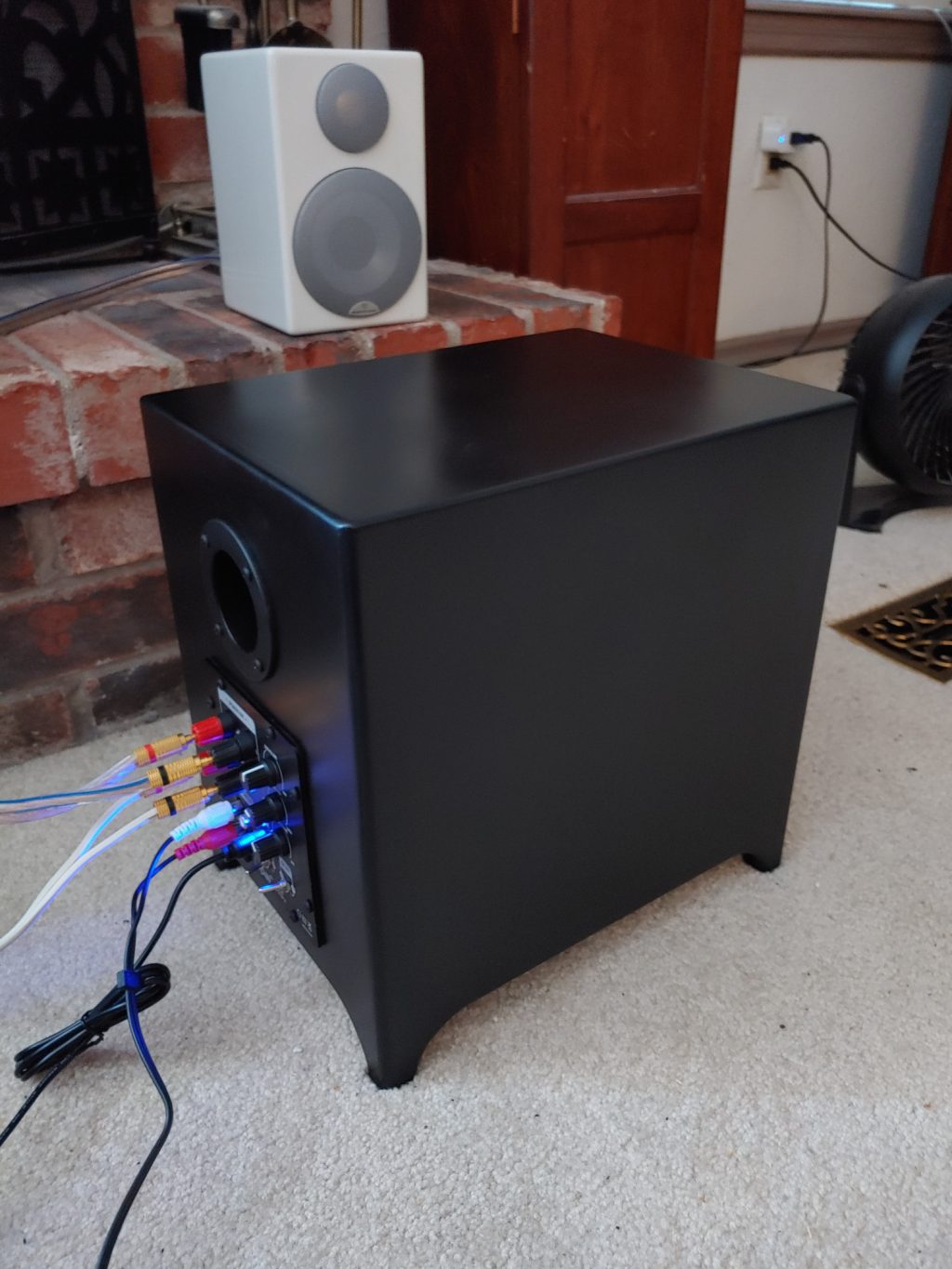 The Mighty Micro Sub
---
Designer:
Justaguyinvegas
Project Category:
Subwoofers
Project Level:
Beginner
Project Time:
1-8 Hours
Project Cost:
$100 – $500
Project Description:
This is my build of the Mini Sub kit currently offered by Parts Express.
Design Goals:
I wanted to upgrade my old subwoofer in my bedroom and this kit looked like the perfect solution. Not only does the included amp power the sub but will also power my Radius 90 satellite speakers.
Driver Selection:
DCS165-4 6-1/2″ subwoofer driver (Part# 295-198) was included in the kit and seems very suitable for this project.
Enclosure Design:
The design of the cabinet is pretty basic. It is a single port bass reflex design with down firing woofer and integrated feet. I like the fact that they used 3/4 inch MDF for strength.
Enclosure Assembly:
The pre-cut enclosure went together perfectly. All of the seams fit together precisely. I used Titebond II to glue the whole thing together. I add 1/2″ x 1/2″ wood strips to the inside of the feet to give the sub a more complete look. I also used a 1/4″ round-over bit on my router to finish the top and bottom edges. I Filled the box with about half a pound of Poylfill. For finishing, I used Rustoleum Filler Primer and Black Satin Enamel.
Crossover Design:
Since the crossover is built in to the amp, there's not much to worry about. I set the port tube length at 11″.
Tips & Tricks:
The trick to getting a good finish is surface preparation. The Filler Primer did a great job at sealing the MDF and giving me a great surface for sanding. Take your time and it will come out awesome. I used black satin enamel so the sub would match the finish on my other audio components.
Conclusion:
I am really pleased with how this project turned out. The sub hits pretty low and that is a good thing.
About the Designer:
I consider myself a hobbyist woodworker. I have built things from large subs to acoustic guitars. I really like combining my audio and construction hobbies in one project. Speakers!
Project Parts List:
| | | |
| --- | --- | --- |
| Part # | Description | Qty |
| 300-7161 | Dayton Audio 6-1/2″ Down Firing Active Mini Subwoofer Kit with 2.1 Channel Amplifier | 1 |