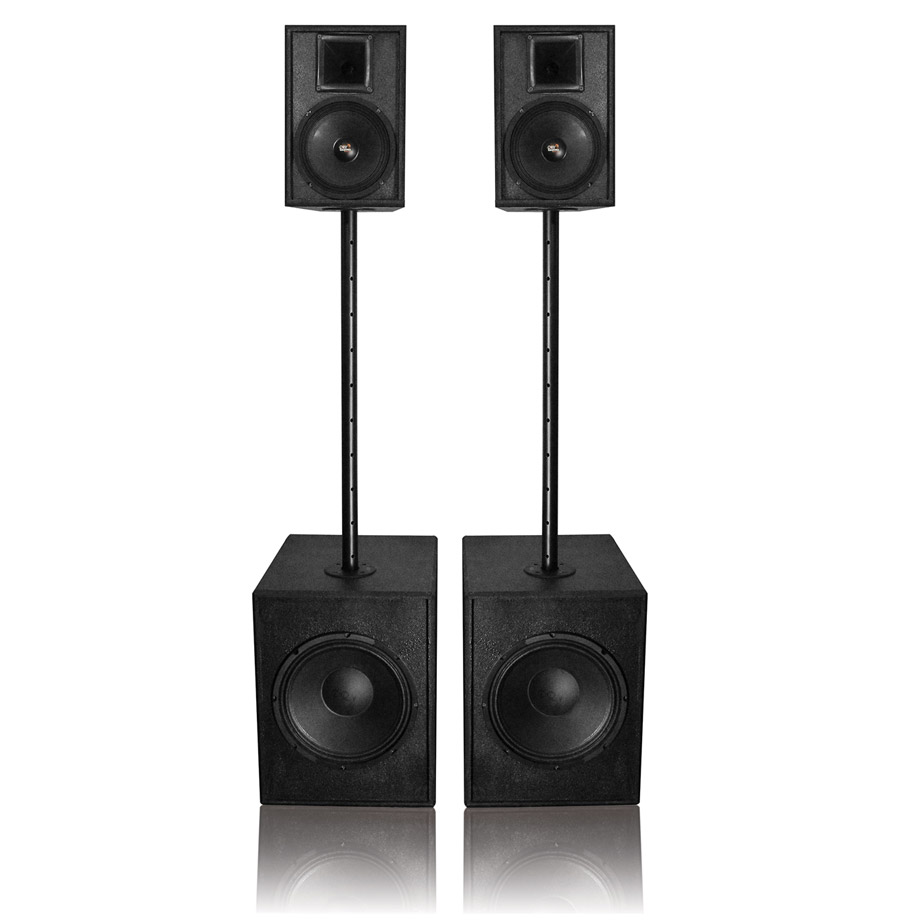 The Mini-Traps
---
Designer: Chris Frechette

Project Time: 1-8 hours
Project Complexity: Hobbyist
Project Cost: $100-$500
Design Goals
The main goal of this speaker design was to have a small, lightweight speaker system that could be at home anywhere from a small coffeehouse acoustic performance to a rowdy tailgate. The PRV Audio 8MR400-NDY 8″ midrange is super lightweight and the response was very well suited to where I needed this to run. For the highs, I chose PRV's D290Py-B polyimide diaphragm compression driver mated to a WG11-25 60° x 60° horn. For the bass, I went with the PRV 12W700 12″ woofer.
Enclosure Design
The satellites are 0.39 cu. ft. sealed trapezoid boxes that yield an F3 of 104 Hz. I undersized the cabinet a bit from optimum, in order to keep the cone under control when used with higher power setups. The boxes were built using 1/2″ material to keep weight down. Each baffle was recessed 1/2″ from the front, which could allow for a grill or to keep the drivers safe when stacking.
Each sub is a 2.4 cu. ft. cabinet tuned to 43 Hz, which happens to produce an F3 of 43 Hz. I ported this in the rear using a 4″ diameter port tube that was 4-3/8″ long. This was also built using 1/2″ material and I added bracing to keep the cabinet dead but still lightweight.
Crossovers
I wanted this design to be very simple and flexible. I just used a 3rd order high pass combined with a fixed L-pad for the highs. I added a 100 uF capacitor in the sub cabinet to keep the lows out of the mids. The satellite cabinet can be used by itself full-range. The subwoofer is run full-range.
Conclusion
This speaker system achieves everything I wanted it to do, and with ease. The high efficiency allows it to be driven by a small T-amp. It is also a great little PA system for small acoustic acts or one-man bands. Excellent vocal clarity, crisp midrange, and good bass slam are hallmarks of this system.
About The Designer
As a lifelong musician, Chris Frechette has been manipulating audio for many years. His background includes live sound, dedicated two channel, Home Theater systems, and a passion for audio done right. He enjoys working with his hands, woodworking, and home brewing.
Project Parts List