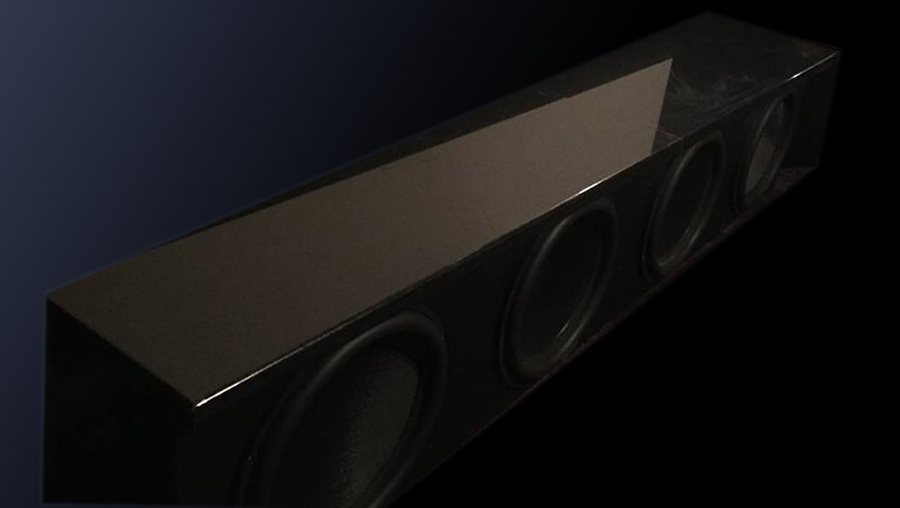 the Monolith – quad Ultimax 18's with granite
---
Designer: Cory Harrison / Paducah Home Theater
Project Category
Subwoofers
Project Level
Intermediate
Project Time
20+ Hours
Project Cost
Over $1,000
Project Description
A relatively simple yet very large and good looking project that requires minimal tools if you are careful. Custom cut granite makes for a high end look, and four sealed Ultimax 18's in an array sounds like quite the wrecking ball for home theater.
Design Goals
This was primarily designed around looks, as well as wanting more extension below 25 hz. I wanted a subwoofer box that looked like nice furniture and spanned my entire screen. Due to the layout of my room I don't have a situation where I can place subs behind a screen, so they would be exposed. Other DIY and even factory subs simply didn't exactly have the high end look that I was after, they just looked like a man cave where somebody threw a bunch of speakers in there. I knew I liked the basic look of the $10,000 James M213 where the entire baffle was recessed and not the driver cutouts, which I used for inspiration. Granite was used to finish the look as well as provide weight to stabilize the enclosures during high excursion.
Driver Selection
Four Dayton Audio UM-18-22
Enclosure Design
I didn't have a table saw at the time and wanted this box to be easily cut with a circular saw. Using the 49″ width of MDF sheets I was able to come up with two boxes that could be transported separately that was nearly the exact width of my screen. I was shooting for at least 4 cubic feet after all displacement and was able to achieve that. When cutting there were only a few cross cuts that I was able to do on my miter saw. Everything else was done with a simple circular saw using a piece of clamped plywood as a straight edge. Approximate dimensions are two 20x20x49 enclosures end to end with the granite being 23×100 but cut in half. The interior was braced about as obnoxiously as I could get it but would probably use interlocking window style braces if I were to do it over. The enclosure was stuffed with R-19 insulation due to high end designers claiming it measures better than poly-fill.
If anybody wanted an exact cut list to replicate the box you can contact me through my website at paducahhometheater.com
Enclosure Assembly
Double-refined cabinet grade MDF basic enclosure, purposely dissimilar baltic birch and poplar corner braces, square poplar dowels for cross braces, double baffle, R-19 insulation for stuffing, no screws, only 90% glue and a couple of places where liquid nails was used to fill in small gaps which occurred due to my lack of a table saw
Crossover Design
No external crossover, even on the amp, just using the functions in a Marantz receiver.
Conclusion
It turned out quite nice visually, and with the help of a MiniDSP I was able to attain flat response to below 10 hz. Everybody feared that the granite would reflect light too much, but in reality it actually helps due to reflecting the light back up to the ceiling and away from your eyes at the viewing position. The only thing you can see in terms of reflections is the roundover edge, which I would try to eliminate if I had to do it over. Without the granite, the screen casts a distracting glow on the subs, actually making this situation significantly worse. In a 2700 cubic foot room this provides more than enough bass, at any frequency. Sound wise, it is able to provide the all-encapsulating bass that literally shakes everything, which is usually only obtainable in a vehicle. Altogether including wood, drivers, paint, insulation, granite, etc., this is about a $2,000 cabinet that weighs 750-800 pounds.
Tips & Tricks
1. I'd skip the Crown 2502 like I used, it sounds nice, but the new version does not let you override the limiters, and they come on too easily once you get well below 20 hz. Pretty sure I've already damaged this one as well, just sent it back for warranty repair. Look at the Behringer iNuke 6000 if shopping here, especially since it has a much needed DSP, otherwise, maybe Speakerpower if you want something nicer. The iNuke is questionable with four of these subs if you look at nominal impedance but if you consider the impedance curve shown on data-bass.com you'll see that it is typically quite a bit higher than 2 ohms except in single digit frequencies.
2. Try to find the aforementioned double refined cabinet grade MDF, it works better with routers and painting, plus is significantly heavier and stiffer.
3. The key to these things looking good is a ton of sanding, be ready for this. I'm not the most patient person in this regard.
4. If you use black latex paint instead of truck bed liner, make sure you sand the primer a ton then use latex extender so your brush strokes disappear. Also give each coat at least a day, preferably more like 3 days, to fully cure, otherwise what's called "flashing" can occur plus the paint can stay sticky.
About the Designer
I used to compete in car audio competitions and now run a home theater business in western Kentucky. You can find me at www.paducahhometheater.com
Project Parts List