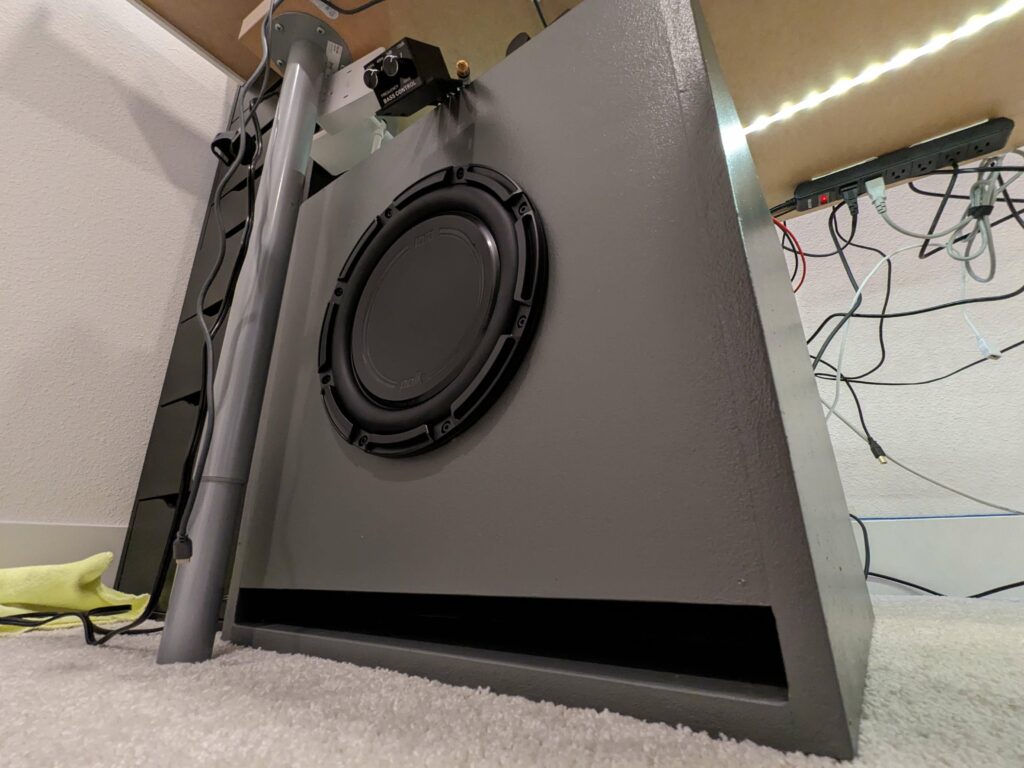 The Outdoor Boomers
---
Praneeth
Project Category:
Subwoofers

Project Level

Beginner
Project Time:
1-8 Hours

Project Cost:
$100-$500
Project Description:
A cabinet built out of MDF, painted in weather proof paint, finished with a Polk weather resistant 10″ driver and a Fosi amplifier to power it.
Design Goals:
I wanted something that I could leave outside under a shed. That is why I went with the Polk driver.
Driver Selection:
Polk Audio DB1042SVC 10" Single Voice Coil Subwoofer with Marine Certification
Enclosure Design
I went with MDF because it was the cheapest I could find and looks didn't matter in this use case. I used sub box pro to design it using the parameters from the parts express specifications section.
Crossover Design:
N/A
Tips & Tricks:
N/A
Conclusion:
It worked out great. I can hear bass throughout my backyard with my Fosi amp set at max power. We will see how it holds up in 3-4 years after sitting in the sun, but as of now, its been a great upgrade to my setup.
About the Designer:
This is my first time building a speaker, and will not be my last. I just dipped my feet into the world of audio gear and I still have a lot to learn, I am currently studying electronics/engineering.
Project Parts List
| | | |
| --- | --- | --- |
| Part# | Description | Qty. |
| 243-321 | Polk Audio DB1042SVC 10" Single Voice Coil Subwoofer with Marine Certification | 1 |