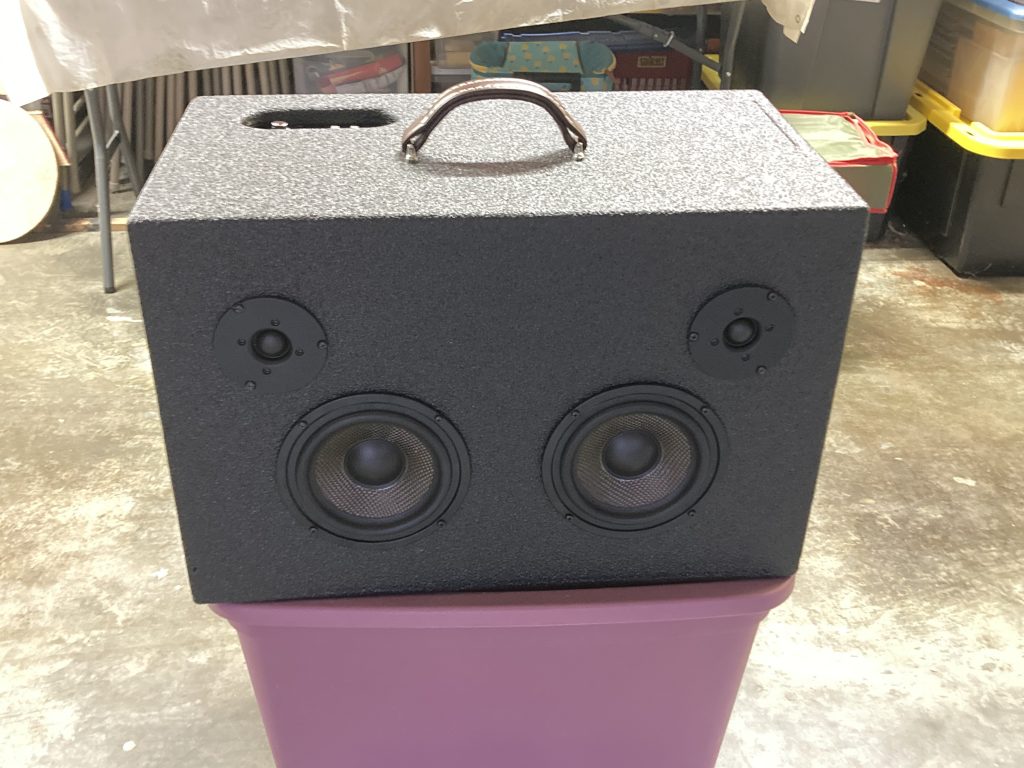 The Portable Hulk
---
Designer:
Redneckjap
Project Category:
Portable Speakers
Project Level:
Intermediate
Project Time:
8-20 Hours
Project Cost:
$100 – $500
Project Description:
Portable, rechargeable, Bluetooth speaker system
Design Goals:
The primary design goal that I had was to make a portable Bluetooth speaker just to "see if I could do it". Of course, I wanted the end result to sound better than any $40 speaker that can be bought at discount stores.
Driver Selection:
295-549, 295-417, 275-022
Enclosure Design:
At first, I was going to build a sealed design (and probably should have for the sake of size) but decided to add a passive radiator. I used two Dayton Audio GF180-4 6.5" woofers and the Dayton Audio DSA215 8" passive radiator tuned to approximately 40hz. Installed in approximately 2.5 cu ft.
Enclosure Assembly:
I may regret it, but I used some leftover shelving boards for the cabinet construction. Once I assembled the wood and completed cutouts, I took it to a local truck shop and had it coated with Line-X bed liner.
Crossover Design:
I purchased a ready-built 3,500 hz crossover that seems to work ok for these drivers.
Tips & Tricks:
Hone your soldering skills! Use plenty of glue on your wood joints.
Conclusion:
I probably need to attenuate the tweeters slightly because they do seem to overtake the system, but I must say the for a first attempt, this thing ROCKS!
About the Designer:
Just a hobbyist that enjoys learning.
Project Parts List:
| | | |
| --- | --- | --- |
| Part # | Description | Qty |
| 295-549 | Dayton Audio DSA215-PR 8″ Designer Series Aluminum Cone Passive Radiator | 1 |
| 295-417 | Dayton Audio GF180-4 6-1/2″ Glass Fiber Cone Woofer 4 Ohm | 1 |
| 275-022 | Dayton Audio TD25F-4 1″ Soft Dome Tweeter 4 Ohm | 1 |