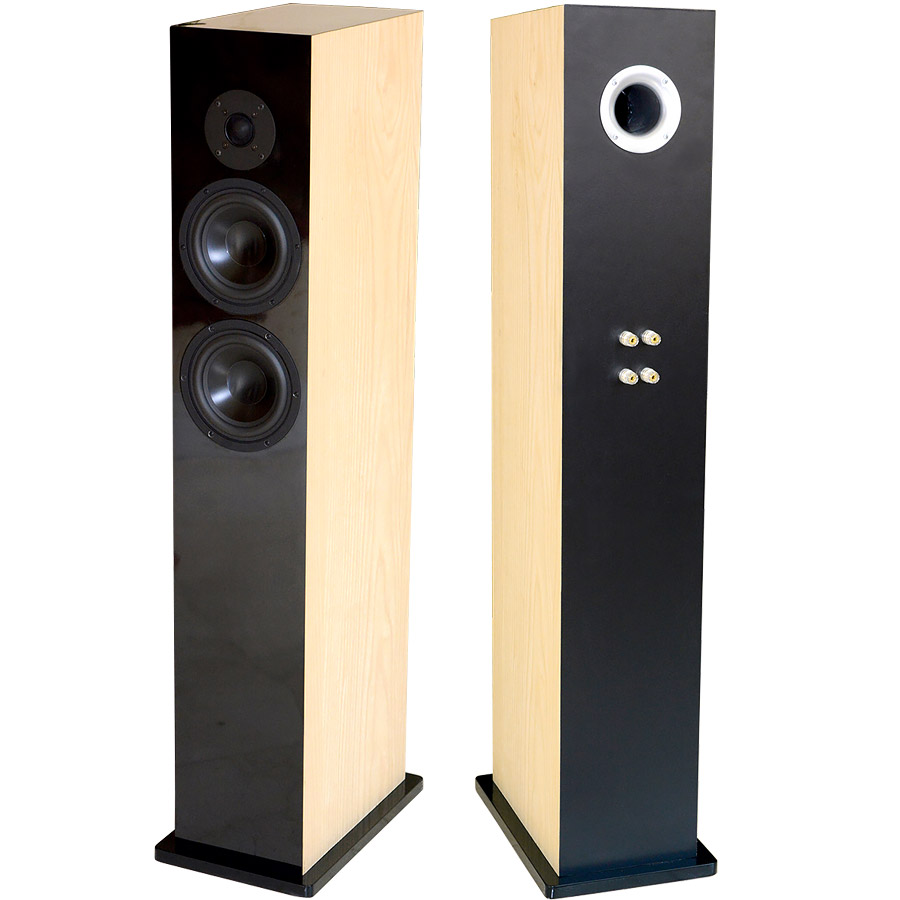 The Renditions
---
Designer: Hong Nguyen

Project Time: 20+ hours
Project Complexity: Intermediate
Project Cost: $500-$1000
Project Description
The Renditions are 2-way tower speakers using two Exodus Anarchy woofers and a Dayton Audio RS28F-4 tweeter in a TMM configuration.
Design Goals
My goal was to design a powerful speaker system that can be used without a subwoofer, while delivering quality sound that is suited to all types of music, as well as perform home theater duties. Due to the relatively low sensitivity of the Anarchy woofers (86dB/1W), the woofers were wired in a parallel configuration to increase to overall SPL. The TMM arrangement has the advantage of keeping the tower size at a reasonable height when the listener is in a sitting position with the tweeter at ear level.
Driver Selection
The Exodus Anarchy woofers are legendary for their massive excursion capabilities (25mm peak-to-peak), with a reasonably smooth frequency response to 2KHz. The Dayton Audio RS28F-4, the silk version of the metal RS28A-4, is a proven robust and excellent sounding tweeter that has been used extensively in many designs. In the past, I have designed a TM system for a friend using a single Anarchy woofer mated with a Vifa XT25 tweeter with excellent results, but I felt that the low end and sensitivity could be improved upon by using 2 woofers. There are many TMs and TMM 2.5-way systems out there, but I haven't seen a TMM 2-way version, so I believe this would be a first with this combination of drivers.
Enclosure Design
The vented enclosure volume is approximately 1.0 cu.ft with a false bottom to form a tower. Damping foam and a brace are used to reduce box resonance. The box tuning frequency is 40Hz, with a F3 of 45Hz. The vent is 2.5" X 5.6". SPL is 93dB at 2.83V. The top, front and back are laminated with glossy formica, while the sides are covered with real white oak veneer.
Crossover Design
The drivers are crossed at 1,800Hz, with a second order electrical on the woofers, and a third order electrical on the tweeter. With a total of only 10 components, 5 on the woofers and 5 on the tweeter, this cost-effective crossover shouldn't break the builder's bank. Frequency response is fairly flat within +/-3dB, while phase tracking is excellent and off-axis measurements equally respectable. Impedance is a benign 4 ohms, which most decent amplifiers should aptly handle without distress.
Conclusion
The resulting design is a high SPL system that can handle a tremendous amount of power while capable of delivering very high quality sound, due to the robustness and competency of both the woofers and tweeters used. Whichever music taste one may have, and no matter how loud one prefers to play it, these speakers will certainly deliver to one's complete satisfaction without seriously denting the pocketbook. And that's what DIY is all about, getting quality sound at a great value.
About the Designer
Hong Nguyen (hongrn) is a former emergency/trauma nurse who has been in healthcare for over three decades, and currently specializes in the development and management of ambulatory surgery centers. He resides in Orange County, CA, with his wife and two grown daughters. In his spare time, he enjoys family, travels, movies, music, and of course, speaker and amplifier building. He is an active member of Tech Talk, and appreciates the coaching and support of fellow DIYers.