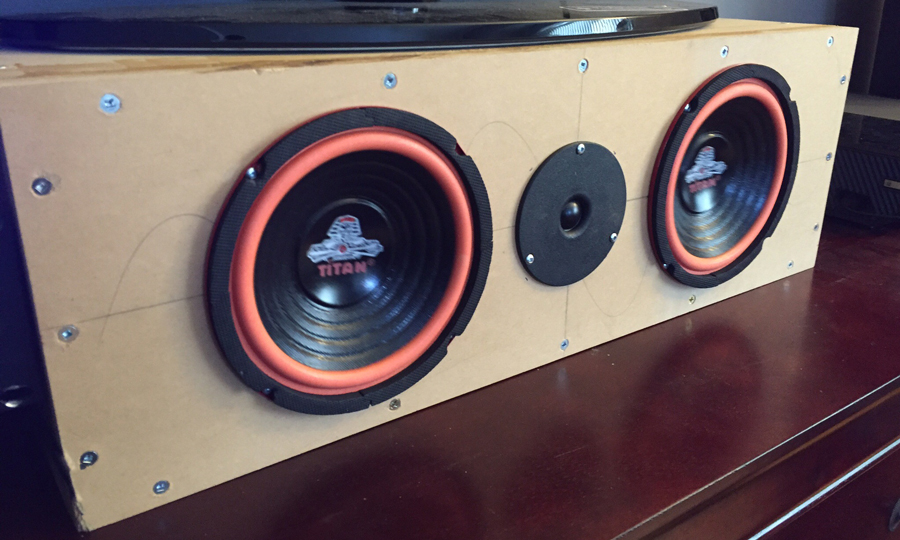 The Titan Method
---
Designer: Seth Aitchison
Project Category
Bookshelf Speakers
Project Level
Beginner
Project Time
1-8 Hours
Project Cost
Under $100
Project Description
The Titan Method is a very simple and easy centre channel speaker built from 3/4″ MDF and very personalized.
Design Goals
The goal is to build a simple 24″ x 12″ x 8″ sealed enclosure giving me .86 cubic feet of volume suitable for the drivers I've selected.
Driver Selection
Today I am using the Buyout Titan 6.5″ red surround woofers and a Vifa ferrofluid cooled soft dome tweeter.
Enclosure Design
The enclosure is a very simple design I created using DIY Audio and Video to determine the correct sealed volume and tuned for 70 Hz. I selected high quality 3/4″ MDF to make this enclosure very sturdy and easy to personalize with paint or vinyl wrap, cabinet corners, grills etc.
Enclosure Assembly
I cut the MDF into six pieces that the website gave me the dimensions for each piece, this is a beginner project and this is the third enclosure I've built using MDF and the outcome with this project. Superb.
Crossover Design
The crossover I haven't put much detail into it as I pulled the original crossover network from one of my Energy ESM-3 speakers with the Vifa dome tweeter.
Tips & Tricks
When working with MDF, always drill pilot holes the same width of the screw shaft, not the threads. Avoid any wet areas. Double check your woofer's voice coil lead wires from the terminals to make sure they clear the spider and the cone. One of my Titan woofers began making a snap noise at moderate excursion.
Conclusion
A whole day's work gives you a beautiful centre channel speaker that doesn't stab your wallet, thank you for looking.
Cheers!
About the Designer
I've been working with audio since the age of 10, fixing and repairing existing speakers or designing custom made speaker systems, overhauling existing speakers and so on.